Nicolas Brown and Julie Pastor (Executive Producers)
Informer is a complex, character-driven thriller about Raza, a young second generation British-Pakistani man from East London (Nabhaan Rizwan) who is coerced by Gabe, a Counter-Terrorism Officer (Paddy Considine) into informing for him.
Published: 4 October 2018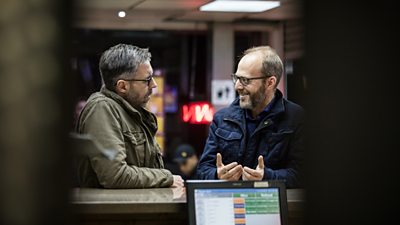 Informer is a show about identity and how we are increasingly being pushed to make choices, take sides and see the world in a divisive way.
How did Informer come to be?
Julie: We first met Rory and Sohrab (Creators & Writers) after reading an excellent sample of their writing and knew we wanted to work with them. At the time they were developing an idea for a series set in East London about the messy boundary-crossing relationship between an informant and his police handler tasked with protecting the UK in the 'War on Terror'. Who is this informant and how does this new unwanted role change his life? They had already done extensive research and had a strong sense of the characters, tone and theme of the show they wanted to write. We loved the initial concept and their passion and jumped at the opportunity to develop it.
Nicolas: Julie passed me their pilot script and I also thought it was a great piece of writing. It was about a community that begins to be fractured by an event. They wrote so well about family, people and relationships, as well as having a fantastically propulsive narrative ability. Rory and Sohrab have confidence and they're very erudite and smart, so when they pitched Informer to us as fundamentally about a family more than anything else, we knew they could write really well about this.
A lot of writers come up with an idea and maybe write a single story but to write a story over six hours is a real tough ask. Rory and Sohrab listened and responded to questions we had and then went away and came back with something way better or bigger than we could've imagined. They were really collaborative and were constantly prepared to throw things out, revise, rethink and rework to make the show better.
Describe Informer and the world in which it is set?
Nicolas: Informer is a show about identity and how we are increasingly being pushed to make choices, take sides and see the world in a divisive way. It's also about choices that are made for us by other people and that the world we are presented with is more complex than the simple narrative we are often offered.
It's a London show, and specifically an East London show. But beyond that it's not about one community or one particular borough. The stories and issues are much broader and wider than existing in a particular geographically bounded area. We have pushed shooting further east to see a different London than is usually seen on screen. We went to to areas where there are brand new buildings next to the remains of the old docks, industry and communities. Visually it's an interesting world which I think has been captured brilliantly in the show by Jonny Campbell the director.
We're at an interesting point in the 'War on Terror' timeline right now and it feels timely to be looking at what it has now become. This show probably couldn't have been made 10 years ago. Often that world is portrayed at a very high level in terms of military, politics, spies, guns, bombs and drones. This is very much about the reality of how the 'War on Terror' is being fought on the ground and at street level.
Julie: One of the more unexpected aspects of Informer is its humor and humanity. The show gets under the skin of its main characters; we see what makes them tick and their vulnerabilities. Raza is a charming everyman who wants to be accepted wherever he goes. His burgeouning friendship with Dadir (played brilliantly by Roger Jean Nsengiyumva) is both tense and a lot of fun. Gabe is a family man hiding something. Holly is relenteless at work and incapable of letting anything go.
How do you think this will sit in the TV market?
Julie: Informer shows the broad range of stories that Neal Street Productions is interested in telling. With Call the Midwife, Britannia, and now Informer we have three very different series, spanning a wide spectrum of worlds and time periods, with the common thread of hugely entertaining original storytelling.
Nicolas: Neal Street Productions is not bound by certain types of genres because we have a broad taste. We want to make shows that are popular, relatable and accessible with very high production values and complex, rich storytelling.
What was the casting process like?
Nicolas: One of the joys of the casting process was really tapping into a pool of actors who are not seen on screen that much and probably don't get the opportunity to play such fully realised characters. It's a very diverse cast, reflecting the area that it is shot in. Julie Harkin, our casting director, cast a net far and wide and so there are a number of people on the show who've done very little professional acting.
Julie: We are extraordinarily excited about the cast of the show, from the well known actors like the wonderful Paddy Considine (Gabe), Bel Powley (Holly) and Jessica Raine (Emily) to those who will be seen on screen here for the first time like Nabhaan Rizwan who is fantastic as Raza in his television debut.
Related Media Centre Links
Related Programme Information
Related Web Links