I May Destroy You
I May Destroy You (12 x 30) is created, executive produced, stars and is co-directed by Bafta Award-winning Michaela Coel.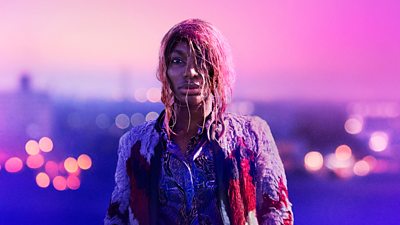 This is the story Michaela wrote and the scripts are wholly hers. The story ended up being not just about rape, or consent, but about going forward and not looking back.
This fearless, frank and provocative series explores the question of sexual consent in contemporary life and how, in our modern landscape of dating and relationships, we make the distinction between liberation and exploitation.
Introduction, by the team at Various Artists Ltd.
"In 2018, Michaela Coel arrived at the offices of Various Artists Ltd and said she wanted to write a drama about consent, inspired by experience. The dramatic starting point, she said, would be the rape of a woman in a nightclub, from where she wanted to broaden the story out into a wider examination of gender, race, sex, and exploitation.
Together we approached the BBC, who said yes immediately. HBO came on board a few months later, and from that moment the production was set.
This is the story Michaela wrote and the scripts are wholly hers. She used the team at VAL - Phil, Roberto, Natasha and Tanya - as a sounding board while she developed her ideas, sending in drafts and listening carefully to feedback. But she was always one step ahead of us in terms of her originality of voice and her ideas for moving the plot beyond the predictable.
This was a profoundly exciting time, seeing her weave a story of victimhood into something both opaque and compelling: what it means to be a victim, its loneliness, denial, powerlessness, rage and despair. But her scripts also explored hope, friendship, families and forgiveness, the power of creativity, and the human spirit. The story she wrote ended up being not just about rape, or consent, but about going forward and not looking back.
The characters Michaela has created in I May Destroy You are complicated and conflicted. They are typical young men and women of metropolitan London, who party, take drugs, worry about work, worry about each other. We see their mistakes and misunderstandings, their strengths, and weaknesses. They are fictional characters who are believable, well-rounded people, capable of being funny, kind and loving, but equally capable of selfishness and self-absorption. 
I May Destroy You takes a long, hard look at some uncomfortable topics. But, like Michaela - and like life - it can also be very funny, flipping from darkness to comedy and back again. Although it started as a drama about consent, it has bloomed into a story about the narratives we write for ourselves, the narrative that life writes for us, and how, sometimes, we can bring both together."
CK
Series Synopsis
Written by and starring Michaela Coel and set in London, I May Destroy You centres on Arabella (Coel), a care-free, self-assured Londoner with a group of great friends, a holiday fling-turned aspirational boyfriend in Italy, and a burgeoning writing career. But when she is spiked with a date-rape drug, she must question and rebuild every element of her life.
Feted as the 'voice of her generation', Arabella is highly talented. But, distracted by the pressures of her first triumph, she is struggling to write her second novel and is in danger of becoming destructive and self-absorbed. After being sexually assaulted in a nightclub, her life changes irreversibly and Arabella is forced to reassess everything: her career, her friends, even her family.
As she struggles to come to terms with what has happened, she begins a journey of self-discovery. Often painful, sometimes funny, it leads her to some surprising places - and controversial conclusions.
Character Biographies
Michaela Coel plays Arabella, a beautiful, cool millennial Londoner with a group of great friends, a casual boyfriend in Italy and a burgeoning writing career. But when she is spiked with a date-rape drug, she must question and rebuild every element of her life.
Weruche Opia plays Terry, Arabella's funny but less successful best friend. Her acting career has stalled, her love life is erratic and fairly disastrous. But she's always sure that something brilliant is about to happen.
Paapa Essiedu plays Kwame, the best male friend of Arabella and Terry. A sometime dancer who now teaches gym class, he's a beautiful gay man with serious self-esteem issues when it comes to getting what he wants in sex and love.
Aml Ameen plays Simon, who is Arabella's party friend - loads of fun and a bad influence. Although he manages to hold down a job in the City, he likes nothing better than to lure Arabella away from her work for a big night out mid-week.
Adam James plays Julian, Arabella's literary agent. Julian is a supportive, caring agent, there for Arabella when she's in trouble. But he's slightly out of his depth with her - he hasn't yet worked out how to get her to actually deliver a draft.
Marouane Zotti plays Biagio, an enigmatic Italian who forms an unlikely bond with Arabella and encourages her to live her life a different way.
Natalie Walker plays Francine, Julian's junior colleague. Secretly jealous of the ease with which Arabella has established her career, Francine is much more cynical towards Arabella than Julian is, and doesn't fall for her endless excuses over why she hasn't delivered her book. To Julian's embarrassment, Francine isn't afraid to confront and spar with Arabella.
Franc Ashman plays Susy Henry. She is fearless and deeply eccentric - even Arabella is in awe of her.
Ellie James plays Sion, Susy's junior colleague. Laid-back and cool, Sion doesn't miss a beat when she encounters a man who previously sexually assaulted her - but she does manage to achieve sweet revenge.
Karan Gill plays Zain, a hot young author represented by the same agency as Arabella. Smooth, charming, but pretty full of himself, Zain strikes up a casual relationship with Arabella, which leads to her discovering the dark side of his personality.
Harriet Webb plays Theodora, a hard-boiled white working-class woman who runs a rape survivors' group that Arabella attends. Sardonic and funny, Theo becomes a good friend to Arabella, despite them having known each other as teenagers and having been on opposite sides of the racial divide at their tough secondary school.
Sarah Niles plays Officer Funmi, the police officer on the specialist sexual assault unit that deals with Arabella's case. Funmi is a warm, empathic officer with a deep commitment to her job.
Ann Aikn plays Alissa, Simon's secret side-piece (he's living with his girlfriend). Beautiful, insecure and manipulative, Alissa makes trouble for Simon in all kinds of ways.
Related Programme Information