Hometown: Q&A with Mobeen Azhar
Award-winning journalist Mobeen Azhar (pictured) moved back to his hometown of Huddersfield to cover the death of Mohammed Yassar YasYaqub, who was shot dead by police on an M62 slip road in January 2017.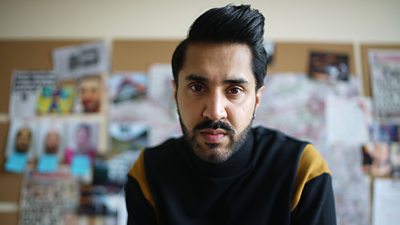 I loved growing up in Huddersfield. Writing about a story in my hometown and documenting the process for a television series was a privilege. I am so grateful to all the people who chose to speak to me and to be involved.
Yassar's death lead to protests on the streets of West Yorkshire, and a Justice for Yassar campaign was born. But just days into reporting on the case, as rumours of drug empires and money laundering started to spread, Mobeen realised that there was a much bigger story in town.
Why did you go back to Huddersfield to film?
I went back to Huddersfield following the shooting of Yassar Yaqub. Yassar was 28 when he was shot by the police just off the M62 entering Huddersfield. He was a much-loved son and also a father. The circumstances of his death shocked many Huddersfield residents.
I remember being contacted by friends at the time as there were so many questions about the events that unfolded. I'm a journalist so naturally I gravitated towards a story that was rooted in my hometown and my community, and I decided to return to Huddersfield to write an article about Yassar Yaqub and the events that led to his death.
When I first met Mohammed Yaqub, Yassar's father, he invited me into his home and to cover some of the Justice For Yassar campaign rallies. I took a camera crew with me to document my research and progress.
When did you start to realise there was a bigger story to tell about Huddersfield?
Soon after I returned to Huddersfield. I spent a lot of time on Blacker Road. I used to live on this street and I would constantly run into people I'd grown up with. Most were very friendly and I felt a real sense of being welcomed.
When people asked what I was doing back in town, I'd reference Yassar Yaqub and that made many people uncomfortable. There was talk of 'rumours' and I felt a tangible sense of apprehension - many individuals told me I should "be careful about what I was getting myself into".
It became clear very quickly that the story was much bigger than I'd initially thought.
You soon find out that gun-related violence on the streets of Huddersfield is widespread. How did this make you feel and did you find out why?
Whilst living back in Huddersfeld, there were weekly, sometimes daily, gun and knife-related incidents taking place in the streets I grew up in. I spent a lot of time on crime scenes around police tape and flashing lights. This felt very different to the calm, friendly and somewhat sleepy town I remember growing up in.
My conversations at these crime scenes followed a very similar pattern. Onlookers, neighbours and witnesses would tell me that these incidents involved young men. There were often allegations of the violence being rooted in drug disputes. This became a constant theme.
Many of these cases are unresolved so it's impossible to provide every detail of what happened, but drugs and territory were the themes that emerged over and over again.
In your investigation you discover that members of your community play a part in the wider UK drug trade. Can you tell us a bit more?
The investigation explores the links between British Pakistanis in Yorkshire and the national and international drugs trade. Anecdotally, the crimes scenes I visited were most often linked to alleged perpetrators and victims, who were overwhelmingly young British Pakistani men involved in the drugs trade.
I wanted to know if there was any hard data on the ethnicity of those who are convicted for dealing class A drugs such as heroin.
British Pakistanis make up a minority of those convicted for dealing class A drugs in the UK, but we uncovered that the British Pakistani community is over-represented when it comes to convictions for dealing class A drugs in the Yorkshire and Humber area.
In addition, I met drug runners, dealers and importers who explained that in their experience: the majority of heroin being sold in Britain was coming from Pakistan. I met with Tony Saggers, the former Head of Drugs Threat and Intelligence at the National Crime Agency, who explains that there are geographic, historic and social reasons for this and clarifies that, whilst Pakistani criminals are significant to the UK in terms of heroin trafficking, they are not the sole traders.
What is the most shocking discovery you've made during your investigation?
The level of violence in my hometown is truly shocking. I was surprised by both the regularity of the violence, and how some people I had a personal connection to had been affected. Early on during the investigation I found out the younger brother of one of my childhood friends had been the victim of a shooting. The close proximity of the violence made the story even more personal.
I was also really shocked and saddened by the hypocrisy and immorality of some Muslim dealers and their justifications to sell drugs.
And having spent time with heroin users in Bradford, I was disgusted by the disregard and disengagement for the human cost of the drugs trade. There is nothing admirable about making money from other people's misery.
How are people in Huddersfield being affected?
The vast majority of people I met in Huddersfield want an end to the drugs trade and the violence that's linked to it. However, there is reluctance to speak out for fear of retribution. Many people feel powerless to challenge the prevailing narrative. As a result, there is a culture of turning a blind eye.
I met parents who were anxious and unsure about the right way in which to tackle the criminality of their sons. I learnt that there can sometimes be a willingness to ignore warning signs. For instance, if a young man with no qualifications or employment is coming home with designer clothes and a car, questions should be asked. The parents I met were unsure about how best to tackle these issues.
I also know many people within the British Pakistani community feel attacked by the far right, and by negative portrayals of the community. Huddersfield generally, and the British Pakistani community more specifically, has had a difficult time in the press and that means sections of the community are more focused on challenging this perception of the community than addressing core problems.
How do you think people like Naz and Imam Alyas Karmani can make a difference?
I have a tremendous amount of respect for Imam Alyas Kermani. He is a principled and qualified community leader and he is one of the few people who is leading the charge against drugs and violence in Yorkshire.
Naz is a former drug dealer in Bradford who's now trying to make amends for his days as a dealer by preventing young kids from following his footsteps.
Both Naz and Imam Alyas want Yorkshire's Pakistani community to take charge of the problem and collectively work out a way to progress. Starting these conversations is in no way easy, and both Imam Alyas and Naz are instigating difficult conversations.
What would you like people to take away from the series?
I want people to engage with the difficult questions the series raises. Some of it makes uncomfortable viewing but that's exactly why I think it is valuable. All communities have issues that need to be tackled. Huddersfield is no different. I would like viewers to understand the human cost of the drug trade and engage with why so many young British Pakistani men are involved in my hometown.
The death of Yassar Yaqub was tragic. We can all agree that his life should not have ended in the way it did. I hope that something positive can be taken from such an unfortunate situation. I would like the series to help instigate what I believe is an overdue conversation.
Any last thoughts?
Huddersfield is the town in which I was born and bred. I spent the first 18 years of my life living there and even since I moved away, I've maintained a relationship with the town. I loved growing up in Huddersfield and so writing about a story in my hometown and documenting the process for a television series was a privilege. I am so grateful to all the people who chose to speak to me and to be involved.
The full series box set will be available on BBC Three from 10am on June 19. Episodes one and two will air on BBC One on the same day. 
FS
Related Programme Information