The Hollow Crown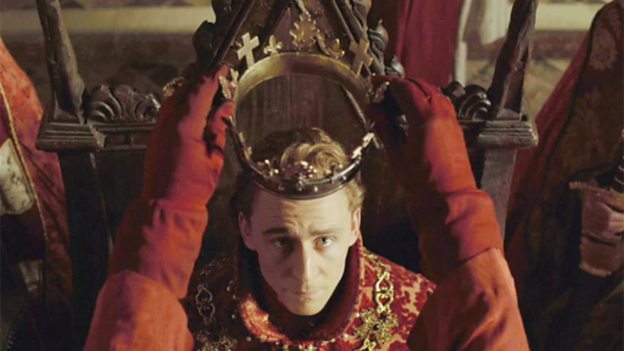 Date: 13.06.2012
Last updated: 25.03.2014 at 13.21
The Hollow Crown is a stunning new series of filmed adaptations of four of Shakespeare's best-loved history plays; Richard II, Henry IV parts I & 2 and Henry V on BBC Two this summer.
The Hollow Crown is a tale of family, politics and power. The films tell the rise and fall of three Kings and how their destiny shaped our history. Richard II is a vain, self-indulgent man who rules with little regard for his people's welfare. He is ultimately overthrown by his cousin Bolingbroke, who ascends the throne as Henry IV. Henry IV's reign is marred by his own guilt over Richard's death, civil war, and the fear that his son Hal is a total wastrel. When Hal comes to the throne as Henry V he is left to bury the ghosts of his father's past whilst fighting his own demons.
In this Olympic year, against the backdrop of HM The Queen's Diamond Jubilee, Neal Street Productions with NBCUniversal and Thirteen bring a new life to William Shakespeare's history plays in these stunning adaptations. The four films have been commissioned by BBC Two for the Shakespeare Unlocked Season, as part of the BBC's contribution to the Cultural Olympiad and London 2012 Festival.
Directed by Rupert Goold, Richard Eyre and Thea Sharrock, The Hollow Crown features some of the most pre-eminent Shakespearean actors of our time. The Kings are played by Ben Whishaw, Jeremy Irons and Tom Hiddleston respectively, supported by a phenomenal cast including Rory Kinnear, Patrick Stewart, David Suchet, David Morrissey on Richard II, Simon Russell Beale, Julie Walters and Maxine Peake for Henry IV and John Hurt, Anton Lesser and Paterson Joseph for Henry V. The plays were filmed on location across the UK between Summer 2011 and Spring 2012 and are all set in the medieval period.
The executive producers are Pippa Harris and Sam Mendes for Neal Street Productions and Gareth Neame for NBCUniversal and David Horn for Thirteen/WNET. The Hollow Crown was commissioned by Ben Stephenson and Janice Hadlow for BBC Two and was produced by Rupert Ryle-Hodges.
Pippa Harris says: "The Hollow Crown shows the trials and tribulations and the murderous backdrop behind our own history. It seemed particularly fitting to us to produce the films in 2012: whilst these four plays collectively say so much about Britain, the global appeal of Shakespeare is never-ending. Our phenomenal cast and crew have brought a vivid and inspirational edge to Shakespeare for a worldwide audience."
Gareth Neame says: "The BBC showed great ambition to bring these extraordinary works to the screen from Neal Street, as part of this year's Cultural Olympiad. NBCUniversal is proud to have joined the BBC and Neal Street to co finance and distribute these plays, which are such a fitting centrepiece to BBC drama's contribution to the cultural Olympiad. Bursting as they are with a mixture of high drama and politics, wonderful characters and great comedy, rendered with the most exquisite language, they have inspired much of the drama we work on to this day."
Ben Stephenson, Controller, BBC Drama, says: "A fitting ensemble of some of this country's finest acting talent have assembled for Richard II, the first of four film versions of Shakespeare's History plays on BBC Two in 2012. Shooting entirely on location, the director Rupert Goold brings a scale never before attempted on TV to the work by using St David's Cathedral and Pembroke Castle in Wales to give audiences something entirely unique."
BBC Drama Publicity
Search the site
Can't find what you need? Search here