His Dark Materials
Dafne Keen stars as the young protagonist Lyra, who lives in Jordan College, Oxford. Placed there by her uncle, Lord Asriel (James McAvoy) she lives a sheltered life amongst the scholars and college staff under the watchful protection of The Master (Clarke Peters) and Librarian Charles (Ian Gelder).
Published: 25 October 2019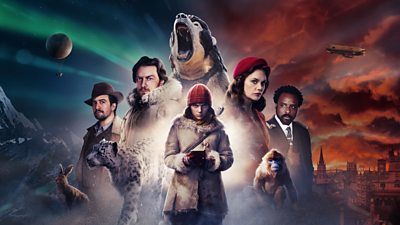 "This story starts in another world. One that is both like, and unlike, your own. Here, every human soul takes the physical form of an animal, known as a daemon. The relationship between human and daemon is sacred. This world has been controlled for centuries by the all-powerful Magisterium. Except in the Northern wilderness, where witches secretly whisper of a prophecy. A prophecy about a child with a great destiny. During the great flood, this child was brought to Oxford."
Dafne Keen stars as the young protagonist Lyra, who lives in Jordan College, Oxford. Placed there by her uncle, Lord Asriel (James McAvoy) she lives a sheltered life amongst the scholars and college staff under the watchful protection of The Master (Clarke Peters) and Librarian Charles (Ian Gelder).
When the glamorous and mesmeric Mrs Coulter (Ruth Wilson) enters Lyra's life she embarks upon a dangerous journey of discovery as she travels from Oxford to London. Here she meets Father MacPhail (Will Keen), Lord Boreal (Ariyon Bakare) and journalist Adele Starminster (Georgina Campbell) at a glittering society party where she learns of the sinister 'General Oblation Board'.
Lyra is subsequently thrown into the nomadic world of the boat dwelling Gyptians - Ma Costa (Anne-Marie Duff), Farder Coram (James Cosmo), John Faa (Lucian Msamati), Raymond Van Geritt (Mat Fraser), Jack Verhoeven (Geoff Bell) and Benjamin de Ruyter (Simon Manyonda) who take her North in her quest.
Once in the North she meets charismatic aeronaut and adventurer Lee Scoresby (Lin-Manuel Miranda) who joins them on their epic journey becoming one of Lyra's closest allies.
Talented young actors join the cast including Lewin Lloyd as Roger Parslow, Daniel Frogson as Tony Costa and Tyler Howitt as Billy Costa.
Produced in Wales by Bad Wolf, the series is based on Philip Pullman's acclaimed novels which have been adapted for screen by the Bafta, Tony and Olivier award-winning screen and playwright, Jack Thorne (National Treasure, Harry Potter And The Cursed Child).
Season one of His Dark Materials is directed by Tom Hooper (The King's Speech), Dawn Shadforth (Trust), Otto Bathurst (Peaky Blinders), Euros Lyn (Torchwood) and Jamie Childs (Doctor Who).
Bad Wolf founder Jane Tranter is executive producer alongside Dan McCulloch (Victoria, Endeavour) and Laurie Borg (Peaky Blinders, Black Mirror) is Producer. Philip Pullman is also executive producer.
The design team is led by Joel Collins (Black Mirror, The Hitchhiker's Guide To The Galaxy) with costumes designed by Caroline McCall (Downton Abbey, Hyde Park On Hudson) and Season One hair and make-up design led by Pamela Haddock (The Terror, Sherlock). Framestore's Russell Dodgson is VFX supervisor and JamesWhitlam is VFX Executive Producer.
Bad Wolf is a UK/US production company founded by Jane Tranter and Julie Gardner and co-sited in South Wales and Los Angeles. The company is responsible for co-producing award-winning The Night Of for HBO and A Discovery Of Witches for Sky One. His Dark Materials is New Line Cinema's first move into British television.
KS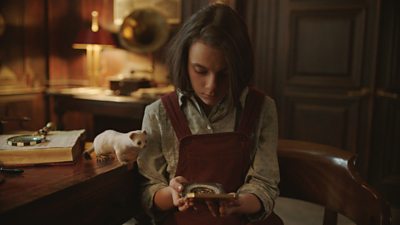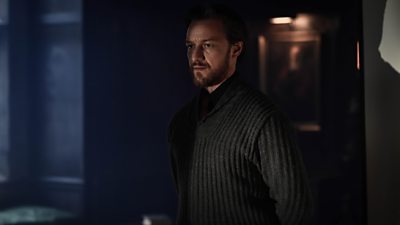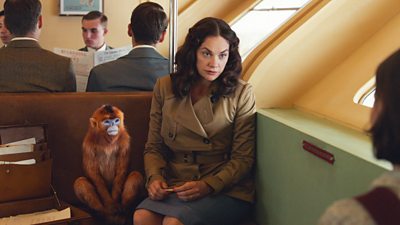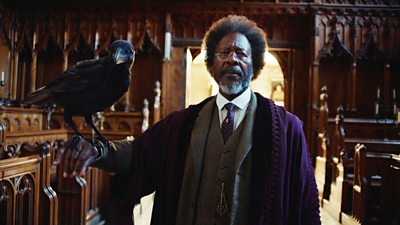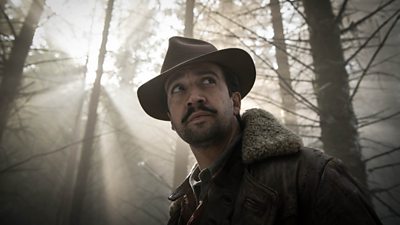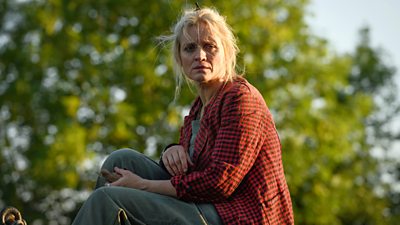 Character biographies
Lyra Belacqua (Dafne Keen)
Lyra Belacqua, an adventurous 13-year old from a world that is both like and unlike our own. We meet Lyra as an orphan, having been raised in the sanctuary of Oxford's illustrious Jordan College. Lyra is desperate to explore the North with her brilliant Uncle Asriel, until the fates intervene and she ends up on a thrilling and perilous journey of her own. A natural and adept liar, Lyra learns the value of honesty and lies when she becomes the owner of an extraordinary instrument that can tell the truth.
Lord Asriel (James McAvoy)
Lord Asriel Belacqua, a brilliant scholar and a fearless explorer. Asriel is one of few who dares to undermine the powerful forces of Lyra's world. His ambition is limitless, and he will stop at nothing to achieve his ends.
Mrs Coulter (Ruth Wilson)
Mrs Coulter, an enigmatic woman whose origins hold many secrets, and who has risen to power in a patriarchal society against the odds. Intelligent and manipulative, Mrs Coulter always needs to be in control but her motivations are rarely as they seem.
The Master (Clarke Peters)
The Master of Jordan College and Lyra's guardian as she grows up in Oxford until the politics of the outside world begin to threaten her idyllic childhood.
Lee Scoresby (Lin-Manuel Miranda)
Lee Scoresby, an aeronaut-for-hire who can keep his head in a crisis, although he is often getting himself embroiled in trouble.
Roger Parslow (Lewin Lloyd)
Roger Parslow, the 12-year-old kitchen boy of Jordan College and Lyra's best friend. Where Lyra is a natural liar, Roger is naturally honest and kind. Roger often acts as Lyra's moral compass.  
Ma Costa (Anne-Marie Duff)
Ma Costa, a fiercely maternal, high-ranking Gyptian. The disappearance of her youngest son Billy is the latest of an increasing number of missing children, and acts as a call to action for the Gyptian people to find and rescue them.
Cast biographies
Dafne Keen as Lyra Belacqua
Dafne Keen, 2018 Screen International Star of Tomorrow, is best known for her role as X-23 in the X-Men franchise Logan, which was Oscar-nominated for Best Adapted Screenplay. The breakout role led to her winning Best Female Newcomer at the Empire awards and being nominated for a London Film Critics Circle award last year. Dafne made her acting debut alongside her father, British actor Will Keen, in the Spanish television series The Refugees. Dafne played Ana "Ani" Cruz Oliver in the drama focusing on a rural community faced with millions of refugees from the future seeking shelter in the present. She is set to star in Ana, a feature film that follows Dafne as the titular Ana alongside Andy Garcia.
James McAvoy as Lord Asriel
James McAvoy is a Golden Globe-nominated actor who won over audiences with his breakthrough performances in The Last King Of Scotland and Atonement, co-starring Keira Knightly and Saoirse Ronan. While James began his career in the theatre, he came to popular attention on the small screen with the role of Josh in the 2002 Channel 4 adaptation of Zadie Smith's popular novel White Teeth. He continued his small screen success by playing Dan Foster in the Bafta-winning BBC political drama series State Of Play. His popularity grew when he appeared in the Bafta-winning Channel 4 series Shameless as car thief, Steve, a performance that earned him a nomination from the British Comedy Awards for Best Comedy Newcomer in 2004. James has received a Golden Globe and Bafta nomination for Best Actor and was awarded a Best Actor award from the London Film Critics Circle, the Virtuoso Award from the Santa Barbara Film Festival and a UK Regional Critics Award for Best Actor. James is currently working with director Jamie Lloyd to star in an anticipated new adaptation of Cyrano de Bergerac in the West End.
Ruth Wilson as Mrs Coulter
Two-time Olivier award-winner, Golden Globe winner, and Tony award-nominated actress Ruth Wilson has paved her way in theatre, television and film. Most recently, Ruth was seen starring in the three-part BBC miniseries Mrs Wilson, which she also executive produced as well as seen making her Shakespeare debut in the highly anticipated Broadway production of King Lear starring Glenda Jackson. Previously, Wilson was seen in Showtime's Golden Globe winning original series, The Affair, for which she won a Golden Globe for Best Actress in a Drama Series. She is also known for her performances in Suburban Shootout, as Alice Morgan in the BBC TV psychological crime drama Luther, and not forgetting her breakout performance in the BBC miniseries, Jane Eyre. Theatre credits include A Streetcar Named Desire and Anna Christie.
Clarke Peters as The Master
Clarke Peters has won plaudits across TV, film and theatre. Though making his debut in 1979, it was HBO's The Wire that catapulted Clarke to a whole new audience as Detective Lester Freamon. The landmark programme has been hailed by some as the greatest drama of all time. Clarke continued his association with HBO by starring in praised drama's Treme and the more recent, Show Me A Hero. Making his mark across the pond, Clarke has featured in a number of British television shows such as, Bulletproof, London Spy and British/French co-production of Sky Atlantic's The Tunnel. Equally a star on stage, having appeared in Othello at Sheffield Crucible and a number of productions at the National Theatre, Clarke has also written and performed in the award-winning musical Five Guys Named Moe that has played in the West End, Broadway and beyond.  
Lewin Lloyd as Roger Parslow
Lewin Lloyd has an array of stellar credits under his young belt. Most recently seen in the critically acclaimed biopic Judy, opposite Reneé Zellweger as Judy Garland's son Joey Luft. In 2017 Lewin appeared in Saint George And The Dragon at the National Theatre and featured in TNT's limited series The Alienist, starring Luke Evans. Not to mention appearing alongside Tom Hardy and Jessie Buckley in BBC drama Taboo. Lewin will soon be seen on the big screen again in Tom Harper's much anticipated The Aeronauts, alongside Oscar-winner Eddie Redmayne and Oscar nominated Felicity Jones.
Lin-Manuel Miranda as Lee Scoresby
Lin-Manuel Miranda is a multi-award award-winning composer, lyricist, and actor. He is the creator and original star of Broadway's Tony-winning musicals, Hamilton and In the Heights. Hamilton was awarded the 2016 Pulitzer Prize in drama and earned a record-breaking 16 Tony nominations, winning 11 Tony awards including two personally for Lin Manuel Miranda for Book and Score of a Musical. The Original Broadway Cast Recording of Hamilton won the 2016 Grammy for Best Musical Theatre Album. He won the 2016 Drama League awards for Distinguished Performance and Outstanding Production of a Musical, respectively. Miranda contributed music, lyrics and vocals to several songs in Disney's animated feature film Moana and has received stars on both the Puerto Rico Walk of Fame and the Hollywood Walk of Fame. Further television and film credits include The Sopranos, House, Modern Family and Mary Poppins Returns (2019 Golden Globe nomination, Best Actor).
Anne-Marie Duff as Ma Costa
An award-winning actress on both stage and screen, Anne-Marie is known for her roles in Shameless, The Virgin Queen and Nowhere Boy. In 2018 Anne-Marie starred in Heisenberg: The Uncertainty Principle and returned to the National Theatre as Lady Macbeth, a role she previously undertook on Broadway opposite Ethan Hawke. On the big screen, Anne-Marie appeared in On Chesil Beach, the film adaptation of Ian McEwan's bestselling 2007 novel, and on television she lent her voice to the BBC One/Netflix series Watership Down that aired over Christmas. Other prolific big screen credits include Suffragette, Before I Go To Sleep, The Last Station, Is Anybody There?, The Waiting Room, Notes On A Scandal, The Magdalene Sisters, Enigmaand Mild And Better. On the small screen, her credits include From Darkness, Parade's End, Accused, Margot, Wild West and The Way We Live Now.
Cast list
Lyra Belacqua... Dafne Keen
Lord Asriel... James McAvoy
Mrs Coulter... Ruth Wilson
The Master... Clarke Peters
Roger Parslow... Lewin Lloyd
Lee Scoresby... Lin-Manuel Miranda
Ma Costa... Anne-Marie Duff
Serafina... Ruta Gedmintas
John Faa... Lucian Msamati
Farder Coram... James Cosmo
Carlo Boreal... Ariyon Bakare
Father MacPhail... Will Keen
Tony Costa... Daniel Frogson
Billy Costa... Tyler Howitt
Benjamin De Ruyter... Simon Manyonda
Raymond Van Gerrit... Mat Fraser
Jack Verhoeven... Geoff Bell
Adele Starminster... Georgina Campbell
Thorold... Gary Lewis
Charles... Ian Gelder
Butler... Patrick Godfrey
Sub-Rector... Philip Goldacre
Chaplain... Richard Cunningham
Sister Clara... Morfydd Clark
Cardinal Sturrock... Ian Peck
Father Garret... David Langham
Mr Hanway... Ray Fearon
Iorek Byrnison... Joe Tandberg
Daemon voices
Stelmaria... Helen McCrory
Pantalaimon... Kit Connor
Salcilia... Eloise Little
Alicia... Phoebe Scholfield
Lyuba... Libby Rodliffe
Kaisa... David Suchet
Hester... Cristela Alonzo
Related Media Centre Links
Related Web Links