Happy Valley: interview with Sarah Lancashire
Interview with Sarah Lancashire, who plays Catherine Cawood in BBC One's drama Happy Valley.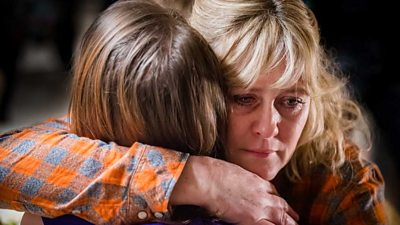 Is this a cop drama?
I think the tone of the piece changes quite dramatically. Certainly from about half way through, it becomes clear that the story isn't really about Catherine's job as a police officer but Catherine trying to find a way to come to peace with herself. It's quite interesting because I had no idea how the story was going to unfold. It's not about a police officer at all, it's about a woman who is clearly very damaged by her experiences of losing a daughter and being put into a situation where she's trying to get by day to day. Catherine has an incredibly emotional story, especially Episodes 4, 5 and 6 when it turns into an emotional marathon.
What attracted you to the role?
Sally sent me the script, I read the first episode and emailed straight back saying "this is amazing, have you got another episode for me to read", purely for personal reasons. It's always the same with Sally's stuff; I'm a huge fan of her writing as she's a great storyteller.
When you read Sally's scripts, they're not like scripts, they're like transcripts of people's lives and they breathe immediately. Her words do it for you, you don't have to think about it too much; in fact it's often best to let her writing do it for you. She's just top of her game really. Happy Valley is an extraordinary piece and it was not necessarily about Catherine but her part in the narrative.
What do you like about Catherine?
She doesn't give in, she never will give in. She wants revenge for Becky, but is such a diehard police officer doing everything by the book and this is one thing she has to do her way. But she does it as a mother. I do admire the way that she does the things that she does and they're not always attractive, but they're real.
How much research did you do for the role?
I went out with the police in Calderdale during the day; they didn't want to take me out at night because things change. It was fantastically useful because I'd always imagined in my head that these police officers were just people and that's exactly what they are.
Lisa [the police advisor] was always on set to help with the procedural stuff, she had a very keen eye on making sure everything was accurate. I really did need her there all the time, just for tiny things like putting handcuffs on or in one scene I deliver bad news to somebody and she said "look it's OK to cry and hug them". That was a huge relief because it's human nature and your instinct, but it tends not to be how we see that world portrayed.
Do you have greater admiration for police officers now?
I really do. One of the most interesting things I learnt when I went out with them was how undermanned they are and also that their life can change within five minutes.
We had this incident where we were called out to a house where the bailiffs had turned up and needed to take some belongings away. It turned into the filthiest fight and that's when I stayed in the van. The whole day changed. It's interesting, but it's not for me.