Claire Anderson (Costume Designer)
Multi-award-winning actors Michael Sheen, OBE (Masters Of Sex, Passengers and films Home Again and Brad's Status) and David Tennant (Broadchurch, Doctor Who, Jessica Jones) lead an all-star cast in Good Omens, a six-part humorous fantasy drama for BBC Two.
Published: 19 December 2019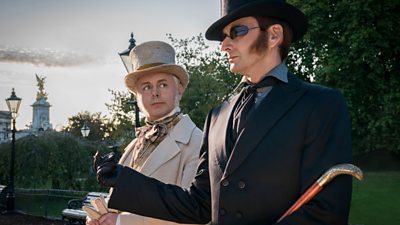 I hope the costumes feed people's imaginations and give the story another layer.
Did you relish the experience of working on Good Omens?
Definitely. It covers so many different eras and so many historic places. There is such a wide area to draw on. It's been a fantastic drama to work on. It's been a joyous journey of exploration.
What has been like working with Neil and Douglas?
It's been great. Neil and Douglas are so collaborative. If I was ever anxious about a look, I asked Neil and Douglas and we'd have a forum. Every time we came up with a solution; one of us would say: "Oh, I know, let's do it this way". It was exciting every step of the way.
Was there one sequence in particular that you enjoyed working on?
It's always terrific collaborating with the production designer to make it all work, and we had great fun doing heaven. It was a big glass, open space occupied by an army of angels. They needed to look angelic, but also military. So I found a soft plaid that worked very well and gave them an air of serenity.
Did you work very closely with Michael and David?
Yes. They were both involved in creating their looks. When you put something very distinctive on them, that helps them find the character. They are more interested in getting the look exactly right, rather than being vain. We had mood boards - light for good, dark for evil. Michael's costume is ethereal. He wanted something timeless that wouldn't look out of place now or in Victorian England. He found a way of contemporising his Victorian look. We were able to use aspects of his costume all the way through.
We gave him a tartan bowtie, but all tartans are owned, so we had to design our own specifically, incorporating golden thread and heavenly aspects. He also wears a Victorian waistcoat that is almost bald. We dyed things a lot to get the pale blue on his shirt that would give him serenity and warmth. He wears soft suede shoes and soft light cashmere trousers. It's about balancing colours with his very white hair to give him the right look. He needs an ethereal aura, and all of the colour palette needs to emphasise his heavenly glow. He's deliciously cherubic.
How did you go about creating David's look?
It really started with his 1940s look. The tailoring is very crisp and aligned. It's hard and sharp. Under the colour of every suit, we put red felt which was like the belly of a snake. Underneath that loucheness, David is slightly rock-starry and Keith Richards-esque. His black leather gloves have a tiny red line to emphasise his snake-like characteristics. We also found a 1980s jacket that had a quilted quality. We worked on it until it had a textured feel to it, like snakeskin. It's all about semiotics.
Do you have a favourite outfit on Good Omens?
I love Madame Tracy's. We were allowed to be really off the wall. I would think: "I've gone too far now," but I never had. I loved teaming her orange Welsh tartan cape with sumptuous pink leather gloves. Her look is exotic and intriguing.
What do you hope that viewers will take from your costumes?
I hope the costumes feed people's imaginations and give the story another layer. At their best, costumes always help tell the story, and I hope that's what we've done here.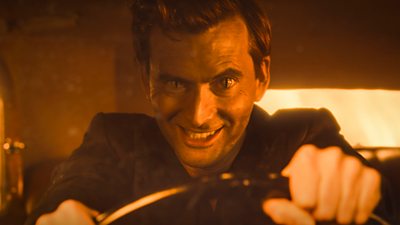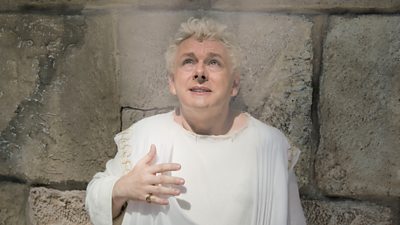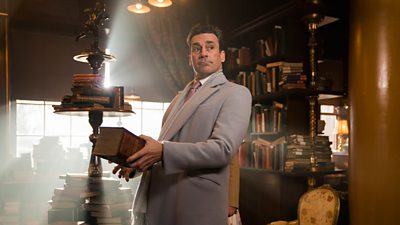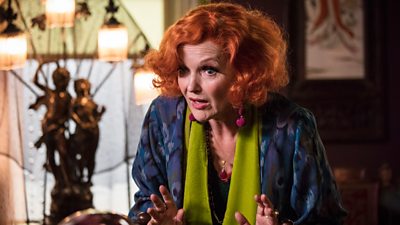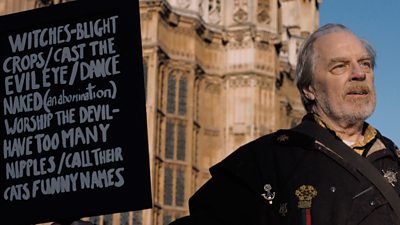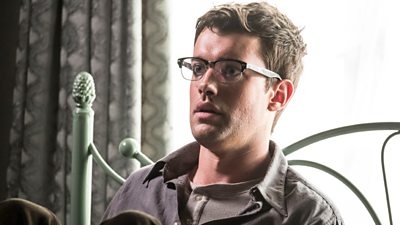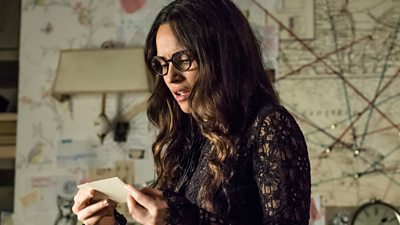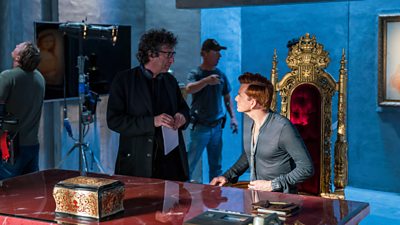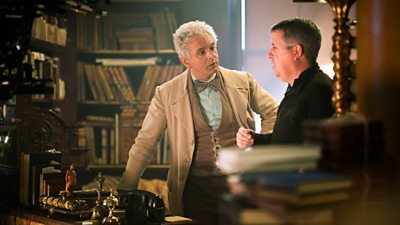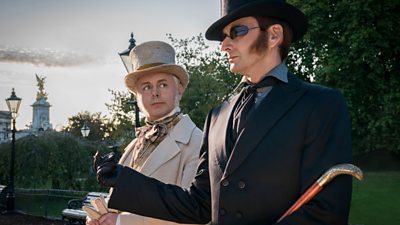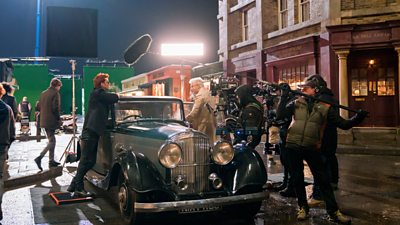 Related Programme Information
Related Media Centre Links
Related Web Links