Get Creative Festival 2018
Hundreds of arts organisations are to encourage audiences to have a go at being creative in the UK's biggest ever celebration of everyday creativity.
Published: 19 February 2018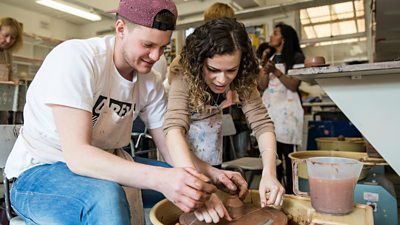 Arts organisations and community groups are preparing for the Get Creative Festival, a nine day fiesta to celebrate and inspire audiences to have a go at being creative, with 1,000 events expected across the UK
An interactive map run by Arts Council of Wales, Arts Council England and Voluntary Arts will help audiences find creative events on their doorsteps
The Great British Creativity Test will explore how creative activities can manage mood and boost wellbeing. BBC Radio 3's New Generation Thinker, Daisy Fancourt will test the public's creativity against the national average
BBC Four's Make! Craft Britain returns - a joyful celebration of all things handmade
BBC Arts Digital and Mixital invite the public to showcase their artworks
Existing festivals and projects such as Barbican's OpenFest, Crafts Council's Hey Clay!, Coventry 2021's Shop Front Festival, 14-18 Now's Processions, Scottish Borders Art Fair, Music for All's Learn to Play Day and more to support festival
The UK-wide celebration of have-a-go creativity is set to return in 2018 and this time it'll be bigger than ever before. The Get Creative Festival is delivered in partnership with cultural organisations including Arts Council England, Arts Council of Northern Ireland, Arts Council of Wales, the Crafts Council, Creative Scotland and Voluntary Arts. It will run from 17-25 March encouraging everyone to try their hand at something new and creative - from pottery to painting to printmaking; handbell ringing to quilting - and much more besides.
The festival will encourage people to find out how to get creative on their doorstep and try something different with hundreds of hands-on events on offer including:
The Scottish Men's Sheds Association has teamed up with Craft Scotland for mosaic workshops in sheds in Scotland
Each of Lancashire's 59 libraries are hosting events through the festival including using recycled materials to create landscape murals
The Irish Video Game Orchestra will hold an open rehearsal in Belfast
The Forget-me-not Chorus, who support people with dementia, the BBC Chorus of Wales will show rugby fans at the Wales v France Six Nations match the benefits of singing
Jonty Claypole, Director of Arts, BBC, says: "I believe that the UK is the most creative and inventive country in the world. Millions of Britons already know the pleasure of getting creative. I want the Get Creative Festival to spread the word even further so that everyone has the chance to experience that joy and boost in emotion from doing, making and sharing something creative. This nine day festival will turn the UK into a canvas for creativity from raku and pit firing in Dudley, to Argentine Tango classes in Belfast, poetry readings in Edinburgh to a rousing chorus of Welsh voices at the Principality Stadium in Cardiff. I'm thrilled that the BBC is able to play its part in making all those creative voices heard."
Robin Simpson, Chief Executive, Voluntary Arts, says: "Since it was launched in February 2015, Get Creative has celebrated the amazing creativity practised by millions of people as part of their everyday lives in communities across the country. By shining a light on creative activities that are often ignored or taken for granted, Get Creative has demonstrated the positive difference these activities make to people and places all over the UK. This year's Get Creative Festival promises to be an incredible moment in this growing national recognition of the importance of taking part in creative cultural activity - make sure you are part of it."
Rosy Greenlees OBE, Executive Director of Crafts Council, says: "Get Creative is such an important festival and the Crafts Council is delighted to be part of it. Taking part in creative activities is good for the soul and everyone should have the chance to have a go. The variety of partners means that there really is an activity for everyone (for the budding potters there's our own Hey Clay! workshops across the UK) so we hope people step out of their comfort zone and try something new this March."
LG
Nine day festival
For the first time the annual fiesta will spread across nine days, and hundreds of arts organisations big and small are being encouraged to put on free workshops and taster sessions aimed at inspiring and celebrating everyday creativity.
There is an interactive map to events that other organisations are putting on all round the country. The map, run by Arts Council England, Arts Council of Wales and Voluntary Arts, will make it as easy as possible for audiences to find out what's on. Get Creative is run in partnership by twelve creative organisations which include 64 Million Artists, Arts Council England, Arts Council of Northern Ireland, Arts Council of Wales, the BBC, Crafts Council, Creative People and Places, Creative Scotland, Family Arts Campaign, Fun Palaces, Voluntary Arts, and What Next?
Last year's Get Creative Weekend saw 650 events held across the UK. This year the annual focus on creativity has become the Get Creative Festival, merging with the established Voluntary Arts Festival. It is hoped that there will be 1,000 events, the majority free, to encourage creative participation.
Great British Creativity Test
BBC Arts and Tomorrow's World
With the help of the UK public and in partnership with University College London and Tomorrow's World, research scientists will explore how creative activities can manage your mood and boost wellbeing. The Great British Creativity Test will invite the UK population to discover how creative they are compared to the national average; but also provide valuable data for scientists wanting to understand what's going on in our brains when we get creative.
BBC Radio 3 New Generation Thinker and University College London senior researcher Dr Daisy Fancourt wants to test the link between creativity and wellbeing. Audiences will be able to see how creative they are compared to the national average as Dr Fancourt, in conjunction with BBC Arts and Tomorrow's World, conducts further studies into the health benefits of getting creative.
Big Painting Challenge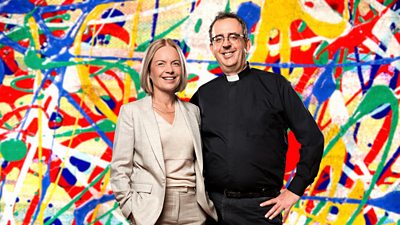 BBC One
Ten new amateur artists pick up their paint brushes and palettes on BBC One with the return of The Big Painting Challenge in 2018, presented by Mariella Frostrup and Rev Richard Coles. The artists compete in six weeks of challenges with the aim of becoming the winner of the BBC's next Big Painting Challenge.
For Get Creative:
Programme content will be shared on Get Creative's social media channels to encourage audiences at home to pick up their paint brushes
Mixital invites the audience to show off their paintings by uploading pictures of their masterpieces to the creativity space. A selection will be showcased online by BBC Arts
Viewers of this year's Big Painting Challenge can join in by sharing their own art on Mixital. Amateur artists, or anyone inspired by the shows, will be able to submit a photo of their painting. They'll find useful tips on how to improve their art from the show's Pascal Anson, and can review and comment on paintings submitted by other fans.
Make! Craft Britain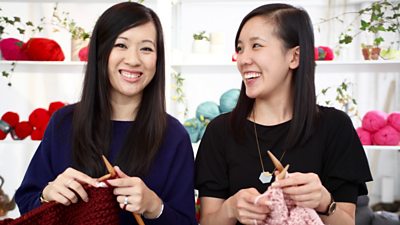 BBC Four
Make! Craft Britain is a joyful celebration of all things handmade, following ordinary people having a go at new skills taught by inspirational teachers.
Each episode offers a tale of two workshops taking place across the country. We'll watch as total novices master the art of mosaics, get the hang of hooky rug-making and try their hand at silver jewellery, as well as learning traditional letterpress printing, cross stitch and knitting techniques, all unleashing their own creativity in the process.
For Get Creative:
Bespoke origami masterclasses will be available for audiences to try their hand at paper folding
BBC Research and Development has created a Make-Along, a step-by-step tutorial by paper folding enthusiast Samuel Tsang to create an origami jumping frog. The innovative guide offers three simultaneous camera angles to view the developing make from multiple viewpoints, as well as a diagram plan so it's as easy as possible to see which stage you've reached. It pauses to allow audiences time to complete each fold and doesn't move to the next step until each instruction has been completed. It also offers a review and rewind function. It's the first time such a guide has been made available in conjunction with a programme
Make-Along Origami Jumping Frog
To accompany BBC Four's brand new series of Make! Craft Britain, BBC Research and Development has built an innovative step-by-step tutorial to help make an origami jumping frog. Paper folding enthusiast Samuel Tsang practices what he calls 'Mind-FOLD-ness', using the creative pastime to promote feelings of wellbeing and relaxation.
BBC Radio 1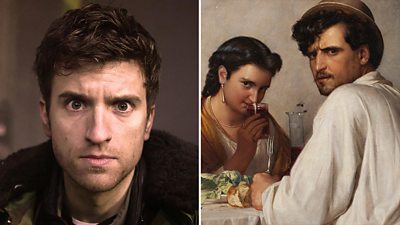 Radio 1's Greg James definitely WASN'T alive in 1866, but you might think otherwise if you look at a gentlemen in the foreground of Carl Bloch's painting In A Roman Osteria.
Greg teams up with comedian Joe Lycett to recreate the painting in which his 19th Century doppelganger features, and offers you the chance to paint him at home as he poses for a live video stream.
English Regions
The BBC's 40 local radio stations across England will be covering the Get Creative Festival. Presenters will be talking to those involved in different crafts all week, telling listeners how they can get involved in events, workshops and classes near to them.
BBC News England
The Big Picture gallery will be marking the Get Creative week with a special themed gallery. Audiences can join in by sending their photographs inspired by the theme to england@bbc.co.uk or via social media using the tag #GetCreative and #EnglandsBigPicture.
Learn to Play Day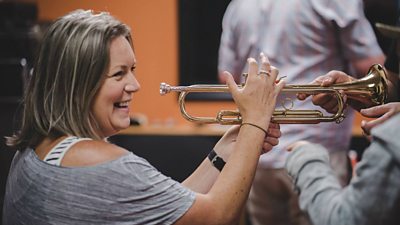 Everyone has the chance to try a free taster lesson on a musical instrument as this year's Learn to Play Day will be supporting the Get Creative Festival. Music for All's Learn to Play Day is taking place on Saturday 17 March and Sunday 18 March.
Returning for its seventh year, Learn to Play Day will once again offer the general public the chance to have a free taster lesson on a range of musical instruments at venues nationwide.
Music for All's aim for Learn to Play Day is to create a whole host of new music makers and to bring lapsed musicians back into action - young or not so young, brand new musicians or returning ones, all are welcome.
Processions
Artichoke and 14-18 NOW
On the centenary of the 1918 suffrage act, 14-18 NOW, the UK's arts programme for the First World War centenary, and Artichoke invite women and girls across the nation to mark this moment by taking part in a major mass-participation artwork, on Sunday 10 June, in Belfast, Cardiff, Edinburgh and London.
Just as beautiful handmade expressive banners were central to the struggle for women's suffrage and offer a visual snapshot of women's history, achievements and aspirations, text and textiles are at the heart of the Processions project. A nationwide creative programme of banner-making will take place in the lead-up to June 10, inviting the public to express the lives, ideas, hopes and concerns of women in the 21st century.
During Get Creative Festival, there will be banner-making workshops open to the public across the country, and banner-making toolkits with full instructions about how to make your own banner, flag or pennant can also be downloaded.
Hey Clay!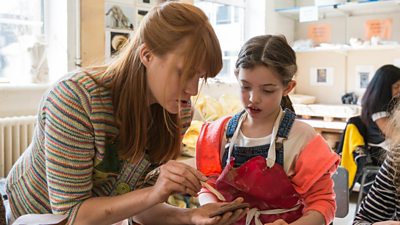 Crafts Council
The Crafts Council's Hey Clay! returns from Friday 23 to Sunday 25 March at more than 100 venues across the UK from Orkney to Cardiff to the famous Leach Pottery in St Ives Cornwall. Hey Clay! weekend gives people the opportunity to get creative with clay at free pottery workshops and is part of the Get Creative campaign.
Last year's Hey Clay! had 104 venues run nearly 300 sessions across the UK with 6,000 participants taking part. Many venues reported that their events were fully booked, and they had waiting lists for ceramic courses throughout the year. Hey Clay! visitors will be able to witness the drama of raku firing, have a go at press moulding, throwing on a wheel, pinching, slab building, coiling, decorating with found objects and much more.
A Poem To Remember
A Poem To Remember is a new poetry competition launched to mark the 100th anniversary of the end of the First World War, which falls later this year in November. Inspired by the conflict's illustrious poets, the competition seeks poems that honour those affected by service and pays tribute to humankind's capacity to overcome adversity.
For Get Creative, a series of workshops will be held around the country to encourage people to write poems along those themes. Led by experienced poets and literary experts, many events will be held in collaboration with the Poetry Society.
Prince William launched the competition earlier this month and will read out the winning entry at a ceremony in the summer to mark the gift of the new Defence and National Rehabilitation Centre to the nation. The best five entries will be chosen by a panel of judges, chaired by historian Dan Snow, and then go to a public vote. The competition is being supported by many of Britain's leading military and literary charities.
The competition is open to anyone aged 17 and over. Entries are welcomed from people in any walk of life, with or without a military background. Full details are available at: www.poemtoremember.co.uk
BBC Weather
Shall I compare thee to a summer's day? BBC Weather's Weather Watchers will be taking a leaf out of Shakespeare's book and will be encouraged to get creative with words and write poetry to describe the weather over the festival. The poems that catch the eye of the weather team will be featured on the Weather Watchers website.
Shop Front Festival, Coventry
As Coventry prepares to welcome the world as the UK City of Culture 2021 the city hosts the pilot Shop Front Festival on Friday 23 and Saturday 24 March. Presented by Theatre Absolute it will see theatre in shop fronts, pop-up performances in precincts, dancing in the streets - something for everyone to participate in.
Supporting the Get Creative Festival, highlights include Made in Store and Latherland where shopkeepers and customers take part in both a semi-improvised show for Coventry and a city centre soap opera, an Actual Reality Arcade where families play in a life-sized interactive game zone inspired by classic arcade games and an opportunity to join The Q by Talking Birds and celebrate the nation's favourite pastime - queuing!
Chris O'Connell, co-artistic Director of the Shop Front Festival, says: "We hope to bring something for everyone from young to old, from those who have experience of theatre, dance and music events to those who might stumble across one of our events for the first time."
Grants
Cumnock, Liverpool, Lincolnshire and Renfrewshire
Cumnock Action Plan and the Corra Foundation are encouraging Cumnock based groups and projects to get involved in the Get Creative Festival. If you have an idea for an event or group you want to start, or your interested in opening up your regular activity to more people, apply for £100 to buy refreshments, materials or to hire a bigger space.
In association with CREART and as part of the EU Day of Creativity, Culture Liverpool is offering a limited number of micro-grants to encourage Liverpool organisations to host events on 21 March 2018. Applicants must be not for profit organisations from Liverpool City Council boundaries, undertaking free publicly accessible, creative, cultural, visual arts activities.
Artists and creatives are invited to apply for micro-commissions of up to £500 to enable creative activities and events to take place in North Lincolnshire during the Get Creative Festival. The commissions are being offered by North Lincolnshire Council Arts Development, Winterton 2022 and Isle of Axholme and Hatfield Chase Landscape Partnership (IoAHC).
Voluntary Arts Scotland is inviting self-led cultural groups and projects based in Paisley and Renfrewshire to apply for micro-grants of about £150 to put on an event during the Get Creative Festival. The grants are supported by Renfrewshire Council's Culture, Events and Heritage Fund. They are looking to support events that aim to engage new participants/volunteers in creative cultural activity.
Great Exhibition of the North
The Great Exhibition of the North is supporting the Get Creative Festival as participatory projects go live in preparation for the start in Summer 2018.
The Great North Little Inventors 2030 Challenge, led by artist Dominic Wilcox, will challenge children aged 4-12 across the North to think up and draw their invention ideas and will then ask local makers, designers, artists and manufacturers to turn the most engaging ideas into real prototypes which will be displayed at the Discovery Museum. All children of the North are invited to embrace their imagination to think up and draw ingenious invention ideas to make life better or more fun in tomorrow's world. All resources will be available online where children can also share their drawings and receive feedback from the Little Inventors team!
But that's not all. Little Inventors is calling on the best makers and artists across the North to take part by turning the very best ideas into real objects!
Barbican OpenFest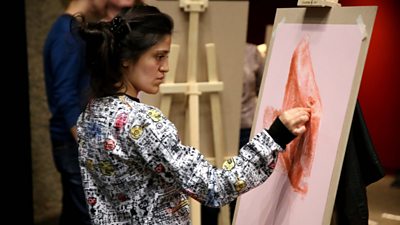 Following its successful launch in 2016, Barbican OpenFest returns for a second year welcoming everyone to explore the Barbican and its surrounding streets and venues. A weekend of inspiring art and entertainment, Barbican OpenFest will include everything from art exhibitions, music and dance, to free tours, open rehearsals, showcases and workshops in and around the iconic arts and learning centre.
Supporting Get Creative Festival, the two-day festival will see events such as Tunnel Visions: Array a free light and sound installation in the Beech Street tunnel (opposite Barbican Underground) created by 59 Productions, Chronic Youth Film Festival, programmed by and for young people; Our Future City hosted by the Museum of London; as well as a roller disco, ballet, photography, open rehearsals, installations and workshops inside the Barbican and its neighbouring venues, the Museum of London, Guildhall School's Milton Court Concert Hall and LSO St Luke's as well as interactive installations and events in the streets and highwalks surrounding the Barbican Centre.
Louise Jeffreys, Barbican Director of Arts, says: "We're delighted to be hosting Barbican OpenFest again this year, especially as it was such a success previously in attracting new audiences to the Barbican. Our free workshops and performances are a great introduction to everything the Barbican does and, with the weekend spilling out across the streets of the City of London's Culture Mile, this year's OpenFest is set to be bigger and better than ever."
Wales
In Wales, the festival will highlight how being creative has a positive effect on the nation's health and wellbeing. New research will be published by the Arts Council of Wales and they will also fund a project celebrating the joy of singing. The Forget-me-not Chorus, who support people with dementia, The BBC Chorus of Wales will come together to highlight the benefits of singing. A short film will be produced and will be shown on the big screen at the Principality Stadium in the build-up to the Wales v France final Six Nations game on the first day of the Get Creative Festival, Saturday 17 March.
Drawn Together
Drawing is a fantastic way of seeing and appreciating our surroundings. Imagine the result if we all drew together. As part of the new Drawn Together project in Wales, Voluntary Arts Wales and Coast Lines invite you to explore the highs of Wales through drawing Snowdon on Friday 23 March. If the weather is good, we'll conduct a drawing workshop on the summit. But even if we're snowed on, we'll still draw Snowdon - from the base.
Northern Ireland
Createathon
In Northern Ireland, we'll be celebrating creativity and creative industries throughout March as part of Creativity Month.
Join us in the Ulster Museum Belfast on Sunday 25 March for a Createathon - a marathon of creativity - with performances from the South Asian Dance Academy, Belfast Argentine Tango, Cantiunculae Choir, Royal Scottish Country Dance Society and many more. There will also be drawing, painting and printing workshops with Boom! Studios, weaving and spinning demos with the Ulster Guild of Spinners Weavers Dyers, knitting demos with Belfast Stitch n Bitch, kite making with Go Fly Your Kite and windmill activities with Top Floor Art.
Valley WoolSkool will host an evening of craft in Limavady, whilst Unbroken Threads gather for a weekend of community weaving in Newcastle.
​Come along to a family Ceilidh in Belfast with the Royal Scottish Country Dancing Society or create and craft together at the Ulster Folk and Transport Museum where you can watch traditional craft makers demonstrate blacksmithing, basket weaving and textile weaving techniques. You may even find some yarn-bombing in Ballycastle around the Puffin Gallery.
Creative Libraries
Libraries NI will be hosting Creative Libraries - a showcase of the creative activities that happen in libraries across Northern Ireland. See your local library in Northern Ireland for details of showcases and activities during the festival.
Scotland
Get Creative in Scotland will kick off with My Time - a celebration of the everyday creativity taking place in towns and cities across Scotland. The Scottish Poetry Library and Voluntary Arts Scotland will be joined by poets from St Mungo's Mirrorball, for readings of poems inspired by visits to creative groups - from quilters and musicians to swing dancers and arts festivals.
The Scottish Potter's Association will be inviting you to 'release your inner potter', with Hey Clay! events popping up across the country. Join The Quilter's Guild to try your hand at a new skill, or join Project Ability in Glasgow to explore their creative activities for people with disabilities and mental health issues.
Get Creative will be connecting with festivals across Scotland. Explore new artistic techniques at the Scottish Borders Art Fair, try Samba, felting or ukulele workshops at Lochwinnoch Arts Festival, or try your hand at reading aloud with St Mungo's Mirrorball at their poetry open mic night at Aye Write festival.
The Scottish Men's Sheds Association will be teaming up with Craft Scotland to run mosaics workshops at the Rutherglen and Cambuslang Men's Shed. Their collaboration will be exploring how getting creative can nurture new opportunities to socialise, learn new skills, and enrich lives.
Together
Get Creative teams up with Together, the UK's 'do more' channel that motivates viewers to do more in their lives, and for others. In their Make Together strand - all about arts, crafts, hobbies and passions, the TV channel will promote a call to action for viewers at the end of its relevant, inspiring shows to invite viewers to get involved with Get Creative and the festival. To celebrate the Get Creative Festival, Together will also be broadcasting our participatory and community arts series Wonderland along with crafting series Crafty Beggars, which returns for a new series in May, and painting series Colour in Your Life, whose UK version Colour in Your Life UK begins in April. Together broadcasts on Freeview 93, Sky 539, Virgin Media 269 and Freesat 164.
Tagged: