Inspector George Gently VIII
1969: and Gently (Martin Shaw) and Bacchus (Lee Ingleby) return to BBC One for the eighth series of the classic Inspector George Gently, with four new feature-length films.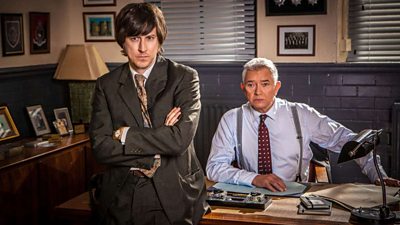 This season Peter Flannery writes the first two episodes – with stories that tap into the period with all its vivid and colourful changes in perfect detail. The first landing on the moon (seen in glorious black and white on their TV screens), fluffy car dice, Pan's People, North Sea oil and the first police in-car radios, sees the world changing at speed.
Full of warmth, humour and attack Gently and Bacchus continue their winning police partnership. Still on their team is the feisty WPC Rachel Coles (Lisa McGrillis – Hebburn) – who appreciates Gently's forward thinking and gives as good as she gets from Bacchus, crushing his stereotypical male attitude towards a female PC (not without a fight or two along the way!). Both are keen to further their careers and be promoted – which for Bacchus is long overdue.
Peter Flannery says: "As the 60s draw to a close the issues facing policing seem more relevant than ever. We're looking at the way rape complaints are met by the police - and nothing much seems to have really changed there, except perhaps the terminology. And we're looking for the first time in IGG at corporate crime, which seems to be always with us. In Films 1 and 2 Gently makes it a personal task to challenge both vested interests and the traditional ways of doing things - to his cost. As I'm sure Neil Armstrong MEANT to say: one small step for a man, one giant leap for mankind'."
Gently enjoys his boxing bouts in the ring when off duty, whilst Bacchus has moved on with a new relationship with the delightful Gemma (Annabel Scholey – Walking On Sunshine, Being Human), but nothing is ever straight forward. Gently and Bacchus are both keeping personal secrets from each other, but there is such a bond between them that they, of course, become involved in each other's shocking secrets.
The first film, Gently With The Women, finds Gently investigating a rape of a prostitute. Unravelling how rape is handled within the force and how many recent cases had actually resulted in charges being laid, the team have to deal with animosity from their colleagues….. The cast includes: Emily Woof, Derek Riddell, Jeremy Swift and Denise Welch as the brothel madam.
In the second film, Breathe In The Air, an investigation into a GP's suspected suicide, see Rachel Coles (McGrillis) returning to the small village community that she grew up in, which stirs up tragic memories – and the "white snow" they used to play in as children….. The cast include Downton Abbey's Lesley Nicol and Nicholas Woodeson.
Film three, Gently Among Friends, has the Wildcat strikes as its backdrop, where rubbish is piling on the streets and a man is found dead. The victim was in a lot of debt – but who killed him and why? Jim Moir (Vic Reeves) plays a shady pawnbroker and Sherlock's Louise Brealey is a prime suspect. Further casting includes: Emma Cunniffe, Anthony Flanagan, Adrian Bower, Paul Brennen.
Film four, Son Of A Gun, finds Gently furious that guns are so easily accessible - and following an armed robbery he seeks to find the armed gang and bring them to justice. Jody Latham (Shameless / Hollyoaks) plays skin head maniac Jonjo Burdon. Christmas Eve and a bank is hit and guns are on the street. It is a race against time for Gently to catch the gang before more people are killed. Rachel (Lisa McGrillis) takes a huge risk to go under cover joining the skin head gang. Cast includes: Danny Cunningham and Lucian Msamati.
Inspector George Gently is made by Company Pictures, executive produced by Caroline Levy, Faye Dorn, John Yorke and Peter Flannery Company Pictures and by Polly Hill for BBC One. The films are produced by Peter Norris (Line Of Duty), and Ep 1 & 2 directed by Roger Goldby (Call The Midwife) with Ep 3 & 4 directed by Tim Whitby (The Village).
Inspector George Gently was re-commissioned by Ben Stephenson, Controller BBC Drama Commissioning and Charlotte Moore, Controller BBC One.
Inspector George Gently VIII is filmed on location in Durham and the North East.
Notes to Editors 
The full Media Pack is available to download here. 
DG
Related Downloads (PDF)
Related BBC Links
Related Web Links
Tagged: