Claire Collins (Costume Designer)
BBC Studios Productions' ever popular daytime crime drama Father Brown returns to BBC One in early 2020 for an eighth series with ten brand new episodes (10x45') following the murder mystery solving skills of the clerical sleuth.
Published: 11 December 2019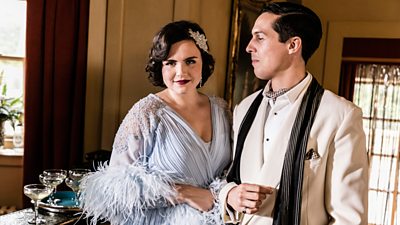 I love making people look and feel good, but ultimately the story you can tell through costume and through clothes is the most satisfying part of my job.
How do you pull everything together? 
For principle cast I get one main fitting for the whole series, which is normally about three hours. At that fitting we compile 60 or so variations. We buy a bit of vintage, buy a bit of contemporary, but we also use a big costume house in London, Angels Costumes. We use quite a lot of originals that come from their stock. Because Emer (Kenny, who plays Bunty) is so tall (it wasn't regular for ladies of the 1950s to be so tall), we have to make all of her costume. We have a wonderful maker who even whipped one of her dresses together in two days when we were on a tight deadline.
Do you have any real designers for the fashion show episode?
No - the costume house have a stock of all different designers/collections that they have collected over the years, so I cherry-picked from their stock, for example one of the hats is by Philip Tracey, it is beautiful and is a statement piece. Some of the dresses are tweaked modern day Jenny Packham evening dresses that already have a 50s cut. For me it is looking at certain things; neckline, hemline, where the waistline is, length of skirt - with accessorizing and hair and make-up, we can make it look like the correct period. There were also some really good period cuts this year on the high street, for example really high waisted trousers with double pleats, and raglan sleeves. We also have a milliner whose collection we used for the fashion episode who has a background in costume design. Even though all her hats are contemporary, they all have a kind of basis in period shapes. I lifted some of those shapes and sneaked in a few new things to give it a sort of different vibe to the rest of the show, so then you have got that contrast with the world that exists in Kembleford.
What do you enjoy about your role?
It is really full of variety. Peter (Bullock) the producer and the writers are really good at allowing me to set the world and tell the story, it's a real treat to be honest. They understand what costume can do to drive home the narrative. I love making people look and feel good, but ultimately the story you can tell through costume and through clothes is the most satisfying part of my job.
How do you make everyone look different?
One of the big challenges is finding the balance with the background characters we create. Sometimes they need to just blend into the background so you don't notice them, but other times you need them to set the scene. We take great pride in creating interesting characters from interesting casting. We just had one lady that was hard to fit - she was playing a fashionista, she was very petite and mild and didn't have much presence. We had to take a minute and find her character, have a bit of a play and accessorize and it came out very well, so we were very pleased. Eight years on we have churned out a lot of characters. We take roughly 300 costumes from the costumiers for the series, but out of those 300 we re-hash and re-style something like 1,700 outfits for the series as a whole.
What else have you worked on before Father Brown?
I have always worked on period costume. I trained on the big Victorian period dramas like Bleak House and Jane Eyre, so I was very corset and crinoline trained before I came to Father Brown. I've always used costume houses and have always worked with them quite closely and I think that's really informed how I go about this job. I did Miss Marple as well, and Poirot, so I had quite a good early 20th century background to come on to this, and it does really interest me.
What are the challenges of the job?
I reference a lot, so I tend to do a lot of research. I have an idea of what I want to create, but sometimes it is difficult to have the headspace to think everything through and make critical tweaks. You have to be quite instinctive when you have two days to put something together.
Is there a secret of the trade you would like to share?
I would say the fifties is all about underwear. We use a really amazing supplier; it's all very classic cut, so for us, bust shape, waistline, hip cushioning, shoulder-pads, that's where all the shaping comes from. All the structure and shaping of an outfit is underneath, and we can tweak what goes over the top.
Related Media Centre Links
Related Web Links