Sarah Brown (Executive Producer, STV Productions)
Two-time Academy Award winner Glenda Jackson makes a triumphant return to the screen after 27 years, in this poignant and compelling mystery based on the bestselling novel by Emma Healey.
Published: 29 November 2019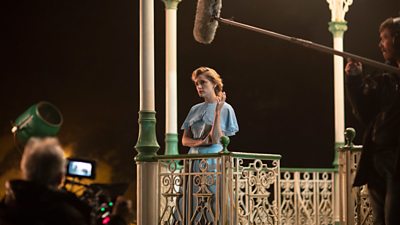 I think a lot of dramas about dementia have been about caring and carers of people with dementia and what this does, which is totally unique I think, is to tell the story about dementia from the point of view of somebody with dementia.
When you read the manuscript, what was it that first attracted you to it?
When I arrived at STV Productions, script executive Claire Armspach had already optioned the book. I was thrilled because I knew the book as a reader and as a fan. I was just so bowled over by the fact that it was writing about a subject that felt so incredibly serious and important with real truth and authenticity but Emma Healey had a found a way to bring a warmth and heart and a humour to that subject matter.
What was it about Andrea's script that felt like a good fit for the film?
I was a big fan of Andrea's work for years really because she writes with real heart and truth but she also writes the smaller moments with real poetry and sensitivity. We knew we would need somebody who would bring a truthfulness and authenticity but also kind of beauty and a poetry to the subject matter and to the book. She was clearly the most perfect fit for it when we eventually got the script.
From that point, can you talk about the process to getting it to the screen?
It was a very, very long process. Partly because we started off thinking it was going to be a three-part drama. But it became apparent that really it kind of wanted to be told in a single chunk. It's such an immersive story, you really dive into and come out of the other side. In order for it to work in a three-parter we would need to create hooks and cliff- hangers that really weren't there. So there was quite a long development process with the script in figuring out the best shape for it, which we eventually did.
How would you describe the story?
It's a story about dementia and the portrait of a disease, told from the point of view of someone experiencing dementia. I think there's a lot of aspects of the way dementia is portrayed in the book that feel very universal. On top of that you have these two fantastically compelling mysteries at the heart. The one in the present which is Maud's search for her best-friend Elizabeth; and her memories of the past and the search for her missing sister Sukey. Through these very compelling mysteries we unlock the disease and the nature of memory in a really powerful way.
What was the process of getting Glenda Jackson on the project after she hadn't acted on screen for 25 years?
When we appointed Aisling Walsh as director we immediately started talking about the casting of Maud because it was so essential to the success of the film. It was actually Aisling that had the idea of Glenda and it was like a light bulb moment for all of us. From that point on it was actually quite a straightforward process, which is not always the case when you're casting a lead actor. We sent her the script, Aisling went to talk to her about the script and within a week she said she wanted to do it.
What was the process like for the rest of the casting after casting Glenda Jackson?
The casting was a complicated jigsaw, because we had to find Maud's family, so Maud's daughter Helen and her granddaughter Katy, and that had to gel as a believable family unit. And then of course in the past we had to find an actor who could play a younger Glenda Jackson and we found Liv Hill. I'd been aware of her work in Three Girls and other things and was a huge fan. But when she came in to talk to us about playing young Maud, it such seemed to make so much sense because they look so alike. And then Sophie Rundle came on board and she had just been in Gentleman Jack and Peaky Blinders and is just the most fantastic actress, who just has such a huge range.
What was it that made you go with Aisling to direct it?
She's just an extraordinary film maker both on feature films and on TV. She's the master of single films on television and not to mention her career as a movie director. I think she's got such incredible sensitivity. In fact, when Aisling came in to talk to us about Elizabeth Is Missing, we literally didn't meet anyone else after that, we all knew in that moment that she was the person. She had such an empathy for the book and the script, she understood it on such a deep level, that it just felt like such a natural fit when she joined the team.
As a project what does Elizabeth Is Missing mean for STV Productions?
I want to make drama that speaks to mainstream audiences but that has something important or meaningful to say. That can be within a genre or within a relationship drama but I think what this demonstrates is the range of what we want to be doing. The original novel and Andrea Gibbs' extraordinary adaptation are both examples of amazing writing, which is at the heart of everything we do.
Can you talk a little bit about the tone of the drama?
What we really didn't want to make was a really grim, bleak and depressing drama about dementia. We didn't want it to feel like homework for the audience, we really wanted to create a drama that was immersive and a really compelling story and a lovely place to spend time and characters people would fall in love with. Clearly the dementia is absolutely at the heart of what we're doing and Andrea Gibb takes that incredibly seriously, and we've talked to people who are experts in dementia to try and get that as right as possible. But at the same time we want to take the audience on an entertaining journey as well and an enthralling journey. I think a lot of dramas about dementia have been about caring and carers of people with dementia and what this does, which is totally unique I think, is to tell the story about dementia from the point of view of somebody with dementia. Of course in the hands of a master like Glenda Jackson, she does it like nobody else. The other thing I wanted to mention is that Maud is still Maud. She's not defined by her dementia, that's just what she's experiencing, but the personality she was before and who she still is, absolutely sings out in this show. She's still funny and she's irascible and she's got a great friendship and all those things that were Maud before she became ill are still there.
What are you hoping the audience will take from the drama?
Millions of people love the book, and we hope they feel that we have done justice to it. But then I suppose it goes back to dementia really and allowing people a little bit of an insight of what it actually feels like to experience dementia from the inside and I think that's what the book and the adaption and the performances and the way in which it's being directed, hopefully they all present that in a really powerful way to the audience. Hopefully they'll be entertained as well, along the way, and laugh with Maud.
Related Media Centre Links
Related Programme Information
Related Web Links