Mark Stanley (Frank)
Two-time Academy Award winner Glenda Jackson makes a triumphant return to the screen after 27 years, in this poignant and compelling mystery based on the bestselling novel by Emma Healey.
Published: 29 November 2019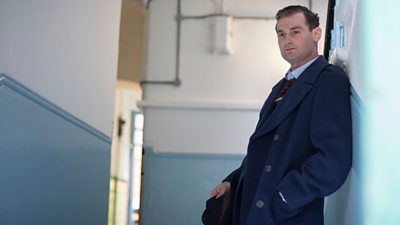 I did something I wouldn't normally do; we send these tapes off and I sent her probably five times/six times the amount I'd normally send. Just because once I'd spoken with her, I knew I really wanted to work with her.
What drew you to the project?
I didn't know the story at all, I'd never read the book. Like most people I was put through the auditioning process and I spoke to Aisling. She was my first port of call into the project and once I'd spoken with her, I tried my absolute best to do it really. I did something I wouldn't normally do; we send these tapes off and I sent her probably five times/six times the amount I'd normally send. Just because once I'd spoken with her, I knew I really wanted to work with her.
Can you tell me a little bit about your character Frank?
He's a war veteran, he served in the Second World War and he's come back and he's found his way by doing odds and sods, wheeling and dealing really. Trying to find his way to support him and Sukey and help out probably with her mum and dad and young Maud. He likes to be the life and soul when he's out and about, he likes to hold court and tell stories and he's got plenty of them. I think he's quite a front-footed person and he just does what he can to make ends meet.
What's his relationship like with Sukey?
It's a loving relationship. It's got its strains, like most peoples', but he loves her with all of his heart. But he has his pride and he doesn't like being questioned very often.
What about young Maud and Frank's relationship?
Young Maud is the little sister he never had. He likes to include her, look after her, he doesn't mind her being around. That says a lot about how he feels about her. I think he's got a loving relationship with her. It's obviously always that thing, if you're trying to impress the parents, I'm not sure he's got a very stable relationship with the father. Sometimes I think he outshines him a bit, a bit of the gift of the gab and if he's coming in constantly with reams of silk that someone can make a dress out of, then maybe Sukey's father sees that as a bit of an intrusion. But he tries his best to make Maud feel included and by doing so, impressing the family.
What's the dynamic like once Sukey disappears?
Frank puts on a huge front, so I think what we tried to find is an ambiguous behaviour with him where he doesn't quite know what Maud knows and Maud doesn't quite know what he knows.
Has anything been challenging for you in the process of finding Frank?
You're given these small surfaced moments and you've got to try and make each one significant. Whether we are seeing him in quite a broken state, or a very optimistic one. In terms of challenge, it was trying to find that ambiguity and not let on too much. I've just enjoyed the limited amount of variation you can get in these small amount of surfaced scenes, that Maud re-lives in her memory. They've got to be poignant otherwise they wouldn't be there, and it feels like in the 90-page script, everything is there for a reason absolutely, so it's just about making sure you're serving it correctly.
Your character appears as a memory in the present. What's it been like filming across two time periods?
It's quite nice being an intrusive memory for her and obviously I like working with Glenda Jackson because she's an absolute legend. It's nice having that but it feels odd because you're turning up in period stuff and you're in 1949 and you're walking in on her in a kitchen and shocking her. But to be honest with you, it doesn't matter what you're wearing, people are people.
Do you have a favourite scene that you've shot?
My favourite scene that I've shot was day one and I think it was coming in and hearing from the family that she was gone because day one is always really nice and everyone's talking about the story and everyone's really up for it.
If you had to say what thing for you was at the heart of the piece, what would that be?
That awful downward spiralling and deterioration in dementia. But constantly bolstered by the love and life brought to Maud by Helen Behan's character, Helen. That is absolutely at the crux of it. I think their relationship as it's written down, I haven't seen any of it but knowing Helen's work, she's incredible and so is Glenda, I'm sure they've found a wonderful connection. But that passing down of knowledge and re-visiting and nostalgia, knowing things but having your memory taken away from you must just be horrific, I can't imagine it really.
Related Media Centre Links
Related Programme Information
Related Web Links