Interview with Jo Eaton-Kent
Jo Eaton-Kent plays Bradley.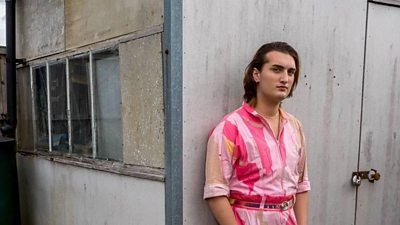 Do I have a favourite character? I love me! Also Kayla, because she's so feisty. Joy is a joy in general, she's fantastic.
Tell us about your character
Bradley is Kayla's best mate. Bradley is a non-binary person. The writer Tim describes Bradley as Bognor's Leigh Bowery/Scotty - very colourful and very queer. Bradley does what they want and lives the life they want to live and is training to be an undertaker at the local mortuary.
What's the relationship between Bradley and Kayla?
Brad and Kay are best mates. They are fire and ice, like all good dynamic duos. I'm the ice to Kayla's fire. Kayla, Brad and Rita are probably the weirdest people in Bognor Regis! We're the dream team of weird.
What's the relationship between Peter and Bradley?
Brad and Peter know each other through Kayla - in the show I'm always at Peter's house, smoking something or playing on the games console! I'm not sure how Peter feels about Brad, but I don't think Brad cares either way.
Where does the comedy in the series come from?
I think a lot of what's funny about this is how real it is. A lot of what we do is completely ordinary, but at the same time hilarious. We are normal, different human beings put into a pot together.
What elements of this series particularly stand out to you?
The inclusivity of the show - the casting - it's just not something you see in film and television. It's on the rise, but you don't get enough of it. We need to see more of it and this series is leading the way. I'm a non-binary person myself and I haven't really ever seen any characters on TV like me, of my generation, representing the non-binary, gender-fluid, gender queer community.
It's never specified in the script what Bradley identifies as. There's no use of pronouns, Bradley doesn't really talk about it - but that's the reality. People's identities are their own problems. That's what I love about the show, it doesn't exploit the topic. It doesn't sensationalise it. It's just a reflection of life.
What do you think audiences will get from this series?
Hopefully they will find it funny! Hopefully they will see that we can all coexist inside this little bubble. We're all just doing what we need to to get by and audiences will empathise with that. There's common ground.
Do you have a favourite character?
I love me! Also Kayla, because she's so feisty. Joy is a joy in general, she's fantastic - Marcia Warren is a genius. I also fancy Lech a little bit! He's over six foot, muscly and European! Need I say more.
Credits
Peter Green / Barry Green - Toby Jones
Fran - Claire Rushbrook
Joy - Marcia Warren
Squeaky Dave - Danny Kirrane
Kayla - Erin Kellyman
Rita - Luwam Teklizgi
Brad - Jo Eaton-Kent
Lech - Dino Kelly
Cameron - Harry Gaythwaite
Micheal - Tim Preece 
Maureen - Carol MacReady
Colin - Stephen Bent

Parish - Krrish Patel
Manju - Bharti Patel
Kieran - Wils Whittington
Ade - Luke Sullivan
Executive Producers Jane Featherstone, Naomi de Pear
Created by Tim Crouch
Written by Tim Crouch and Toby Jones
Produced by Holly Pullinger
Directed by Tim Kirkby
Related Programme Information