Don't Forget The Driver
Bognor Regis is the small town caught up in a big situation, in Toby Jones' and Tim Crouch's new comedy for BBC Two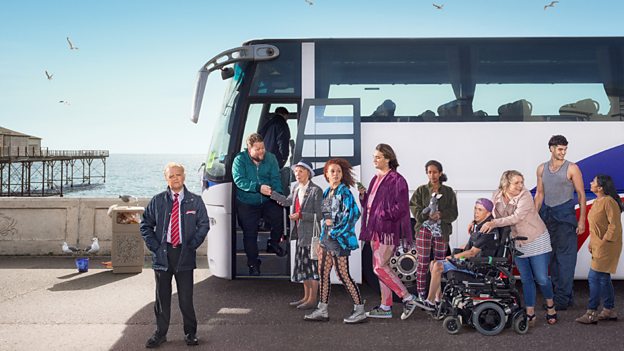 Don't Forget The Driver
Date: 02.04.2019
Last updated: 12.04.2019 at 14.54
Don't Forget The Driver (6x30') is a new comedy for BBC Two, the first piece of writing for television from Bafta-winner Toby Jones and Obie Award winner Tim Crouch.
Set in the seaside town of Bognor Regis, Don't Forget The Driver observes the beauty and ugliness of life in small-town Britain, following a group of people struggling with their sense of identity and place in the world.
Don't Forget The Driver has been commissioned by Patrick Holland, Controller of BBC Two, and Shane Allen, Controller, Comedy Commissioning at the BBC. The comedy is Executive Produced by Jane Featherstone (The Split, Broadchurch, Humans) and Naomi de Pear (Flowers, The Bisexual, River) for Sister Pictures, and BBC Comedy Commissioning Editor Kate Daughton.
Directed by Tim Kirkby (The C Word, Fleabag), Don't Forget The Driver also sees Holly Pullinger (previous Line-Producer credits include Save Me, Flowers and The Bisexual), step into her first producer role to produce the 6x30' series for Sister Pictures.
IR
Credits
Peter Green / Barry Green - Toby Jones
Fran - Claire Rushbrook
Joy - Marcia Warren
Squeaky Dave - Danny Kirrane
Kayla - Erin Kellyman
Rita - Luwam Teklizgi
Brad - Jo Eaton-Kent
Lech - Dino Kelly
Cameron - Harry Gaythwaite
Micheal - Tim Preece
Maureen - Carol MacReady
Colin - Stephen Bent

Parish - Krrish Patel
Manju - Bharti Patel
Kieran - Wils Whittington
Ade - Luke Sullivan
Executive Producers Jane Featherstone, Naomi de Pear
Created by Tim Crouch
Written by Tim Crouch and Toby Jones
Produced by Holly Pullinger
Directed by Tim Kirkby
Search the site
Can't find what you need? Search here
Related Programme Information