Interview with Matthew Goode
Interview with Matthew Goode who plays Stanley in new BBC Two drama Dancing On The Edge.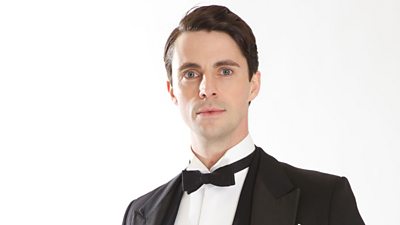 Tell us about your character Stanley
Stanley is quite ambitious character, the chief editor of The Music Express, which was a competitive music magazine in the 1930s and of course became The New Music Express (NME). He is hired to find bands to play at the Imperial Hotel, bringing more exciting music to the managers and therefore drawing more public to the venue. He takes a punt on this band – the Louis Lester Band. He goes to see them perform and they turn out to be rather good. One thing Stanley can offer the band in terms of penetrating the mainstream is that he tends to circulate with the higher echelons of society who put up with him because although he is cheeky, he's likeable.
He meets Pamela who is from a very well heeled family background, a kind of 'post-debutante' but is yet to marry, much to the chagrin of the mother. He, on the other hand, is from the East End of London and most likely would have had a grammar school education.
He really sets out to have The Music Express be the biggest selling music magazine in the country. He is very much out for himself in many ways and it becomes a happy accident that he meets the Louis Lester band. He's not conniving, but you're never quite sure where his loyalties lie, which I think is the attraction to this show as I think it's the case for a number of the key characters.
Can you tell us how your character fits into the key themes of the show, particularly across the subjects of race and immigration?
Stanley is quite a forward-thinking character. He's not racist in any sense. This is during a period where there was a fairly wide scope of racism across the UK. He's very forward-thinking and his main interest is in music, discovering talent and using that talent for his own benefits. He's very happy to socialize and be friendly. He doesn't look to take any position over the group, certainly as far as I'm concerned.
How does the music influence the show?
The music is brilliant. Adrian has done an amazing job. Firstly, we've got some of the best jazz musicians in the country playing in the band, They're incredibly lucky to have found Angel and Wunmi who both have incredible voices. It's also extraordinary to think that these are all original songs. I'm sure this music could do very well as an album on its own.
Sometimes when you're on set you here the words "playback" and you know they are about to run some music for the tenth time, you think "Oh my God, when will this hell end?" But not on this job.
What's it been like working with the rest of the cast?
We have an amazing cast. I've always wanted to work with Chiwetel. And some amazing young actors like Janet Montgomery, Joanna Vanderham and Tom Hughes. I think this spread of talent help to make it a very though-provoking period drama.
Related BBC Links