Tamla Kari plays Rachel
Tamla Kari talks about her role in the new BBC Three comedy Cuckoo.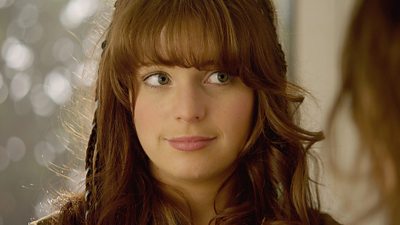 Q. Tell us about Rachel
A. Rachel is a nineteen-year-old girl who has gone on a gap year to Thailand after getting top marks in her A Levels. The series starts with her due to return home and start at university. However, whilst away, she's met the love of her life, Cuckoo, and has married him on a Thai beach. Before Thailand she was a trumpet playing, A grade student and a real daddy's girl. When she returns, she's more than a little different, much to the horror of her father.
Q. What attracted you to this part?
A. She's different to anyone I've played before. There's lots of stuff going on for Rachel. She's fallen head over heels for a guy who seems like an utter fool to everyone except her and she has to try and make them all see why. On top of this she desperately wants the approval from her dad who makes it very clear that he can't stand Cuckoo so she's torn between them both. I was also really excited to work with such an amazing cast. I'd have been crazy to turn down the chance of working with such brilliant and exciting people. Also, I did think we might have been filming in Thailand. We didn't - we filmed at Farnham Ponds... gutted.
Q. Are there any similarities between Tamla and Rachel?
A. Yes absolutely! We both share a great love of people and I would say we are both quite outspoken and opinionated, although Rachel is a lot more confident and clued up on politics than I am, even if I don't necessarily agree with everything that she preaches. A lot of that voice comes from Cuckoo's influence rather than what she truly believes. The one thing that I think I can safely say we're different on is that I would never marry a random hippy on a Thai beach that I'd only just met!
Q. Rachel's a bright girl, what is it about Cuckoo that she finds so attractive?
A. Other than the fact that he's drop dead gorgeous… I think before meeting Cuckoo, Rachel didn't have a lot of attention from boys and also didn't seek it either. It's like he casts a spell on her. He's like nobody she's ever met before; boys like Cuckoo aren't around in Litchfield. He's so interesting and passionate in his beliefs and as much as Cuckoo can go off on a tangent sometimes, he has a massive, beautiful heart and she sees that. She utterly adores him and they are devoted to each other.
Q. Rachel seems happy to change her future for Cuckoo, but her dad seems to have different ideas. Do you think Rachel will ever have to choose between them?
A. I hope not. I think Rachel is determined to make her dad see how amazing Cuckoo is. Rachel is very headstrong though and adores Cuckoo. I don't think she'd ever give up on her relationship with him to please anyone else, even her dad.
Q. Your character is Lucy in The Inbetweeners film. How does being in a movie differ to a sitcom?
A. Well the main thing is the work schedule; you have to shoot a lot more in a lot less time. We had six weeks to shoot six 30-minute episodes which is essentially two movies worth of footage! Luckily, what was great about Cuckoo was that we were a family. We were together every day in our set built home and became so comfortable so quickly, plus when you're filming with two comic geniuses that are Greg Davies and Andy Samberg, there was never a dull moment!
Q. Would you ever consider doing anything as spontaneous as Rachel has in the show?
A. I wish I was that cool but I'm a real homebody. I like to stay in drinking endless mugs of tea. I'd like to travel more but I'm far too much of a wuss to up sticks and do it on my own! Beside which I have absolutely no sense of direction either so would definitely get lost if I was by myself. I even walked passed my own house the other day!
Q. Have you ever done anything really spontaneous that you want to reveal?
A. Again sadly not! If I don't plan ahead then it generally tends to end in disaster. I tried snails once... does that count? I promptly heaved and spat it back out.
Q. Have you ever been attracted to someone outlandish as Cuckoo?
A. Only Cuckoo himself. I defy any girl not to fall in love with Cuckoo after watching this series.
Q. What do you think will become of Rachel and Cuckoo, will it be happily ever after, or might their relationship blow up as quickly as it began?
A. At this point I can't imagine Rachel and Cuckoo ever splitting up. They're so in love, it's sickening. They are still in the honeymoon period however so you never know. I hope not - they're so great together.
Q. What was it like working with such funny people?
Such great fun which could sometimes lead to trouble… Greg had a tendency to make me laugh right before shooting the scene. Andy would improvise a lot which would take me by surprise and I'd just corpse in the middle of the scene so we'd have to go again. The hardest was trying to keep a straight face when you could hear the director, Ben and the producer, Dan, laughing behind the camera. It was an amazing experience and I learned so much from watching everybody work, especially Andy. He had such confidence and wasn't afraid to try new things which created a really great atmosphere on set. His humour is so quick and clever. He's extremely talented as were all the cast. It was great to be a part of.
Q. Did the laughs continue off screen once the cameras stopped rolling?
A. There wasn't a day that went by when Greg didn't have me in stitches. I'd be laughing to the point of pain he was so funny.
Q. What is your favourite memory from your time filming Cuckoo?
A. There are so many. Greg and Andy's songs that they'd make up. One day where Helen and I caught the giggles at one of Greg's lines and just couldn't stop laughing, the more takes we did, the worse it got. Eventually we had to come back to it the following morning! The best of all was a scene that I don't want to say too much about because it'll ruin it. All I'll say is that it involves Greg Davies, Ken Collard (who plays Steve) and a chicken drumstick.