Cuckoo
A new comedy for BBC Three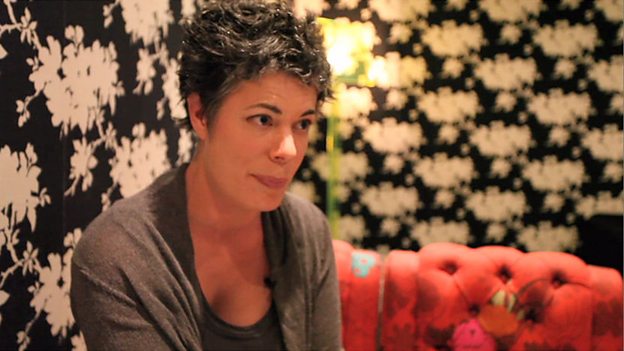 Cuckoo
BBC Three continues to break new comedy. Cuckoo is both original and unique. We're delighted to be announcing this exciting new sitcom with such an illustrious cast from two of my favourite new writers."

Zai Bennett, Controller, BBC Three
Date: 13.09.2012
Last updated: 25.03.2014 at 13.20
Cuckoo (Andy Samberg) is every parent's worst nightmare - a slacker full of outlandish, New Age ideas – and the man Ken (Greg Davies) and Lorna's (Helen Baxendale) only daughter, Rachel (Tamla Kari) has brought home from her gap year and introduced as her new husband.
Ken and Lorna have no choice but to welcome him into their family home - and if every Englishman's home is his castle, then this hippie has stormed Ken's fortress and plundered everything – most unforgivably, his princess.
Set in the Midlands - home to the Thompson family – Ken and Lorna are horrified by their daughter's news but as he settles into the family home, they are surprised just how much they warm to their new squared-jawed, self-appointed spiritual ninja son-in-law.
Created and written by Robin French and Kieron Quirke (Trinity), the brand new BBC Three 6x30-minute comedy series, Cuckoo, stars some of the biggest names in comedy from both sides of the Atlantic. The series pits Hollywood star and Saturday Night Live stalwart, Andy Samberg (Hot Rod, I Love You Man, forthcoming Adam Sandler comedy That's My Boy), against British comedy giant, Greg Davies (The Inbetweeners), together with British TV favourite, Helen Baxendale (Cold Feet, Friends).
Also starring in Cuckoo are Tamla Kari (The Inbetweeners Movie) as Rachel, Tyger Drew Honey (Outnumbered) as Rachel's younger brother Dylan. Selina Griffiths (Being Human, Benidorm) and Ken Collard (Anna Karenina, Skins) star as Ken and Lorna's best friends, Connie and Steve.
Zai Bennett, Controller, BBC Three, said: "BBC Three continues to break new comedy. Cuckoo is both original and unique. We're delighted to be announcing this exciting new sitcom with such an illustrious cast from two of my favourite new writers."
Executive Producer, Ash Atalla (The Office, The IT Crowd) said: "The best of British meets the toast of Hollywood. We hope Cuckoo cements the special relationship between our two great countries; I imagine Obama and Cameron will be watching closely."
The six part series is Executive Produced for BBC Three by Chris Sussman, by Ash Atalla and Dan Hine for Roughcut Television and directed by Ben Taylor (Spy, Cardinal Burns).
GD/MF2
Search the site
Can't find what you need? Search here
Related Media Centre Links