Q&A
The fun starts at 7pm as the biggest comedy party on the planet is broadcast live from Elstree Television Studios, hosted by Sir Lenny Henry, Paddy McGuinness, Emma Willis, Romesh Ranganathan, Rob Beckett, Alesha Dixon, Clara Amfo, Zoe Ball, Joe Sugg, David Tennant and other special guests.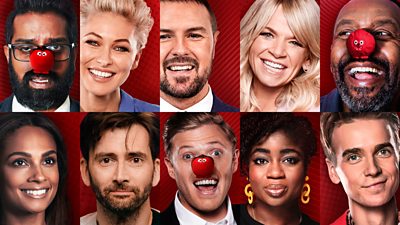 You've seen Comic Relief go from strength to strength over the years - what are your highlights from previous live shows and skits?
The live shows are chaos seem to whizz by. Even though they last hours! But my many memories include myself and Davina dressed as showgirls live on television… Jack Dee balanced on a pole for the most of the night… Celebrity Big Brother, which we invented, was extraordinary… running on stage during a Boyzone song and picking them all up… there have been so many events for Comic Relief that I'm so proud to have been a part of. Working with Richard Curtis is a joy always. When we do the live show he locks himself in a room, watching on lots of different screens, fretting about fundraising.
Why is Comic Relief so important to you?
Hopefully it's not just important to me, it's important to everybody. People want to feel like they're part of something, they want to collaborate and join in. If we all do something, we can make a change to the world. Comic Relief is important to me, because it's something that's been a huge part of my life since my late twenties. I remember taking my daughter to school when she was a toddler and everyone was wearing red wigs and red noses with their clothes on back to front. All of those people joining in with Red Nose Day. And all those years later I still see that. We have people wearing t-shirts and badges to support it. It's much bigger now, because we're bigger, but the feeling in our hearts about wanting to help people less fortunate than us, that's the thing that keeps us going. Every year what stays the same is the level of commitment. That's why it's important.
What are you most looking forward to on this year's night of TV?
One Red Nose Day And A Wedding! That's going to be fun. Richard Curtis has paid me money to say that. Famalam are also on… I've been watching their show online, it's so funny. The whole mob is going to be here! Red Nose Day is a bit like a comedy family reunion. I love the vibe in the live studio. Even when people are being noisy! Eating crisps too loudly! No loud chewing in the studio, please! 
Do you have any pre-show rituals or superstitions before you go on stage to present live?

I like to tease Richard Curtis about his hair and choice of jumper before going on.
What's one of the silliest thing you've ever done to raise money for charity?
I had to wear a suit that some kids had designed for me to wear. It was a suit that had noises and lights and special effects and things that zoomed out of its sleeves… And of course, live on television on the night, none of it worked! It was on the night with the cameras running, live, cameras on - and I think one single light came on, that was it. The Tom Jones sing off from 1991's Red Nose Day was great too. We had light up cod pieces. It was extraordinary. I nearly beat Tom that night!
*This Q&A was amended on 11 March 2019
Emma Willis
You've presented lots of live TV before, are you excited to be in front of a live audience again?
I always get nervous with live telly. In fact, I get nervous with pre-recorded telly as well because I love it so much. For me I think it's especially exciting to be hosting part of Red Nose Day because I've watched it my whole life and for me it's appointment to view television. Having watched everybody do it over the years, to finally be a part of it for me is a bit of a milestone. I think it's a brilliant night of TV and a fantastic charity. It's kind of like when I got to do the Brits, I couldn't quite believe it because I'd watched it my whole life and I'm like: "Oh my god! Am I going to be as terrified as I was doing that?" It's really exciting but it is nerve-racking.
We have a fantastic presenter line up for 2019, are you looking forward to working together and have you worked together before?
Paddy I work with quite often and I love him to bits, we like taking the pee out of each other so that'll be quite fun I think! I'm a massive fan of Romesh, I think he's absolutely brilliant so I can't wait to see him live in action. Alesha I've known for many years, she's adorable and Lenny Henry is a Brummy institution! I've never met him and I'm really, really excited. Rob Beckett I've met quite a few times and he's just a really lovely bloke so for me it's win, win, win, win, win. I'm either a fan of theirs or I know that they're lovely people so I think it'll be a really nice night.
What are you most looking forward to on this year's night of TV?
The One Red Nose Day And A Wedding film I am really excited about. Again, I grew up watching all of those films so I just can't wait to see what they're going to do with it. I love the sketches that they do generally, you always know you're in for a good giggle. The appeal films, I think they are spectacularly made and they hit the spot and really make you pick up the phone or text.
What do you think of when you think of Comic Relief?
The sketches that James Corden does I think are always brilliant but the one thing that sticks out for me is something that they did in 1989 because I recreated it at school to try and raise money. It was Bananarama and Lananeeneenoonoo, French and Saunders and Cathy Burke taking it out of Bananarama and they recreated the Help video which I believe was the Red Nose Day song for that year. Me and five of my friends learnt the dance routine and we did it in assembly at school and I can't quite believe I did it because I can't dance, I never wanted to be in a band, but it's that kind of thing, that's what's so fantastic about Comic Relief and Red Nose Day, you lose all your inhabitations and you just want to get involved and try and raise money for charity.
Mamma Mia! Here We Go (Yet) Again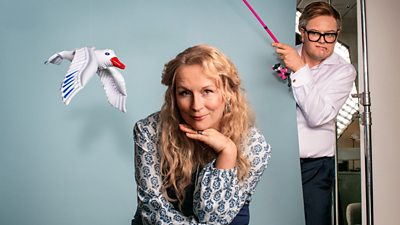 Paddy McGuinness
Why did you want to get involved in Comic Relief this year?
I've done stuff with Comic Relief over the years, but every time the live show has come up I've been somewhere else or I've been doing something at the time and the stars have never aligned. But they have this time! So it's great to be part of it. My first introduction to Comic Relief was playing a boxer - I was boxing Alan Partridge! It all ended in chaos - I think we all ended up on the floor.
Are you nervous to present in front of a live TV audience?
Hopefully not! I like making sure that I go to the autocue backstage so that I can know my opening link. I like to get that spot on. After that I'll just roll with it!
We have a fantastic presenter line up for 2019, have you worked with any of them before?
I've worked with Rob before. More importantly I've had a drink with him on numerous occasions. That's always good. I've worked with Alesha Dixon too! I've actually hosted a show with her. I've also done little bits with Emma Willis. I haven't worked with David Tennant, but I have played him... Keith Lemon and I did a sketch of Broadchurch. We used to recreate TV shows together. Keith played Olivia Colman and I played David Tennant. Sir Lenny Henry was in the real Broadchurch too, wasn't he?! Our paths have crossed in weird ways...
Zoe Ball
Why did you want to get involved with Comic Relief this year?
I've always been a huge supporter of Comic Relief, but I think over the years I've seen more and more evidence of where the money goes and how peoples generosity really does go such a long way in helping so many people. Doing my cycle challenge for Sport Relief, I got to see that first hand and how emotional that whole experience was. People got involved because they felt some kind of connection to that story and also I think the clue is in the title, Comic Relief. It's so much fun.
What are your favourite Comic Relief memories?
I remember going to college with my two friends and we went dressed as Lananeeneenoonoo, which was French and Saunders doing Bananarama and I remember wearing those outfits to raise money as we did some kind of pub crawl. Comic Relief over the years has brought us so many incredible moments, Ali G interviewing Posh and Becks, David Tennant being a supply teacher and encountering Catherine Tate, Ricky Gervais and Stephen Merchant's incredible piece where Bob Geldof and Jamie Oliver appear and the person they were interviewing was in fact Bono in disguise. All of these moments are just priceless, as well as Red Nose Day Actually. I think it's so endearing and it does make you laugh but also on the night it really does move you, but interlaced with these funny moments. We hear stories of people who really are struggling and really need love and support, and it's not always far away across the world often it's on our very doorstep so it's a total joy and a total no brainer to get involved this year.
What are you most looking forward to in this year's show?
There are so many beautiful things planned for the lovely viewers as part of Comic Relief this year. A couple of things I'm really looking forward to, I have so enjoyed listening to Dan Walker every morning calling in from Kilimanjaro and updating us on their challenge, so I can't wait to see the documentary that they have made. I cannot wait to see One Red Nose Day And A Wedding and see what's happened to all of those much loved characters. Thank you Richard Curtis for bringing us this! There's also a Mamma Mia skit which involves Jennifer Saunders, there's so many beautiful treats lined up for everybody so I can't wait for that.
Are you looking forward to presenting in front of a live studio audience?
So excited, going down to the studios on the night of Comic Relief and being surrounded by all of your comedy heroes. You've got Paddy McGuinness and Lenny Henry, Lenny works so hard on this, the whole Comic Relief team have and I feel like some of them are old friends now from being involved with the projects, so it's a very exciting night of television. It's an emotional night; you've got to prepare yourself as some of the films will break your heart! Just to witness people's generosity and love that comes in on the night is a beautiful thing, and we will be thoroughly entertained by all the wonderful performance and surprises that everyone has in store for our audience so I can't wait for that. I will be a little bit nervous though, alongside potentially my favourite Doctor Who! But I will try to disguise it.
David Tennant
Why did you want to get involved in Comic Relief this year?
The same reason I always want to get involved with Comic Relief - it's such a great charity and does some incredible good. Comic Relief is a national institution. It's great fun. It's a night that I always enjoy watching and being a part of. It's like national service-if you get a call from Comic Relief, you don't say no.
Are you nervous/excited to present in front of a live TV audience?
I've presented once before for Comic Relief. That was the first time I'd ever done it - but then I hadn't been asked to do it since! So I'm very grateful that they are willing to take that risk again. From what I remember of live TV, it's quite chaotic and in the moment. My very limited experience of live TV would tell me just to roll with it on the night. I'm very pleased that I'll be presenting alongside Zoe Ball! She's got live broadcasting running through her blood, so I can rely on her to do all the difficult stuff!
Have you worked with any of the other presenters before?
I've been on Zoe's show on the radio a couple of times over the years. She's always lovely and charming and funny. I'm very pleased to have been twinned with her for Red Nose Day. I also know Lenny from Broadchurch. I was going to say that Comic Relief is more of his actual home, but these days his natural home is also classical acting! He's got a wonderful dual career. But Comic Relief wouldn't be Comic Relief without Lenny. He's the spirit animal of Comic Relief.
What do you think of when you think of Comic Relief?
Comic Relief is one of those beautifully brilliant and bonkers British ideas. It's part of the national furniture. As a school kid I always looked forward to it coming around. As a student I went busking for it in Glasgow. Me and my mate Alan did a Proclaimers tribute act during drama school lunch hours. It's one of those things that I've grown up with. It's always something exciting to be part of. It's a really fun and exciting national moment - and it really changes lives. I had the privilege of going to see some of the work the charities have done overseas and I was moved and also cheered by it. I was depressed by what is needed and cheered by what is possible. That's always a reason to come back and support the charity.
Romesh Ranganathan
Are you excited to be involved with the live show this year?
I am incredibly excited by the live show, and not just because it's the only time I would ever be allowed to host anything on BBC One. As always we have top notch personnel stepping up and making the funny, and that's not to mention the Four Weddings sequel. Plus I get to hang out with Alesha. I was a huge Mis-Teeq fan. I know she's done other stuff but who cares when she's been in Mis-Teeq?
Will you be nervous ahead of presenting in front of a live TV audience?
I don't tend to get nervous. That's either because I feel confident about everything I do, or because I operate at a consistent level of indifference. Comic Relief will be the closest I've got to excited for a while.
Why did you want to get involved with Comic Relief - what does it mean to you?
Because I grew up watching it as a huge comedy fan and it instilled in so many people in this country the need to help people who are less fortunate, and to do it in that most British of ways: with humour.
Do you have any favourite skits/memories from previous years?
I am a big fan of Sacha Baron Cohen, and the Ali G meeting with Posh and Becks is an obvious highlight. It felt so amazing to see them both in the same room. Every line in that chat was a punchline. Also as a football fan I loved seeing Smithy with the England team.
Have you ever done anything silly to raise money for charity?
I once agreed to be one of the hosts of a large scale televised charity institution with a selection of comedy legends despite having minimal experience of doing live television. I will let you know how it works out.
Alesha Dixon
You've recently presented live on The Greatest Dancer, are you excited to be in front of a live audience again or do you still get nervous?
I enjoy live TV, it's always exciting nerves are to be expected, but I see them as a good thing!
Why did you want to get involved with Comic Relief this year?
It's an incredible charity which I have always admired. It's important that everyone does their bit. I have done many things for them over the years, but I have never hosted on the night so it's an honour.
What are you most looking forward to about this year's show?
I'm looking forward to the sketches and hosting with Romesh. I'm sure we will have a great night and hopefully raise lots of money!
What do you think of when you think of Comic Relief?
I think of Lenny Henry! He is always so influential and has a unique way of connecting with the audience at home.
We have a fantastic presenter line up for 2019, are you excited about working together?
I know we will have a fun night, it's always lovely working with new people as it brings a different energy to the table.
Rob Beckett
You've presented for Comic Relief before, are you looking forward to being back in front of a live audience?
I can't wait for Comic Relief. It's an amazing event that I have loved since I was a child. I feel a huge sense of pride and responsibility to be involved. Also there is nothing more exciting than doing live TV, the buzz of being one sentence away from potentially ending your career is such a thrill.
Do you have any stand out Comic Relief memories?
Being asked to peel a banana with my feet by Graham Norton to close the show in front of Russell Brand, Cara Delevingne, Gordon Ramsay, Lenny Henry, Matt Lucas, Jonathan Ross, Miranda Hart, Micky Flanagan, Richard Osman and about 20 other similarly important and famous people at the end of the last Comic Relief will stick with me for a long time
We have a fantastic presenter line up for 2019, are you excited about working together?
Yeah I can't wait. It's such a great bunch of people. Fingers crossed we all do our jobs well and help raise as much as possible.
What can audiences expect from this year's night of TV?
There are some incredible sketches and exclusive clips from your favourite shows and celebrities. Plus it's live so it could all go wrong and even if it does go belly up I'm sure that will be pretty funny.
One Red Nose Day And A Wedding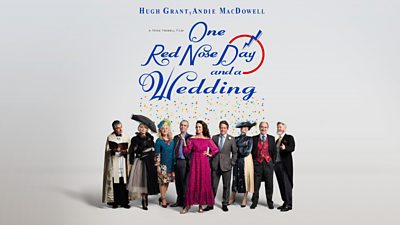 Clara Amfo
Why did you want to get involved with Comic Relief this year?
I wanted to get involved with Comic Relief this year as I believe that people do have an inherent desire to help those who are less fortunate and generally in need. I've never known it not to be on TV and it's a great way for people to express their empathy and put it into that all-important ACTION when donating!
You've presented a lot of TV before, are you nervous/excited to present in front of a live TV audience?
I love the excitement of live TV, any nerves I feel are quickly converted into fun and I look forward to having a laugh with the audience and Rob!
We have a fantastic presenter line up for 2019. Are you looking forward to working together?
I haven't worked with Rob before, I'm imaging the evening to go like a great first date! The line-up of presenters is very strong; I'm an Emma and Alesha fangirl and stay ready for all of Romesh's wise cracks!
Do you have any favourite skits/memories from previous years?
Like the majority of the UK, I have a soft spot for Love Actually. I definitely watch the film outside of Christmas and Red Nose Day Actually was lovely to watch, especially as Natalie and the PM were still together!
What can audiences expect from this year's night of TV?
They can expect to learn, to want to give and they can also expect a lot of fun from Hollywood to Hull, it's on!
Joe Sugg
Why did you want to get involved in Comic Relief this year?
I love the idea of combining a serious topic and helping those that need it with light-hearted fun and comedy. I think there's a lot of doom and gloom in the world, but it's nice to combat that with something fun and comedic.
Are there any skits or sketches from previous years that stand out to you?
All the Mr Bean sketches and Catherine Tate as the Nan on Deal or No Deal.
You have lots of experience performing in front of a live audience with Strictly, are you looking forward to presenting to a live audience on the night?
Yeah! Like Strictly, I'll definitely be nervous before going live but that's all part of the fun of it and knowing that it's helping to promote a great charity will make it more nerve settling for me I think.
What can people expect from this year's night of TV?
From what I've heard so far it's fully jam-packed with brilliant sketches and performances, which makes me even more surprised I got the call up!
Have you ever done anything silly to raise money for charity?
I've definitely done the ol' dying my hair red for charity when I was at school. I also took part in the Youtuber boyband video we did in 2014 which I've just noticed has had 14 million views on YouTube which is incredible, but it was definitely something that was way out my comfort zone at the time!
Additional Comic Relief content on the BBC
Kilimanjaro: The Bigger Red Nose Climb
BBC Two, 9pm, Wednesday 13 March
A brand-new group of nine celebrities are set to take on Mount Kilimanjaro to raise funds for Comic Relief. Kilimanjaro: The Return, takes place ten years after the original epic climb that was led by Gary Barlow. Shirley Ballas, Ed Balls, Dani Dyer, Jade Thirlwell, Leigh-Anne Pinnock, Dan Walker, Alexander Armstrong, Anita Rani and Osi Umenyiora took off on the climb at the end of the February.
Radio 1's 24-Hour LOL-A-Thon
BBC Radio 1, from 1pm Wednesday 6 March
Scott Mills and Chris Stark bring back Radio 1's 24-Hour LOL-A-Thon in a bid to raise more money than ever by keeping listeners entertained for a whole day. The fun starts at 1pm on Wednesday 6 March and Scott and Chris will put their humour to the test by hosting the funniest 24-hour broadcast ever to raise cash for Red Nose Day.
The Longest-Ever Danceathon With Claudia And Tess
BBC Radio 2, Monday 11 - Tuesday 12 March
Claudia Winkleman and Tess Daly have pledged to practice what they preach and 'keep dancing' in an epic challenge that will see them floss, dab and salsa to the beat for the longest-ever Danceathon challenge in Red Nose Day history. Kicking off on Monday 11 March through to Tuesday 12 March, the stars will dance for more than 24-hours to the greatest floor-fillers of all time, all to raise vital cash for Red Nose Day to help Comic Relief improve countless lives both here in the UK and internationally. The challenge will be followed across all BBC Radio 2 shows and their progress will also be streamed live on the BBC Red Button.
Celebrity Apprentice For Comic Relief
BBC One, 9pm, Thursday 7 - Friday 8 March
The toughest business show on TV returns for Comic Relief with Lord Sugar putting ten celebrities through their paces to raise money for Red Nose Day 2019. Celebrity Apprentice for Comic Relief will air ahead of Red Nose Day as a two-part special on Thursday 7 and Friday 8 March, 9pm on BBC One and live and on-demand on BBC iPlayer. Ten ambitious celebrity candidates will take on a challenge set by The Apprentice supremo as they battle it out in two rival teams to raise as much money as possible for Comic Relief's Red Nose Day. On the girls' team, TV presenter and actress Amanda Holden, X Factor judge Ayda Williams, interior designer Kelly Hoppen, broadcaster and journalist Rachel Johnson and actress and comedian Tameka Empson will be going head-to-head against the boys' team, including comedian Omid Djalili, broadcaster Richard Arnold, TV presenter Rylan Clark-Neal, comedian Russell Kane and football legend Sam Allardyce.
Related Media Centre Links
Related Web Links