Tom Allen
This November, a fantastic line-up of familiar faces will feature on the annual BBC Children In Need show live on BBC One, as they help raise money for disadvantaged children and young people across the UK.
Published: 5 November 2019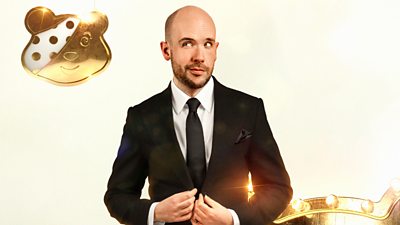 It's live???? Oh gosh no one told me this...
How does it feel to be asked to be a presenter on this year's BBC Children In Need?
Oh a huge honour. It's a terrific night of telly raising money for an awesome cause. I'm just grateful to Marvin and Rochelle for having me on the team and I promise not to mess around.
Why is BBC Children In Need so special to you?
It is a great cause but what makes Children In Need special is it brings everyone together around the country. There's a real connection between the people in the studio and the people watching at home - no matter where you are it's everyone coming together to do something positive for young people everywhere.
Do you get nervous when working on a live show?
It's live???? Oh gosh no one told me this...
What advice would you give to someone who might be interested in raising money for BBC Children In Need?
Have a look at the website, work out what would be fun for you to do and get planning. You won't regret it. However much you raise it's a great reason to get together with friends and family to do something brilliant.
A huge amount of money was raised last year - do you think it's possible to do the same again?
Absolutely!! People of the UK are so generous I know they'll do everything they can for this amazing charity - in fact I think they'll do better than last year!
Related Media Centre Links