Tess Daly
This November, a fantastic line-up of familiar faces will feature on the annual BBC Children In Need show live on BBC One, as they help raise money for disadvantaged children and young people across the UK.
Published: 5 November 2019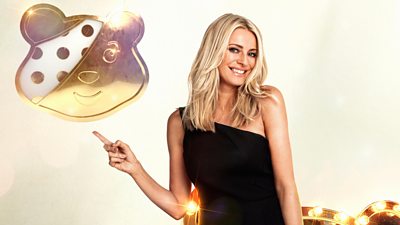 It's hugely special being a part of something that helps change so many young lives for the better.
You're back again! What is your favourite part of presenting BBC Children In Need?
It's so wonderful to take part in one of the longest live telethons on British television that helps raise so much money on the night for disadvantaged children right here in the UK. Revealing the totals as the night progresses is always exciting.
I love the live audience buzz in the studio and The Choir - thousands of children singing simultaneously all around the country is always so moving and inspiring. It never fails to bring a tear to my eye.
Are you looking forward to being reunited with the presenters again?
One of the highlights of the night for me is being reunited with my CIN presenting buddies. I love working with Ade; he's a top bloke who having being helped by the Children In Need charity himself as a child represents everything we are trying to achieve on the night. His upbeat energy on the night is always contagious.
Why is BBC Children In Need so special to you?
It's hugely special being a part of something that helps change so many young lives for the better. Over the decade I've worked with Children In Need, I've seen first-hand the difference the money raised on the night makes. From funding specialist care centres for disabled children to providing fun days out for underprivileged kids who may not otherwise get the chance. It's life changing for so many and always so inspiring that the great British public are so generous.
Do you have any stand out moments from previous years?
The highlight of my Children In Need years will always be getting to stand by the great man, Sir Terry Wogan's side. What a pleasure and utter privilege that was.
Is there anything you do in particular to prepare yourself for the evening?
I sleep! Or rather I try! It's the start of a busy weekend for me, and I literally walk off the studio floor and into the car to head up to Blackpool for our Strictly special!
I also pre-watch all the appeal films as many of them are incredibly emotive and if I watched them for the first time live on the night I'd be in floods of tears and unable to speak.
A huge amount of money was raised last year - do you think it's possible to do the same again?
A record amount of money was raised during last year's show - I don't know how realistic it is that we can keep breaking those records. I do know one thing, the great British public are always so incredibly generous and we can't ask for more than that.
Related Media Centre Links