Interview with Suranne Jones
Suranne has covered Symphony by Clean Bandit.
Published: 22 October 2019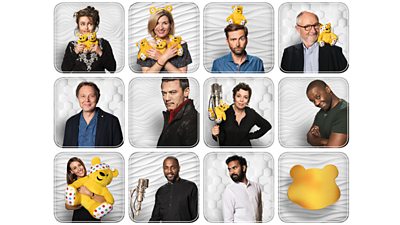 What was it that made you want to take part in this project for BBC Children In Need this year?
So, when Children In Need comes up everyone kind of says yes! It's just one of those things you have to and you want to do and I've done it in the past since I was in Coronation Street, I joined in on Children In Need, many times.
But this time, I was working with Shaun Dooley and it was the fifth time I've worked with him and we were working on Gentleman Jack and him and his wife said, that they wanted to put this album together with all these amazing people and would I sing a track? I said, "Yeah, of course I will." Not thinking it would ever happen.
I have faith in Shaun obviously, but it was the people that he was suggesting and I thought we were never going to get in a room together, all of us, record this number. And we've done it! It's amazing and it felt so good!
Why did you choose your song and what does it mean to you?
Song choice was a really interesting one for me. I had said to Mark (De-Lisser) I felt like I wanted, because it was for Children In Need a group of children who had been helped or aided by Children In Need in some way. We decided upon a drama group because when I was eight to fifteen, I went to a place called Oldham Theatre Workshop, which really brought me out of myself, gave me social skills. The stuff that I didn't get in school because I wasn't very academic I got at this theatre group and I think that it's really important because children can see things in different ways and I think drama, in my experience having taught drama as well, can really help kids blossom.
So we chose the Half Moon (Young People's Theatre) and we went along. My other idea was that the children should choose my song for me because I really wanted them to be involved, and they did, they chose Symphony and I didn't know it and I had to go and learn it and then I had to go and meet the producer of the song to see how we could make it work for me.
So the whole process has just been what it should be, for something like this. So I'm glad I went down that route, as hard as it's been. I'm glad I went down that route.
How have you found the task of swapping acting for singing?
Anxiety making… It's made me more nervous than I've been on anything. I love singing and I did it when I was younger, I was in a choral group and I wanted to do musicals but I just haven't done it for so long, that it's scary - but in a good way. I'm really glad that this has been a challenge and it hasn't just been something I've fitted in. It's taken a while because we're making the documentary as well so it's been special. It's been a challenge, it's been good, I've enjoyed it!