Interview with Shaun Dooley
Shaun has covered Never Grow Up by Taylor Swift.
Published: 22 October 2019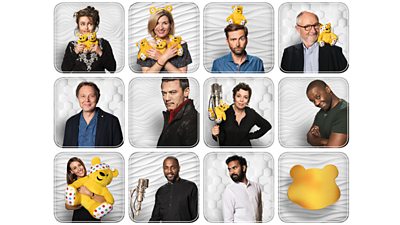 Where did the idea come from for the BBC Children In Need: Got It Covered album?
The reason myself and my wife Polly wanted to do this project is because I think we live in a time where there are lots of bad things happening, it's quite a down time at the moment and we wanted to give back. I am very much of the feeling that if you are in a position to give back that you should give back, you should attempt to do something good, put something back into society and the world if you can, if you are in that position.
The idea of doing something massive for charity has always been something we have wanted to do. Then I had this experience on E4's Misfits, recording a song for Misfits and I came out exhilarated and I was petrified and I just thought, "What an experience! What if we could get other people to do this and instead of doing a charity single, do an album of people we don't expect to see singing and getting together and put this out there?" Give people something that's created by a lot of goodwill and love and decent people who want to do it.
As far as singing goes on it, if it wasn't for Polly, my wife, I probably wouldn't be singing on it right now because I got to a point where I started going, "Don't be in this, you're not good, it's not going to be any good," all those demons came in, "you're not going to be any good". I kept thinking, "Why don't I just pull out and let other people do it?"
That space that I'm in, we could get somebody else far more famous, but my wife has very much been like, "You can sing, the song you want to sing is beautiful, keep going, keep going, keep going." So had I been on my own I think I wouldn't be involved this side of the camera, if I'm really honest.
Why did you choose your song and what does it mean to you?
I've never wanted to go on Desert Island Discs because I struggle with the idea of choosing that number of songs as my favourite songs. I really struggle with that so to have to narrow it down to one, for a once in a lifetime opportunity to record at Abbey Road, to record with these producers, and Rak, has been really, really difficult for me.
My boy, the other day heard me singing and he came in and he said, "What are you doing? You have one shot at this, you get one shot. Why aren't you doing a Radiohead song? You are a massive Radiohead fan so why aren't you doing a Radiohead song?" I kept going round the house, there was a lot of Radiohead I was looking at and a lot of Elbow, who I love, there was a Verve track I wanted to do and the Beatles and Oasis. I kept going around the house listening to all these things but this one particular song that I used to sing to my kids and still do sing to my kids on a night just kept coming back to me.
Every time I tried to get away from it I was drawn back to it and it's Taylor Swift's Never Grow Up which is not one of her most well-known songs. I think she's amazing and she's great for my girls. I've got one boy and three girls and they all love her and every time I try to get away from singing Taylor Swift, I kept coming back to it.
I think the reason is that it's about my kids and I for the longest time, my eldest is fifteen, I struggled with this thing of wanting to stop the world, to tie a lasso around it and reign it in because it goes so fast, from the moment they're born and they're now doing their GCSEs and its gone too quick.
As a parent, while you want your kids to grow up and leave the nest and become amazing human beings, I just want to hang onto it a little bit longer. I want that smell for a bit longer, I want that innocence for a bit longer and also this feeling that I want to protect you. I want to keep you safe and there is going to become a point where I can't. I can't be there all the time, you've got to go out there, have to make mistakes. You have got to grow up. It resonated with how I feel and the fact we are doing it for Children In Need and it's about kids. And me and my missus are all about the kids and I just thought I've got to stick with what my gut is telling me.
How have you found the task of swapping acting for singing?
I've found it really, really hard to find the confidence to sing. I sing all the time, I sing in the car with all the kids in so everybody has to go with headphones. I sing in the shower, when I'm walking around, I use music on everything, every role I play I create a playlist.
I adore music, I'm obsessed by it but I can't do it and I don't think I can sing. And again, it goes back to what I said earlier, my wife has always been like, "You can sing, you can sing, just do it". I think the hardest thing for me, swapping acting for singing is that, when I'm acting, I'm hidden behind layers of other people in a way. I'm hidden by a costume that somebody else has chosen, make up that somebody else has put on, a haircut somebody else has decided, words that somebody else has written, being looked at by somebody else deciding which angle to look at me at.
So there are so many layers and then I've got a character behind all that, a character that I've created and put in front of me as well and often an accent, all these things that hide you. So suddenly singing and having to just be you, singing and bearing your soul a little bit, I find that really difficult, I find it difficult to be me, I never do public speaking because that's just me and me is not interesting as far as I'm concerned. The characters are interesting and I can play but I don't want to sit here and talk about me, that's just really dull.
So I think singing, bearing your soul like that, I find really difficult but just in case anybody is petrified out there and thinking oh this is it, he's going to be doing pub tours, all over the north of England. Live for one night, me doing Robbie Williams covers!