Interview with Luke Evans
Shaun has covered Never Grow Up by Taylor Swift.
Published: 22 October 2019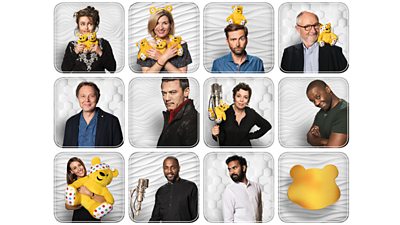 What was it that made you want to take part in this project for BBC Children In Need this year?
Well Children In Need is a great charity, it's been around a very long time and when they approached me about doing it, it was to sing and singing is one of the things I've loved since I was a kid. It reminds me of being a child actually, when I get to sing and to do it on an album with brilliant people for a good cause, I thought it was a no brainer really.
Why did you choose your song and what does it mean to you?
I think I chose the song Smile because even though some of the lyrics are a little melancholy, we had an idea to turn the song on its ahead a little bit by adding a different tempo to the song which gave it a more positive slant. It's called Smile so hopefully it makes people smile, there's nothing better than seeing a kid smile and some of these kids have been through stuff that we will never even experience in our lives and they still smile. They're so resilient these children, so it sort of made sense.
How have you found this challenge of covering a track for the album?
Covering the track for this album has been very fun. It was a little difficult as I have been shooting in Budapest for the last 4 months so we had to find ways of me being able to sing on the cast track where we are all singing together. I did that by going into a studio in Budapest where they linked me up via video link so that I was in the studio with the rest of the guys who are on the album to do the company track which was kind of funny, weird but funny!
Even though I wasn't there physically I was there on a video screen in the background. The whole process has been very fun, really enjoyable - it's a really lovely bunch of people that have been involved in it from day one and I hope it makes loads of money which is the whole point of doing it in the first place.