Interview with Jonathan Quarmby
Record producer.
Published: 22 October 2019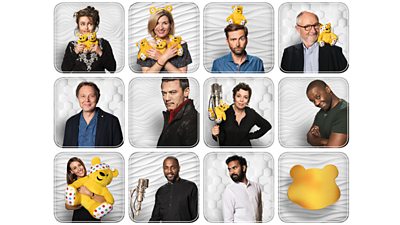 What was it that made you want to take part in this project for BBC Children In Need this year?
Well the motivation was quite an easy thing. I actually had a conversation with the label really early on and they said there's a possibility that we're going to get involved with Children In Need and they started talking about the people who were going to be involved in it and all the sort of stuff around it and I have to admit it did feel like a total fantasy at that moment. I was thinking that's never going to happen and then I didn't hear anything for a couple of months. You know where people call you and they talk about this thing, it sounds amazing and then you never hear from them again and I thought, oh that's a shame.
And then Graham, the guy from the label phones me and says, "Oh yeah, you are going to have to go in with Luke [Evans] as this is his only window." And I was like, "Is this really happening?" And he was like, "Yeah, it's really happening."
So I had to kind of drop quite a lot of things and went in with Luke Evans to do Smile which was amazing and then it just sort of snowballed from there. It starts off as this tiny thing and now it feels as though it's a huge Leviathan which is sort of crashing down a mountain hopefully not to shatter into a thousand pieces at the bottom, all being well, just to extend the metaphor.
How have you found the task of mentoring the actors and producing their songs?
Well mentoring and producing, I mean Mark's (De-Lisser) done quite a bit of mentoring in terms of the vocal production. What I've tried to do is, with each of the songs, as much as possible, come up with a kind of production approach which is unexpected. I think, in a way, if you're doing a cover version of something, if you're doing a song that's already been released then it is pointless doing it like it was originally done. What I'm hoping is that on my tracks, team me rather than team Guy, I'm sure Guy will be the same but, trying to do that thing where people go wow I would never have thought I'd hear that song done like that.
So for example with Jim, we've done Blue Moon, which is sort of a schmaltzy ballad thing and we've done it in a sort of country and western interpretation because he's a big country and western fan. That's the sort of the thread of integrity there. And with Shaun for example, he was brought up in Grimethorpe, his grandad was a miner, his dad was a miner, he would have been a miner except for the fact there are no mines anymore, so doing his song with Grimethorpe Colliery Brass Band and it's actually a Taylor Swift song, seemed like the right sort of thread.
Any special moments or highlights for you so far?
Well actually it was quite revelatory with Jim, we went through this whole process with him, we went to Chelsea to a western-themed bar and put together this little band, with a pedestal guitarist and double bass player, piano, and did it in there just to get him familiar with playing with other people. I was quite sceptical about that but when he came in to sing his song, he was, and I'm not kidding, a thousand times better than he had been on the original run through. So I looked at him and I thought wow, that's really great that he's gone through this journey and come out the other end being able to perform this song with confidence and sing it really well and command the session rather than being a bit lost as he was at first. That was a great moment. Touch wood that will continue!