Interview with Jodie Whittaker
Jodie has covered Yellow by Coldplay.
Published: 22 October 2019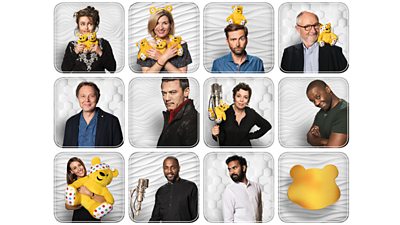 Why did you want to take part in BBC Children In Need this year?
So, I was very lucky and I got a little sneak preview into this idea because I worked with Shaun Dooley last season on Doctor Who. Being for Children In Need makes it ever more special and ever more important.
Why did you choose your song and what does it mean to you?
So I chose this song which is Yellow by Coldplay because I have stalked Coldplay since they first appeared on any stage. I went to my first Coldplay gig in New Zealand when I was eighteen and they were on in the afternoon and it was like 4 o'clock in the afternoon at a festival so Parachutes had only just come out. There was about one hundred people watching and waiting for the headliners and I was crying and singing along to every single track.
So I think I have sufficiently stalked them enough to steal their song, ruin it. I love them and they have sound tracked my entire adult life and I think it is the most beautiful song that has stood the test of time. Because now, I'm really showing my age, it's almost 20 years old this song.
How have you found the task of swapping the acting for singing?
It's very daunting, it's quite humbling.
I started this process thinking I was a really brilliant singer. I've gone through peaks and troughs of having that enlightened moment when you realise that you are not Adele. That was a sad day. Then picking yourself off the floor when all your friends at work are pointing and laughing when you are practising and giving you really supportive compliments like, "Shut up, it sounds like a dying cat" and I've picked myself up, dusted my knees off and come to Abbey Road and I'm going to nail it! So it's nerve racking, humiliating and exciting.