Interview with Helena Bonham Carter CBE
Helena has covered Both Sides Now by Joni Mitchell.
Published: 22 October 2019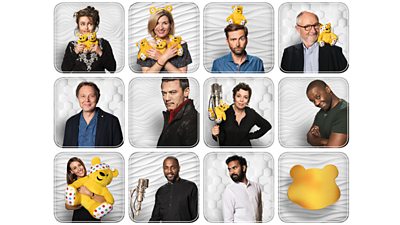 What was it that made you want to take part in this project for BBC Children In Need this year?
Guy Chambers, who is an old friend, phoned me up and he said, "Hel, will you do me favour? I'm going to do this album for Children In Need and they're thinking of people who would be up for singing a song, would you?"
I know him, and we've done odds and sods for each other and he knows I just love to sing, not that anybody else really loves to listen to me singing but I love it. So he said we could do this together and I said yes.
If we were doing an album which required people to buy it, not for charity, then the pressure would be on but hopefully people will forgive us, it's all for love really.
Why did you choose your song and what does it mean to you?
My choice of song was actually quite a hard choice because I've got so many songs that I've wanted to sing. And we've all got lots of songs that you love inside you. Both Sides Now was kind of my anthem for a time when I was going through a really sad time and the two versions, Joni Mitchell wrote it and sang it at the beginning of her career, probably, I don't know how old, but definitely very young. But then having said that, I love it.
It's been something that I carry around, they're songs that I pull out for times when I need a song. I live a lot by music. Then I thought if you just did it like Joni the second time round then that's not good enough, you have got to work out why you are doing a cover. At first, Guy did an arrangement which was the guitar and I said that's not going to work because there's no story. We completely changed the arrangement back to the piano and I just sort of went there imaginatively, thinking about clouds and drawing them. That's how it sort of happened. It's sort of I guess in between both versions.
Any special moments or highlights so far?
It's been so nice for me to see Guy again. We met weeks ago, all of us and Olivia, who I'm working with anyway, she's playing my sister or I'm playing her sister in The Crown, that's been fun. Everyone's honestly vulnerable and just a lovely feel, it's a great day out. We get all these extra privileges like recording at Abbey Road - we could only get here because we are doing it for charity.