Change The Game
The BBC is the biggest destination for all women's sport action this summer.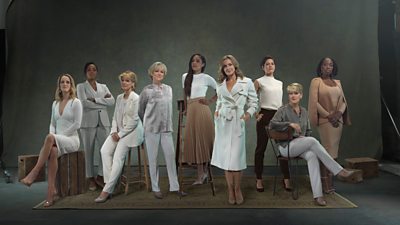 This summer is a fantastic platform for women's sport deserving of our unrivalled line up of presenters, pundits and commentators ensuring audiences are given the best analysis and insight from every sport.
Change The Game season delivers live coverage of Women's FA Cup Final (May 4), FIFA Women's World Cup (June 7 - July 7), Netball World Cup (July 12-21), Wimbledon (July 1-14) and Women's Ashes (July 2-31) alongside new, specially commissioned complementary content
Unrivalled line up of leading talent includes Gabby Logan, Alex Scott, Eilidh Barbour, Sue Barker, Hazel Irvine, Clare Balding, Sara Bayman, Ebony Rainford-Brent, Jeanette Kwakye and more
Audiences can listen to radio coverage and brand new podcasts on BBC Sounds with new digital content also commissioned for BBC iPlayer
Season kicks off with Women's FA Cup final as BBC announce new deal to 2025
New BBC season, Change The Game, delivers an incredible line up of live sport including the Women's FA Cup Final, FIFA Women's World Cup, Netball World Cup, The Championships, Wimbledon, Women's Ashes and World Athletics Championships all available across the BBC ensuring audiences will have more live women's sport, free-to-air, than ever before.
The live action is complemented by additional content including documentaries, podcasts and online strands - all specially commissioned as part of Change The Game to celebrate the coming season.
Barbara Slater, Director of BBC Sport, says: "The BBC prides itself on being the home of big sporting events and has led from the front in showcasing the best of women's sport to the widest possible audience. This summer is a fantastic platform for women's sport deserving of our unrivalled line up of presenters, pundits and commentators ensuring audiences are given the best analysis and insight from every sport."
GS
Football
The Change The Game season kicks off on Saturday 4 May as Man City take on West Ham in the FA Women's Cup Final, with full live coverage on BBC One, BBC iPlayer and BBC Radio 5 live.
The BBC and the FA have also agreed a new four-year broadcast deal to show the Women's FA Cup until 2025.
The new agreement will start at the beginning of the 2021/22 season and will include the BBC covering both semi-finals and the final. Today's announcement sees the BBC continue its commitment to women's football and we will also show highlights and digital clips of each season of the competition across BBC platforms until 2025.
Leading the FIFA Women's World Cup coverage, presenters Gabby Logan and Eilidh Barbour, will be joined by Alex Scott, Emma Hayes, Jordan Nobbs, Hope Solo, Gemma Fay, Laura Bassett, Casey Stoney, Rachel Brown-Finnis, Rachel Yankey, Sue Smith and Lucy Ward. With over 800 appearances for their respective countries between them, there's no one better placed to offer expert analysis, insight and opinion across the four weeks starting with France v Korea on June 7 and quickly followed by the battle of the home nations as England face Scotland on June 9.
Netball
As reigning Commonwealth Games gold medallists, England Roses look to continue their success and Northern Ireland and Scotland hope to impress on the world stage, Hazel Irvine hosts the BBC's network TV coverage of the Netball World Cup live from Liverpool.
All the live action will be available on the BBC iPlayer while BBC Sport online will live stream all matches, as well as offering live text commentaries and reports. Furthermore, BBC Radio 5 live will have live coverage from every day of the tournament.
The Championships, Wimbledon
As Wimbledon returns, Sue Barker and Clare Balding lead the TV and BBC iPlayer coverage, with Gigi Salmon and Tony Livesey fronting live radio coverage from the All England Lawn Tennis Club, joined by an impressive number of experts across the two weeks.
BBC Sport online will offer additional live streams with the latest news, analysis, draws, order of play, live scores and results plus highlights, full match replays and video clips.
Cricket
Test Match Special will bring full ball-by-ball coverage of every match of the Women's Ashes across the BBC radio network and BBC Sport online. World Cup winners, Ebony Rainford-Brent, Charlotte Edwards, Lydia Greenway and Mel Jones join Alison Mitchell, Natalie Germanos and Isabelle Westbury, as well as other TMS regulars, for full in-depth coverage of the series.
BBC Sounds
BBC Sounds continues to provide live and supporting coverage of the major events including the Radio 5 live Football Daily podcast which is to focus on the England and Scotland teams during the FIFA Women's World Cup. The Test Match Special podcast will bring insight and analysis from the Women's Ashes and in the build-up to the Netball World Cup, Betty Glover hosts a new podcast, NetBallers, with a new episode available every week until the tournament starts.
And that's not all...
BBC Sport has specially commissioned content for the Change The Game season including:
Rebel Girls - a series profiling young sportswomen who have fought against the constraints of culture, religion, gender, family or society
World Beaters - a series championing some of the current top female sporting talents in the world
Legends - where celebrity advocates champion their sporting heroines
In another new deal being announced today, the BBC will be adding the Solheim Cup to its impressive women's sport coverage as it's set to bring a new daily highlights programme from the 2019 event at Gleneagles.