Topsy And Tim
Media pack for new CBeebies show Topsy And Tim.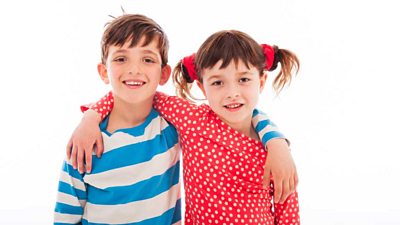 At the heart of the show are five-year-old twins, Topsy and Tim. They share the special bond that many twins possess and their stories will be recognised by young children everywhere. Topsy Odell is played by Jocelyn McNab and Joshua Lester plays Tim Odell.
Topsy Odell
Age: 5
Lives: 3 Rye Road, Hatcham
School: Tiddlywinks Nursery
Hobbies/interests: pets, dressing up, jumping around
Best friend: Kerry (who lives at number 9) and Vinda (who lives a few streets away)
Description of Topsy
Topsy is more gung-ho than Tim and there's a real zest about her. She's usually a real carefree chatterbox, giggly and very fidgety. She is open and trusting and hates confrontation. If she's ever under pressure then she would always give in.
Tim Odell
Age: 5
Lives: 3 Rye Road, Hatcham
School: Tiddlywinks Nursery
Hobbies/interests: Scooting, hide and seek, building and making things
Best friend: Tony Welch (who lives down the road) and Kerry.
Description of Tim
Tim thinks before he acts (unlike Topsy who is more impulsive). Although he is a thinker, this doesn't mean he is a serious child in general as he loves to explore, laugh and tumble. Tim's inclination to think leads to a tendency to turn quiet, even over-react when he's faced with changes to his everyday life and routine.
Cast Q
Jocelyn biog:
Age: 8
Lives: Maidstone
You might have seen her in: Bletchley Circle, Not Going Out, The Fear
Interests: Ballet, horse-riding, bowling and playing piano
Jocelyn talks about filming on Topsy and Tim:
How are you enjoying filming?
I'm really enjoying it. I like meeting all the new people and learning new things.
What's the best thing about playing Topsy?
The best thing is being the main girl role! And I like that Topsy is a really adventurous character.
What kind of things does Topsy get up to?
We have our fifth birthday party and all our friends are there. In another episode Vinda, Tony, Tim and I make a big marble run. Also, Topsy gets chicken pox in the series too!
Are you looking forward to seeing yourself on screen?
Yes! It will be brilliant and weird! I look really different in real life, I don't have a fringe like Topsy's!
Joshua biog:
Age: 7
Lives: North London
You might have seen him in: various TV commercials, The Adam And Joe Show
Interests: Bugs, science and caring for his pet turtles
Joshua talks about filming Topsy and Tim:
How are you enjoying filming?
It's great. I've enjoyed meeting the children who play the other characters and it's nice they have become my friends.
What's the best thing about playing Tim?
The best thing is being one of the main parts! And having a whole set that is Topsy and Tim's! A whole other house! I also like all the animals that we have filmed with.
Can you tell me about Topsy and Tim's family?
Brian is the dad and he is very funny. Joy is the mum and she is sometimes a bit more serious but fun too. Topsy is adventurous, energetic and ready for anything. My character is more hesitant and thoughtful. He's less confident and sometimes he overreacts.
What does Tim get up to with his friends?
They like playing hide and seek the best and we all love playing with Grandma's dog, Mossy.
Are you looking forward to seeing yourself on screen?
It will be strange seeing myself. Watching will be like following someone's life, someone who looks like me!
Main cast
Topsy Odell – Jocelyn Macnab
Tim Odell – Joshua Lester
Joy Odell (Mum) – Anna Acton
Brian Odell (Dad) – Chris Hannon
Grandma Jean (Dad's Mum) – Suzy Aitchison
Kerry (Topsy and Tim's friend and neighbour) – Natahlia Colbourne
Dominique (Kerry's Mum) – Nicole Davis
Vinda (Topsy's friend) – Kayleigh Burke
Tony Welch (Tim's friend) – Tom Hibberd
Elaine (Tony's Mum) – Emily Butterfield
Paul Welch (Tony's Dad) – Tom Price
Mr Rosen (older gentleman and friend) – Jon Rumney
Mrs Higley Pigley (owner of Tiger Fluffyboots the cat) – June Whitfield
Interview with Jean Adamson
The original Topsy And Tim books were created and written by husband and wife team, Jean and Gareth Adamson. The first of the books was published in 1959. Sadly Gareth died in 1982 but Jean continues to be involved with the Topsy And Tim series of books and their adaptation for television. Here she tells us a bit more about the popularity of the books and what it feels like to see her characters brought to screen for the first time in over 50 years.
Where did you get the inspiration for the books?
Gareth and I both studied illustration at Goldsmiths Art College and married in 1957. Soon after we decided to create a new series of children's books. We decided there would be no magic or fantasy in the books. Topsy and Tim would strike out into the new unexplored territory of real life and the main characters, Topsy and Tim, would have equal roles. Gareth wrote the first stories with great charm and wit and I illustrated them. Having taught design and illustration at Goldsmiths I was able to put a lot of thought and sophisticated design techniques into the illustrations. The characters of Topsy and Tim were carefully constructed to be instantly recognisable little icons and the illustrations had a bright, uncluttered look, but plenty of texture.
Are any of the characters based on anyone you know?
Topsy and Tim were not themselves originally based on specific children. However, the majority of the different scenarios are inspired by observing real children in the relevant situations. Many of the scenarios were also based on my own fond memories of me and my brother Derrick when we were small children. The main characters (other then Topsy and Tim themselves) are practically all based on people Gareth and I knew or met, e.g. my god daughter Mary Jean was the inspiration for Kerry Perry and my children's music teacher at their village college became the vet in Topsy and Tim at the Vet (although I don't think he was aware of this!).
Do you think the stories are still relevant to today's children?
Young children have not changed significantly over the past 50 years and the way in which the books were originally devised is still appealing to young children who need to learn about real events in life that they are experiencing for the first time. The ideas for new stories never run out as children are always doing new things.
Did you have any idea how popular your books would be 50 years on?
I didn't, but I suspect Gareth did. He was rather astute! The first stories, simple domestic adventures, were an instant success. To extend the series Topsy and Tim began to undertake new experiences. They visited hospital, doctor and dentist, went swimming, riding and sailing, and eventually graduated from playgroup to primary school. These experiences are still being undertaken for the first time everyday by young children everywhere. All settings and situations (with the help of our own and our friends' small children, followed by small grandchildren) were, and still are, thoroughly researched so that parents and children can rely on their accuracy.
What do you think makes the books so popular?
The stories were designed to be short and easy to read at bedtime, but with neatly constructed plots. There would be one paragraph per page and the illustrations would be bright and simple. Although the illustrative style of the books has changed over the years, these main design elements remain and are still just as appealing to children. The stories are aimed directly at children, not parents or guardians. Adults sometimes forget that experiences that seem commonplace to them are wonderful, first time adventures to young children. Quite difficult subjects have been tackled, such as bullying, head lice and 'stranger danger' and these have provided useful talking points for parents and children.
How do you feel seeing your stories/characters brought to the screen?
I was absolutely tickled pink when I found out. I think it is brilliant that Topsy and Tim will now become television characters. They will be stepping out of their books and on to television and I can't wait to see the finished product.
How did you feel when you met Joshua and Jocelyn who play Topsy and Tim?
I thought what delightful, charming, friendly and articulate children they both are. I came away feeling confident that they will do an excellent job in bringing my two little characters to life.
What books did you like to read when you were a child?
As a child I was an avid reader, working my way through the whole of the children's section in Peckham Library, although the selection in those days was somewhat limited. My absolute favourites were The Tales of Toytown series, Edward Lear's nonsense poems, Aesop's Fables and Milly, Molly, Mandy.