Case Histories
Case Histories returns to BBC One for three feature length episodes. The first episode was adapted from Kate Atkinson's compelling novels, with the last two episodes being original screenplays, based on the characters by Atkinson.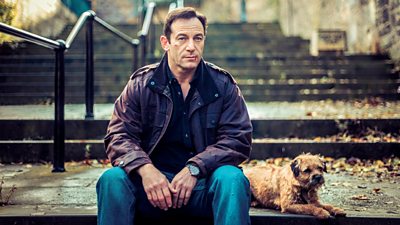 Jason Isaacs (Harry Potter, The Patriot) reprises his role of Jackson Brodie, a complex and compulsive private investigator who attempts to unravel disparate case histories in modern-day Edinburgh.
Case Histories is a Ruby Film and Television production for BBC One through BBC Scotland. Executive Produced by Helen Gregory for Ruby Film and Television and Matthew Read for BBC.
KJ
Cast list
JACKSON BRODIE - Jason Isaacs
DI LOUISE MUNROE - Amanda Abbington
DEBORAH ARNOLD - Zawe Ashton
MARLEE BRODIE - Millie Innes
Episode One
TRACY WATERHOUSE -  Victoria Wood
BARRY - Gary Lewis
LEN LOMAX - James Cosmo
RAY STRICKLAND -  Maurice Roeves
HOPE MCMASTER - Emma Hamilton
MINYAWI - Emilio Doorgasingh
Episode Two
PATRICK CARTER - Paterson Joseph
MIRIAM BAKER - Diana Quick
RACHEL STEWART - Michelle Duncan
ANDY MARSHALL - Mark Bonnar
IAN MACKIE - Tom Cotcher
MARY MACKIE - Siobhan Redmond
CHARLOTTE McGILL - Dawn Steele
Episode Three
JULIA LAND - Natasha Little
AIDEN KELSO - Oliver Coopersmith
IAN KELSO - Paul Higgins
SAMIRA MINYAWI - Gem Carmella
LAYLA MINYAWI - Sasha Behar
Related Media Centre Links
Related BBC Links
Tagged: