Meet the team
Meet the team
Published: 15 October 2017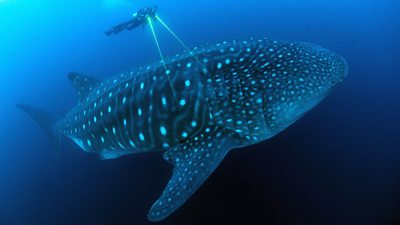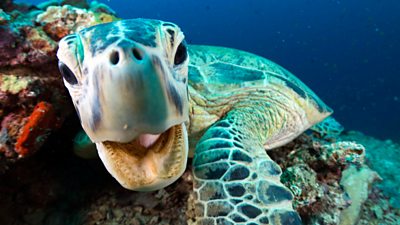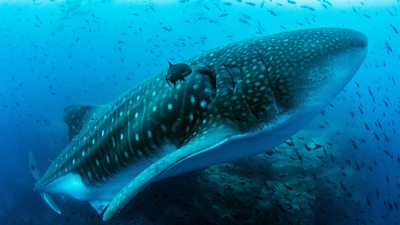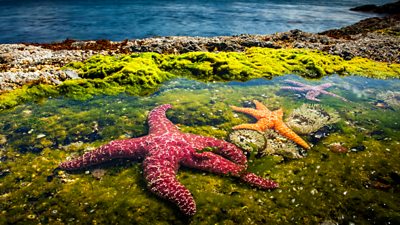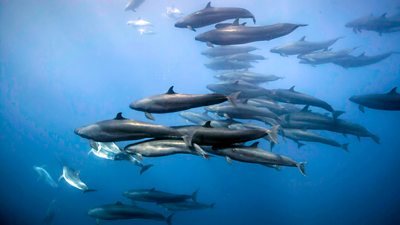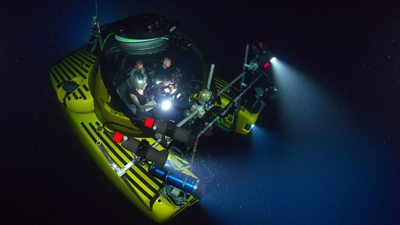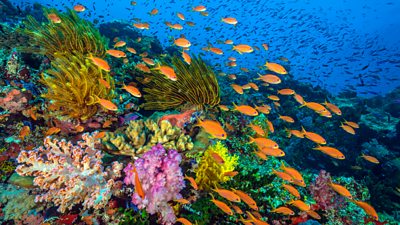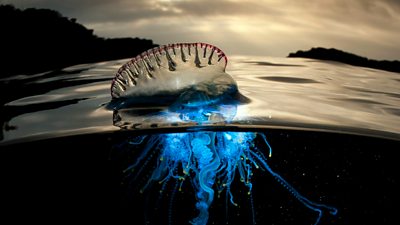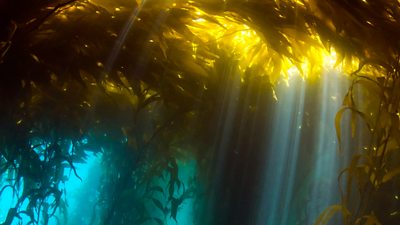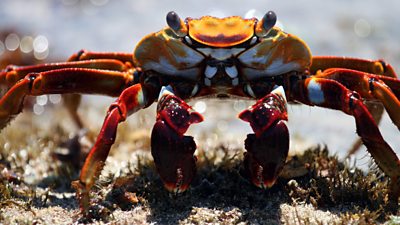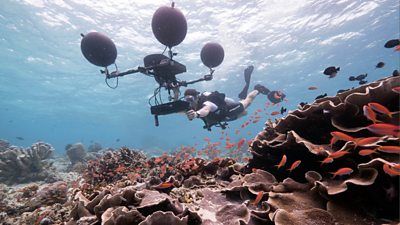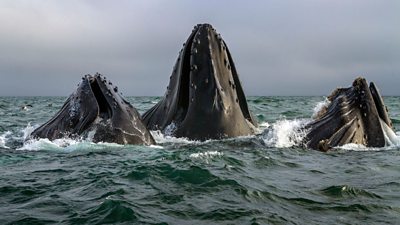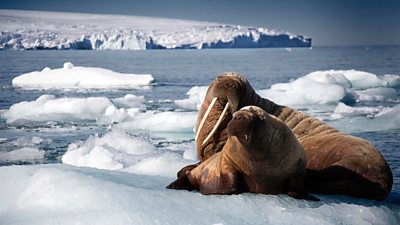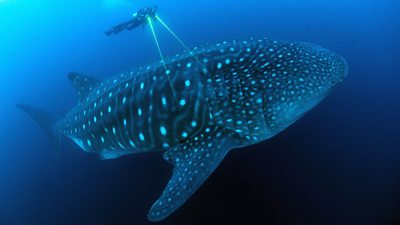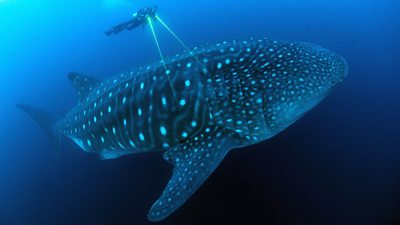 Presenter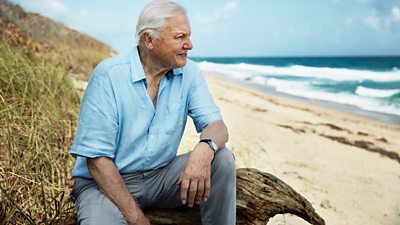 For the last 60 years, David Attenborough has been one of the world's leading natural history filmmakers, making landmark series including Life On Earth, Blue Planet and Planet Earth, seen by billions of people across the planet. His extraordinary career has spanned black and white, color, HD and 3D formats and his films have won multiple Emmys and British Academy (BAFTA) awards.
David was knighted by the Queen in 1985 and was given Britain's highest honour, the Order of Merit. He has also received numerous other awards and is a fellow of the Royal Society. In Britain, David Attenborough is considered a national treasure and has recently been voted Britain's most popular trusted person. David's films continue to push the boundaries of camera technology and CGI in factual storytelling. His latest ambitious multimedia projects include both apps and virtual reality (VR) which both entertain and educate global audiences of all ages. David joined the BBC in 1952 and within several years created his acclaimed ZooQuest series - filming wild animals in their natural habitat for the very first time. By 1965, he was Controller of BBC Two and responsible for the introduction of colour television into Britain. In 1973, he left BBC senior management to return to his passion of programme-making. The internationally acclaimed, thirteen-part series Life On Earth was the most ambitious series that had ever been produced by the BBC's Natural History Unit, and created the famous 'landmark' format that continues to make the Natural History Unit world renowned to this day. Throughout the 1990s, David presented natural history series to huge global audiences, including Life In The Freezer (1993), The Private Life Of Plants (1995), and The Life Of Birds (1998). In autumn 2000, David presented State Of The Planet and a year later The Blue Planet. In 2002, he presented the immensely popular Life Of Mammals, followed by Life In The Undergrowth and Life In Cold Blood. In 2006, he narrated the much celebrated blue-chip series, Planet Earth, followed by Frozen Planet (2011), Africa (2013) and Life Story (2014). In 2016 he made two award winning specials: Light On Earth and Attenborough's Giant Dinosaur. Last year Sir David presented the four time BAFTA and two time Emmy award-winning series Planet Earth II.
James Honeyborne
Executive Producer
James graduated as a Biologist and has worked at the BBC's Natural History Unit ever since. He first learned to scuba dive some 20 years ago, when producing Sir David Attenborough's Wildlife On One. A succession of freediving films followed, featuring World Champion, Tanya Streeter. After a break from the waves - directing a feature film in the Kalahari Desert - he became the Series Producer of the hit BBC One series, Africa.
As Executive Producer, he has overseen some 35 films, working with multiple co-producers around the world. His recent projects include the Emmy nominated series Wild New Zealand, with National Geographic, and the BAFTA winning BBC One series, Big Blue Live, with PBS. James conceived Blue Planet II in 2013 and has spent the last four years working with a talented team of film makers and scientists, in pursuit of new and extraordinary stories from beneath the waves.
Beyond television, he recently made a short film, narrated by Sir David Attenborough, which premiered at the opening of the United Nations Ocean Conference. He also oversees various digital productions on ocean-related content and can be followed on Twitter @OceanHQ.
Mark Brownlow
Series Producer
Mark's long career for the BBC Studios Natural History Unit has seen him produce and series produce numerous critically acclaimed underwater series. As producer on the original Planet Earth for BBC and Discovery, Mark oversaw its two underwater episodes Shallow Seas and Freshwater. Mark series produced Ocean Giants, a three-part series on whales and dolphins, and produced two intrepid episodes for South/Wild Pacific.
Mark drove the creative vision for the highly regarded natural history series Hidden Kingdoms, a three-part series on little creatures. This award winning factual drama series strove to carve out a new genre for natural history programme making and appeal to a wider BBC One demographic. Further to this, Mark directed and produced its specially shot giant screen adaptation, Tiny Giants. Originated in 3D it is the most successful BBC giant screen film to date and has won multiple awards. Now, having series produced on Blue Planet II, Mark is also co-directing its accompanying 3D giant screen production.
Katie Hall
Production Manager
Katie has worked in the BBC Natural History Unit and Popular Factual for nearly 20 years having production managed many acclaimed series across many different genres. From arts series History Of Science Fiction; documentary series When Romeo Met Juliet, popular factual series DIY SOS and many successful natural history titles including Great Barrier Reef, Super Smart Animals and Ice Age Giants. She joined the Blue Planet II team in development in October 2013 and has managed this complex and ambitious production through four years of filming and post production.
Orla Doherty
Producer (The Deep and Our Blue Planet)
Orla spent ten years at sea studying the remote coral reefs of the Pacific Ocean with a coral reef NGO, having previously produced popular factual television from Channel 4's Grand Designs to BBC's Don't Look Down with Kevin McCloud. She joined Blue Planet II in October 2013 as the Development Producer to help give shape to the series. Since then, she has spent 500 hours at depths of 1,000 metres in three oceans as Producer of The Deep episode and filmed scientists at the frontline of ocean discoveries from Indonesia to the Arctic Circle as Producer of Our Blue Planet episode.
Kathryn Jeffs
Producer (Green Seas)
Kathryn's career, spanning over twenty years, has involved leading expeditions and directing on several films in the ground-breaking epic series, Planet Earth, producing and directing the Emmy award-winning Shangri La episode for the series Wild China, and producing on a wide variety of shows from Autumnwatch to Attenborough At 90. As part of the core team on Frozen Planet, she led expeditions in Antarctic to direct the wave-washing killer whales and deadly ice brinicles below the ice. She received a BAFTA nomination for directing her film in the Frozen Planet series, Winter. More recently she delivered two films on Wonders Of The Monsoon, including the highly acclaimed opening show. She was Producer and Director on the Green Seas episode of Blue Planet II.
Will Ridgeon
Producer (Our Blue Planet)
Will has worked as a producer and director at the BBC's Natural History Unit for the past eight years, on a range of programming from expedition series like The Dark, to live shows such as Springwatch. For Blue Planet II, Will produced the final episode, Our Blue Planet, presented by David Attenborough. He was also heavily involved in The Deep and Coasts episodes which has seen him filming morays and octopus hunting on land and spending over 100 hours in deep-sea submersibles filming a giant shark feeding frenzy, erupting methane volcanoes and the deadly brine pool.
John Ruthven
Producer (Big Blue)
John has specialised in making underwater wildlife films for almost thirty years. Part of the original team of the first Blue Planet series, he's also made award winning shows for National Geographic, Discovery, PBS, Channel News Asia, Smithsonian, and many other international broadcasters. Recent awards include an Emmy for best environmental documentary, Mysteries Of The Coral Canyon on PBS. John's technical background helped to develop the cameras in our series that where attached to Sperm Whales diving a kilometre down and he enjoys the astounding revelations about the oceans these new methods can communicate. John is producer of Big Blue.
Jonathan Smith
Producer (Coral Reefs and One Ocean)
Jonathan is a natural history film Producer at the BBC Studios Natural History Unit specializing in underwater landmark wildlife films. His career has spanned projects for the BBC and Silverback Films including Life for BBC One, North America for DCI and Bears for Disney Nature. Jonathan strives to push the boundaries of natural history storytelling through surprising storytelling, innovative filming methods and by developing new filming equipment in order to transport viewers into the natural world like never before.
Miles Barton
Producer (Coasts)
Miles Barton is a BAFTA award-winning producer who has worked at the BBC Studios Natural History Unit for over 30 years on series ranging from Life Of Birds to Springwatch. As the series producer of Life In Cold Blood, he won both a BAFTA and Wildscreen's Golden Panda award. More recently he also series produced Attenborough; 60 years in the Wild, Attenborough and the Giant Dinosaur and Zooquest in Colour. He produced two films for the Emmy award winning Frozen Planet and two for Life Story both on BBC One. More at home above rather than below the water, he has produced the Coasts episode for Blue Planet II.
Series Credits
Executive Producer
James Honeyborne
Series Producer
Mark Brownlow
Producers
Miles Barton
Orla Doherty
Kathryn Jeffs
Will Ridgeon
John Ruthven
Jonathan Smith
Associate Producer
Joe Stevens
Assistant Producers
Rachel Butler
John Chambers
Sarah Conner
Series Researcher
Yoland Bosiger
Researchers
Sophie Morgan
Katrina Steele
Joe Treddenick
Georgina Ward
Production Co-Ordinators
Jodie Allt
Nicole Kruysse
Sandra Forbes
Jennifer Foulkes
Sylvia Mukasa
Karmen Summers
Joanna Verity
Production Team
Amirah Daley
Jack Delf
Alexandra Fennell
Joseph Fenton
Jack Johnston
Abbey Kaye
Francesca Maxwell
Chiara Minchin
Mohan Sandhu
Zeenat Shah
Production Manager
Katie Hall
Principal Camera Team
Dan Beecham
Barrie Britton
Rod Clarke
Ted Giffords
Rafa Herrero
René Heuzey
Roger Horrocks
Hugh Miller
Roger Munns
Espen Rekdal
Gavin Thurston
Alexander Vail
Richard Wollocombe
David Reichert
Didier Noirot
Rod Clarke
Original Music
Hans Zimmer, Jacob Shea & David Fleming for Bleeding Fingers Music
Score Producers
Hans Zimmer & Russell Emanuel
Score Supervisor
Monica Sonand
Music Production Services
Steve Kofsky
Film Editors
Pete Brownlee
Nigel Buck
Mark Fox
Matthew Meech
Andrew Mort
Dave Pearce
Online Editors
Wesley Hibberd
Franz Ketterer
Edit Assistants
Daniel Prosser
Simon Cross
Dubbing Mixer
Graham Wild
Sound Editors
Kate Hopkins
Tim Owens
Colourists
Adam Inglis
Christian Short
Graphic Design
Bdh Creative
BBC Commissioning Editor
Tom McDonald
About us
BBC Earth
BBC Earth is a global portfolio brand that invites audiences everywhere to engage with the wonders of our universe. We bring amazing premium content, television and experiences to the world, across multiple platforms including branded channels, live events, digital & social media, AR/VR, theatrical releases for cinema & giant screen films, and consumer products.
We believe that celebrating and connecting with our world is more important than ever, across nature, science, space and the human race. Along with our partners we are continually innovating to find new stories and experiences to bring insight, enlightenment and fresh perspectives to inspire us to think and feel differently about our world. From the epic to the everyday, BBC Earth brings you face to face with heart-pounding action, mind-blowing ideas and the sheer wonder of being part of this amazing planet we call home.
BBC Earth is a commercial and global consumer brand managed by BBC Worldwide outside of the UK.
About BBC Worldwide
BBC Worldwide is a principal commercial arm and a wholly owned subsidiary of the British Broadcasting Corporation (BBC). Its vision is to build the BBC's brands, audiences, commercial returns and reputation across the world. This is achieved through investing in, commercialising and showcasing content from the BBC around the world, in a way that is consistent with BBC standards and values. The business also champions British creativity globally.
In 2016/17 BBC Worldwide generated headline profits of £157.3m and headline sales of £1,059.9m and returned £210.5m to the BBC.
For more detailed performance information please see our Annual Review webpage:
bbcworldwide.com/annual-review/
bbcworldwide.com
twitter.com/bbcwpress
About BBC Studios
BBC Studios is the BBC's main TV production arm, producing bold, British, creative content across a range of genres and specialisms. From Planet Earth II, Strictly Come Dancing, Top Gear and Doctor Who to One Love Manchester, Good Omens, Horizon and Murdered By My Father, its programmes are renowned for their quality and loved by audiences in the UK and around the world. With bases all over the country, BBC Studios reflects and represents diverse voices and creative talent from across the UK. BBC Studios launched as a commercial business in April 2017, able to make programmes for other broadcasters as well as the BBC, supporting the BBC's public service mission and generating financial returns for licence fee payers.
About The Open University
The Open University (OU) is the largest academic institution in the UK and a world leader in flexible distance learning. Since it began in 1969, the OU has taught more than 1.8 million students and has almost 170,000 current students, including more than 15,000 overseas. Over 70% of students are in full-time or part-time employment, and four out of five FTSE 100 companies have sponsored staff to take OU courses.
The OU has a 42 year partnership with the BBC and has moved from late-night lectures in the 1970s to co-producing around 35 prime-time series a year such as The Hunt, Exodus: Our Journey To Europe, The Detectives, and Hospital on TV, and Inside Science, The Bottom Line and Thinking Allowed on Radio 4. Our OU viewing and listening events attracted 250m people in the UK last year which prompted more than 780k visits to the OU's free learning website www.open.edu/openlearn/
In the latest assessment exercise for university research (Research Excellence Framework, 2014), nearly three quarters (72%) of The Open University's research was assessed as 4 or 3 star - the highest ratings available - and awarded to research that is world-leading or internationally excellent. The Open University is unique among UK universities having both an access mission and demonstrating research excellence.
Regarded as Britain's major e-learning institution, the OU is a world leader in developing technology to increase access to education on a global scale. Its vast 'open content portfolio' includes free study units, as well as games, videos and academic articles and has reached audiences of up to 9.8 million across a variety of online formats including OpenLearn, YouTube and iTunes U.
For further information about The Open University please visit: www.open.ac.uk
Related Web Links