Blandings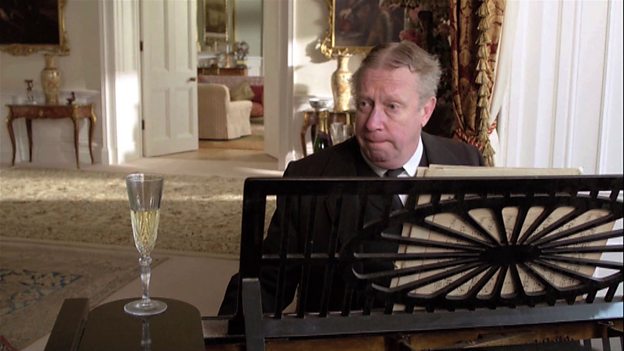 Date: 19.12.2012
Last updated: 25.03.2014 at 13.21
An all-star cast heads up BBC One's brand new period comedy series Blandings, based on PG Wodehouse's celebrated stories and adapted by Guy Andrews (Lost In Austen).
Set in 1929 in the fictional Blandings Castle, Timothy Spall plays the amiable but befuddled Lord Emsworth (Clarence to his friends), who struggles to keep his dysfunctional family in order and usually adds to the chaos himself. All Clarence wants is to be left at peace with his beloved pig The Empress but his plans are often thwarted by an array of friends, visitors, servants and spongers. Jennifer Saunders stars as his indomitable sister Connie, Jack Farthing as hapless, unlucky-in-love son Freddy and Mark Williams as loyal and long- suffering butler Beach.
There are number of well-known faces that make guest appearances during the series. David Walliams stars in two episodes as Rupert Baxter, Clarence's new secretary who is hired by Connie to help bring some order to Clarence's life. Paloma Faith plays Georgia, a dancer from London, who accompanies Freddie to Blandings and creates quite a stir with Beach. David Bamber plays Herr Schnellhund, Clarence's irritatingly bearded dance teacher.
Tony Maudsley plays Cyril Wellbeloved, who has the all-important job of looking after The Empress. Sam Hoare plays 'Beefy' Bingham who dreams of marrying Connie's daughter Gertrude, much to Connie's dismay. Robert Bathurst plays Clarence's rival Sir Gregory and Jessica Hynes portrays sophisticated widow Daphne. Ron Donachie plays head gardener McAllister.
Blandings was filmed on location at Crom Castle in Northern Ireland with the support of Northern Ireland Screen.
Blandings has been written by Guy Andrews (Lost In Austen, Absolute Power) who is also the executive producer. The producer is Spencer Campbell (Cold Feet, Mad Dogs) and the director is Paul Seed (BAFTA winning Just William). Mammoth Screen's joint Managing Directors Michele Buck and Damien Timmer are executive producers. The BBC executive producer is Kristian Smith.
LV
Blandings characters
Clarence, Lord Emsworth (Timothy Spall)
Clarence yearns with all his soul to be left in peace. And yet he never can be. If he manages to settle for a moment, his tranquillity is snatched from him immediately by an onslaught of other characters: love-struck nephews; domineering secretaries; miscreant children; grasping villagers; people who require him to go to London; people who insist that he must wear a tie and a hat; cheats, cads, crashers, intellectuals and downright bad eggs. Worst of all is his sister, Connie, of whom he lives in mortal fear.
Constance, Lady Keeble (Jennifer Saunders)

Connie is Clarence's widowed younger sister. It is her edicts, her strictures, her laying down the law about what may or may not happen in the family that does most to bring disorder and misery to Clarence's life, as she is always on the premises.
Freddie Threepwood (Jack Farthing)

Freddie is Clarence's second son, and is generally considered impossible. He's in his twenties, sublimely elegant, incorrigibly charming, and pretty unfurnished with a brain. The wheel spins, but the hamster has passed out with a dry martini in its wilting paw. If he's incarcerated at Blandings he causes trouble; if he's dismissed to London he helps himself to a large night at the Pink Pussy, gets arrested, has to be extricated and hauled back to Blandings, where the trouble starts all over again.
Sebastian Beach (Mark Williams)

Beach the butler is magnificent in physical and moral stature. He never allows his prodigious appetites for cake, wine, betting on horses or his fascination for the professional careers of showgirls to compromise his supreme, butlery bearing. Even when required to perform outrageous acts of sabotage, skulduggery and theft, he acquits himself with dignity and - generally speaking - an admirable propensity not to get caught.
Search the site
Can't find what you need? Search here
Related Media Centre Links