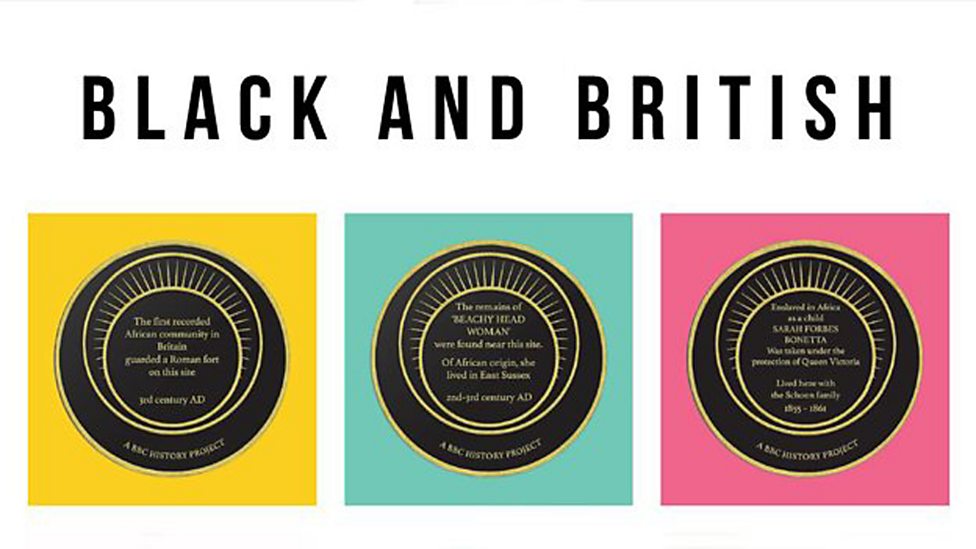 Black And British - Season Launch
This is a hugely important season that not only celebrates the enormous contribution that black people have made to the shaping of modern Britain, but also raises challenging questions about how we tell our shared history

Patrick Holland, Channel Editor, BBC Two
Date: 10.10.2016
Last updated: 10.10.2016 at 11.27
The BBC today announced Black And British, a season of programming celebrating the achievements of black people in the UK and exploring the rich culture and history of black Britain.
Running throughout November 2016 and led by programming on BBC Two and Four, with other content across BBC television, radio and online, the Black And British season will feature bold, vibrant and provocative stories, overturning preconceptions and challenging orthodoxies. The season will also cast a fresh light on our history, examining the contribution and impact of black people in the UK, as well as interrogating just what it means to be black and British today.
A major digital campaign, Black British Hero will run across the BBC's social media accounts this autumn, with celebrities, high-profile talent and major institutions nominating their black heroes via short films and images and encouraging the audience to do the same. There will be other digital content including a guide to researching black history.
The Black And British season has been produced in collaboration with a range of partners: the Heritage Lottery Fund, Historic England, The National Archives, Black Cultural Archives and the BFI. All are participating in the BBC's Black British Hero social media campaign as well as running their own complementary campaigns. The partners are also organising public events, activities and programmes inspired or supported by the season and its content which hope to encourage people across the country to get involved in their own research and leave a lasting legacy.
David Olusoga, presenter and historian, says: "I'm very proud to be a part of this landmark BBC season and hope my series, Black And British: A Forgotten History, will provide audiences with a very different, challenging and enlightening view of black British history, a history that I feel is very much part of all of us."
Patrick Holland, BBC Two Channel Editor, says: "This is a hugely important season of programmes that not only celebrates the enormous contribution that black people have made to the shaping of modern Britain, but also raises challenging questions about how we tell our shared history and what meritocracy means today.
"As the place to come for strong opinions and authorship, I'm delighted that BBC Two is at the heart of the season with a wide range of stimulating and ambitious programming featuring a brilliant array of talent; from David Olusoga telling a forgotten history of Britain from the perspective of black inhabitants and David Harewood exploring the challenges a black child would face in reaching our country's top job, to hearing from some of the most influential and best-loved people in the UK telling us what it is like to be black and British today. The season is a challenging, questioning and vibrant celebration of our shared history."
Tom McDonald, Head of Commissioning, Specialist Factual, says: "The BBC's Black And British season goes way beyond our rich, varied and provocative television titles on BBC Two and BBC Four. On television, I'm delighted that BBC Three is launching a brand new comedy as part of the season; our radio offer goes across our stations, taking in lively debates and music and our digital content includes short form, interactive content and ways to explore black British history and culture in huge depth.
Our partnerships take the season out into Britain, with screenings, events and activities. Along with the Black History Plaques, these partnerships will provide a lasting legacy and the means for everyone in the UK to get involved. The season would have been impossible without the talent, commitment and passion of all the filmmakers, presenters, partners and producers who have spent the past 18 months putting it together."
Notes to Editors
For a full press pack please click here
EF/YL
On Television
Headlining the season is David Olusoga's four-part series for BBC Two, Black And British: A Forgotten History. The series is a fresh approach to British history and demonstrates the enormous contribution black people have made to shaping our world. In the four films, specially commissioned BBC Black History Plaques are unveiled at locations across Britain and the Commonwealth. The plaques record and celebrate people and events that are pivotal to this new history and will be enduring icons of the series.
Other content on BBC Two includes Black Is The New Black, which features some of the most influential and talented black Britons facing the camera and describing what it is like to be black and British today.
Back In Time For Brixton follows a family as they are whisked through the decades in south London, from Windrush in 1948 to today. Adrian Chiles explores an extraordinary football match which took place in 1979 at West Bromwich Albion, and the impact black footballers have had not just on sport, but attitudes in this country in Whites Vs Blacks.
Presented by David Harewood, Will Britain Ever Have A Black Prime Minister? offers a hard-hitting statistical analysis of getting to the top professions; Life And Death The Pentecostal Way is an observational documentary featuring a Brixton Pentecostal church and its community.
BBC Two's Saturday night Arts season this autumn also features a series of films which complement the BFI Black Star season, including the network premiere of Mandela: Long Walk To Freedom as well as Glory; Boyz n The Hood; and Red Tails.
Black Star is the BFI's biggest ever season of film and television dedicated to celebrating the range, versatility and power of black actors. The season runs from October to December 2016 and features BBC programmes including Black And British: A Forgotten History and Black Is The New Black.
BBC Four's Roots Reggae Rebellion, presented by rapper and poet Akala, examines the history and impact of Reggae music in Jamaica and Britain, while Young, Gifted And Classical: The Making Of A Maestro tells the story of the extraordinary musical family of Sheku Kanneh-Mason, winner of BBC Young Musician 2016.
Also on BBC Four, Black Midwives focuses on the women who responded to the call of the 'mother country' at the founding of the NHS.
BBC Three, with its long standing commitment to developing diverse new talent, showcases three new faces for the channel: comedian Dane Baptiste stars in his own new take on the sitcom, Sunny D; British rapper and MC Big Narstie tackles debates that are happening right now on social networks in Let's Settle This; and in The Story of Grime Radio 1Xtra DJ A Dot explores this young, millennial, unapologetically authentic music scene.
In addition, BBC One will be supporting the season with Songs of Praise's Gospel Choir Of The Year and Songs Of Praise Black And British special, and BBC News will be supporting the season across all platforms.
On BBC Radio
BBC Radio 1Xtra hosts two live discussion shows during the Black And British season on 9 and 16 November. High-profile contributors across the two debates include Big Narstie, Leomie Anderson, Shakka, Jamelia, Emma Dabiri and more. Both discussion shows will be supported across social media to encourage discussion online.
And to get the conversation started, 1Xtra DJ Seani B is presenting a no-holds barred, 60-minute documentary, Black Is A Dirty Word, at the beginning of November. This provocative look at the black British experience in 2016 focuses on everyday life and the challenges faced by young black British people.
BBC Radio 3 will be broadcasting an In Tune special from Maida Vale celebrating black British talent across classical, jazz and world music co-presented by Suzy Klein and baritone Roderick Williams. BBC Radio 2 will be focusing on reggae with a series of live shows hosted by Levi Roots, and BBC Radio 4 and local stations across the country will also be providing their own take on the season.
Online
Black British Hero is a landmark BBC Two social media campaign which runs across the BBC's social media accounts this autumn. The campaign features celebrities, BBC stars and major institutions celebrating the Black British Hero who has inspired them in their life or career, whether they are eminent professionals, stars of sport and entertainment, local heroes or groundbreaking talent.
BBC Outreach will work with a group of around ninety 16-18 year olds to create videos about their black British heroes and will be inviting community groups across the UK to get involved too. Highlights of the campaign and audience nominations will be curated on the season webpage www.bbc.co.uk/blackandbritish
Your Black and British Moments offers audiences a personalised version of black British history and popular culture through different moments in sport, music and the arts. iWonder is also producing two guides for the Black and British season.
Search the site
Can't find what you need? Search here
Related Media Centre Links