Ten Pieces
The BBC has today unveiled ten pieces of music which will act as a gateway to children learning more about classical music and inspire them to use music as a stimulus for their own creativity.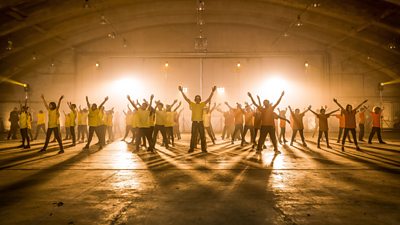 Music has the power to transform lives, and we are hoping that this project will be a catalyst for all kinds of creativity in primary schools across the country, as well as providing an inspirational way in to classical music.
Ten Pieces is an ambitious new initiative for primary schools, which aims to inspire a generation of children to get creative with classical music. With a range of online resources, UK-wide events and close collaboration with partners, every primary school across the UK will have the opportunity to take part.
The ten pieces were announced at the launch of BBC Music, as the BBC renewed its commitment to music and announced a series of initiatives, including support for emerging talent, digital innovations, landmark programmes and live events.
The ten pieces are:
John Adams: Short Ride in a Fast Machine
Beethoven: Symphony No. 5 (1st movement)
Britten: 'Storm' Interlude from 'Peter Grimes'
Grieg: In the Hall of the Mountain King from 'Peer Gynt'
Handel: Zadok the Priest
Holst: Mars from 'The Planets'
Anna Meredith: Connect It
Mozart: Horn Concerto No. 4 (3rd movement)
Mussorgsky: A Night on the Bare Mountain
Stravinsky: The Firebird – suite (1911) (Finale)
Players from the BBC Concert Orchestra will perform a medley of the pieces on BBC Radio 3's drive-time show, In Tune, today [16 June] from 4:30pm. The show will be broadcast live from the Piazza at BBC Broadcasting House, presented by Sean Rafferty and Suzy Klein.
Schools can sign up now to take part in the project via www.bbc.co.uk/tenpieces
Led by BBC Learning, the BBC Orchestras and the BBC Singers, Ten Pieces begins in October with a week of special screenings for schools in cinemas across the UK of an inspiring new film introducing the ten pieces of classical music.
During the autumn term, children will be asked to respond creatively to the music through their own compositions, dance, digital art or animation.
As the high profile fanfare for a UK-wide project, the Ten Pieces cinema film will fire children's imaginations, giving them the opportunity to explore and experience classical music. Using a mix of live action and animation, the film will take young viewers on a journey through the ten pieces - some short complete works, others selected extracts of longer works.
One of the works included is a new body percussion piece commissioned especially for this project from composer Anna Meredith, choreographed by David Ogle and performed by 70 teenagers from percussion collective, Drum Works.
Composer Anna Meredith said: "I'm so excited that there's contemporary music, music that's being written right now, that's part of these ten pieces because contemporary music is as vital to the future as standard repertoire."
The orchestral pieces are performed by the BBC National Orchestra of Wales and were shot on location in an aircraft hangar outside Cardiff. The shoot was directed by renowned music director Nick Wickham, whose previous work ranges from Beyonce in Las Vegas and Madonna in Buenos Aires, to Paul Potts in Kiev and Il Divo at the Coliseum in Rome, to The Snowman in Birmingham and the National Theatre live production of the Curious Incident Of The Dog In The Night-Time.
The BBC Orchestras and BBC Singers will run a series of 'Orchestra Take Over' days and interactive celebratory concerts in schools around the country.
Roger Wright, Controller, BBC Radio 3 and Director, BBC Proms, said: "Ten Pieces marks the biggest commitment the BBC has ever made to music education in the country and it's a great example of the kind of ground-breaking initiative we can achieve through harnessing the knowledge and passion of the musicians, learning teams and classical music experts across the BBC. We hope that the project will inspire a generation of children to learn more about classical music."
Abigail Appleton, Head of Commissioning, BBC Learning, said: "BBC Learning is delighted to be working with so many partners across the UK to deliver this ambitious project. Our partners' insight and support has helped us shape it and by working together we hope to open up new musical worlds for thousands of children."
Katy Jones, Executive Producer, BBC Learning, said: "Music has the power to transform lives, and we are hoping that this project will be a catalyst for all kinds of creativity in primary schools across the country, as well as providing an inspirational way in to classical music."
We can today reveal six extraordinary musicians who will be ambassadors of Ten Pieces helping to inspire children and the wider public with their passion for classical music: Alison Balsom, Nicola Benedetti, Catrin Finch, Julian Joseph, Cerys Matthews and Laura Mvula.
Nicola Benedetti said: "I am so hugely honoured to be involved in the BBC Ten Pieces project. This effort is extraordinary in many ways, but two aspects of the project stand out for me - the first is the sheer size. With over 150 organisations involved and the power of the BBC, the number of children likely to experience classical music through Ten Pieces could be enormous, and I hope will be.
"The second is the quality with which classical music will be presented to the children, many of them probably for the very first time - first exposure can be vitally important, igniting a positive lifelong association with this great art form. This experience, I am quite sure, will be exciting and enriching for all children, but above all is highly educational and substantive. This is something you cannot miss!"
Laura Mvula said: "Being involved in Ten Pieces is really exciting to me as it's such a key project - making sure that classical music is not only relevant but also accessible to young people is really important. Music is such a great tool and integrating it into children's education can have so many benefits."
The BBC will also be working with more than 150 Ten Pieces Champions including Music Services and Music Education Hubs, as well as specialist music, dance and arts partners across the UK to help children explore the music further, and develop their creative responses.
Many of these Champions are planning their own Ten Pieces concerts to showcase the children's work in the summer of 2015.
Stakeholder Partners are the Arts Council England, Arts Council Wales, Arts Council Northern Ireland, Creative Scotland, Music Mark, Youth Music, ABO and Into Film.
BBC Learning will provide a wealth of online resources including films, printables and teachers' notes on the Ten Pieces website from October.
Radio 3 will broadcast each work in full, as well as recommending distinctive recordings and providing downloadable guides to each piece in 'Ten Pieces: Ten Facts', presented by Suzy Klein on In Tune (from 29 September).
Ten Pieces will culminate with a celebration of the children's creative work in Summer 2015.
Notes to Editors
BBC Learning plays a central part in meeting the BBC's purpose of promoting education and learning. Utilising the power of the BBC's big brands and key talent, the department puts learning right at the heart of the BBC and provides a variety of resources and learning opportunities for children, teachers, parents and adult learners. Working with partners and in local communities, BBC Learning aims to stimulate interests and encourage engagement through a variety of campaigns across all BBC genres and platforms.
The BBC Performing Groups - the BBC's six performing groups each play a unique role in British cultural life, performing with many of the world's leading conductors and soloists and reaching an audience of millions. What the BBC Symphony Orchestra, the BBC Scottish Symphony Orchestra, the BBC National Orchestra of Wales, the BBC Philharmonic, the BBC Concert Orchestra and the BBC Singers do individually is always impressive. What they achieve working together as a portfolio of BBC ensembles is extraordinary.
The ensembles give around 400 concerts a year in over 60 locations across the UK as well as touring world wide
Each year the six ensembles deliver 600 hours of distinctive music-making for BBC Radio reaching an audience of around two million
They have given more than 60 world premiere performances in the last year
They organise more than 100 learning and outreach projects bringing music to tens of thousands of people of all ages across the UK The ensembles are the backbone of the BBC Proms, collectively giving almost half of the concerts at the world's largest classical music festival
One in every 50 BBC employees is a musician in the performing groups
BBC Radio 3 broadcasts distinctive classical music and wider arts programming in three dimensions, through radio, live events and context. As the home of classical music, Radio 3 features more live classical music programming than any other and is the home of the BBC Proms, broadcasting every Prom live and over 600 complete concerts a year.
The station is the most significant commissioner of new musical works in the country and is committed to supporting new talent, from composers to writers and new young performers, through schemes such as New Generation Artists and New Generation Thinkers.
Related BBC Links