BBC Music
The BBC today unveiled a new music strategy consisting of an ambitious wave of new programmes, innovative partnerships and groundbreaking music initiatives that amount to the BBC's strongest commitment to music in 30 years.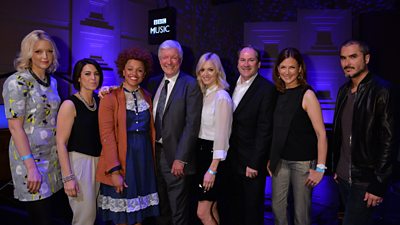 Today's the start of something very special for everyone who loves music. BBC Music is a celebration of the brilliant musical talent across our country. We'll be joining up music on television, radio, iPlayer and online like never before.
Under the banner of BBC Music, the strategy is designed to strengthen the BBC's place as a world leader in music broadcasting and commissioning, and enhance the UK's position as a world leader in music creation and performance. There are three core areas of activity -
Emerging talent - Bringing classical music into schools, new training initiatives for young people, and breaking more new artists
Digital – Developing BBC Playlister and curated collections on BBC iPlayer
Landmark programming – a renewed commitment to high-profile output, including BBC Music Awards on BBC One alongside more prime-time music on the country's most popular TV channel
Alongside BBC Director General Tony Hall and new Director of Music Bob Shennan, some of the BBC's much-loved presenters including Gemma Cairney, Fearne Cotton, Katie Derham, Suzy Klein, Lauren Laverne and Zane Lowe launched this first wave of BBC Music initiatives. The launch event at the BBC's Radio Theatre featured performances from Laura Mvula, George Ezra and BBC Young Musician 2014, Martin James Bartlett.
Tony Hall, Director-General, BBC, comments: "Today's the start of something very special for everyone who loves music. BBC Music is a celebration of the brilliant musical talent across our country. We'll be joining up music on television, radio, iPlayer and online like never before. There'll be new shows, new partnerships, and whole new ways to enjoy music on the BBC."
Bob Shennan, Controller, BBC Radio 2, 6 Music, Asian Network and Director, BBC Music, says: "From the BBC Proms to Glastonbury, music on the BBC already creates a range of amazing experiences that our audiences love. Under BBC Music and in partnership with the UK music industry, we will set a new benchmark for quality and scale, with bigger events and more world-class programming delivered in new ways."
Emerging Talent
Ten Pieces is an ambitious new initiative for primary schools, which aims to inspire a generation of children to get creative with classical music. The ten pieces will act as a gateway to children learning more about classical music and inspire them to use the music as a stimulus for their own creativity. Led by BBC Learning, the BBC Orchestras and the BBC Singers, Ten Pieces begins in October with a week of special screenings for schools in cinemas across the UK of a film introducing the ten pieces of classical music. During the autumn term, children will be asked to respond creatively to the music through their own compositions, dance, digital art or animation.
The ten pieces of classical music are:
John Adams: Short Ride in a Fast Machine
Beethoven: Symphony No. 5 (1st movement)
Britten: 'Storm' Interlude from 'Peter Grimes'
Grieg: In the Hall of the Mountain King from 'Peer Gynt'
Handel: Zadok the Priest
Holst: Mars from 'The Planets'
Mozart: Horn Concerto No. 4 (3rd movement)
Mussorgsky: A Night on the Bare Mountain
Stravinsky: The Firebird – suite (1911) (Finale)
Anna Meredith: Connect It
We can today reveal six extraordinary musicians who will be ambassadors of Ten Pieces helping to inspire children and the wider public with their passion for classical music; Alison Balsom, Nicola Benedetti, Catrin Finch, Julian Joseph, Cerys Matthews and Laura Mvula.
Roger Wright, Controller, BBC Radio 3 and Director, BBC Proms, says: "Ten Pieces marks the biggest commitment the BBC has ever made to music education in this country and it's a great example of the kind of groundbreaking initiative we can achieve through harnessing the knowledge and passion of the musicians, learning teams and classical music experts across the BBC. We hope that the project will inspire a generation of children to learn more about classical music."
Schools can sign up now to take part in the project via bbc.co.uk/tenpieces.
In the autumn BBC Radio 3 will broadcast each work in full, as well as recommending distinctive recordings and providing downloadable guides to each piece - 'Ten Pieces: Ten Facts' - presented by Suzy Klein. Ten Pieces will culminate with a celebration of the children's creative work in Summer 2015.
Players from the BBC Concert Orchestra will perform a medley of the pieces on Radio 3's drive-time show, In Tune, today [16 June] from 4:30pm. The show will be broadcast live from the Piazza at BBC Broadcasting House, presented by Sean Rafferty and Suzy Klein and featuring Anna Meredith and Julian Joseph.
Alongside this, BBC Introducing launches two new partnerships. The scheme has kick-started the career of many artists since its launch in 2007, with over 250,000 tracks uploaded to the BBC Introducing website and 100,000 artists registered.
BBC Introducing provides a network dedicated to supporting the best emerging talent from across the UK and a platform to propel them onto the national stage through Radio 1, 1Xtra, Radio 2, 6 Music and the Asian Network.
For BBC Music, BBC Introducing has announced a partnership with the National Skills Academy; an organisation that works alongside employers to increase skills through quality training. BBC Introducing will work with academies across the country to develop the technical and production skills of the future, particularly in the live space. From 2014 in addition to two showcases already held in North America, there will be two additional music showcases in Los Angeles and New York due to another new partnership BBC Introducing has formed. All four showcases will be co-funded by PRS for Music Foundation, the UK's leading charitable funder of new music and emerging talent, and is part of BBC Introducing's commitment to offer the best new artists unrivalled opportunities to be seen and heard.
Digital
Digital will be at the heart of BBC Music. BBC iPlayer will bring audiences the best live and on-demand music programmes from across the BBC, with more music from your favourite artists, festivals and shows, curated in new ways. BBC Playlister will get even better, with more personal playlists from the BBC presenters or programmes that you love.
From later this year bbc.co.uk/music will bring fans more music coverage and content tailored to their music tastes, enabling all audiences to enjoy the music they love from the BBC, whenever and wherever they are.
Later in 2014, subject to BBC Trust approval, BBC Radio 1 will be launching a branded space within BBC iPlayer - providing a platform for audiences to enjoy the station's distinctive content, including Live Lounge performances, regular Radio 1 features such as Innuendo Bingo, and big guest interviews.
Landmark Television and Documentaries
BBC One features spectacular events as well as some of the world's leading performers in concert, including George Michael and Adele, as well as landmark music documentaries in the BBC Arts strand Imagine.
For the first time ever, BBC One, Radio 1, Radio 2 and The One Show will unite for a spectacular celebration of the best in popular music from the last 12 months. Hosted by Fearne Cotton and Chris Evans, the BBC Music Awards will take place at Earls Court on Thursday 11 December. The extravaganza, the biggest musical event on the BBC since Glastonbury, will feature captivating live performances and collaborations to review and celebrate the year. Awards on the night will include British Artist of the Year, International Artist of the Year and Song of the Year. Amongst performances from the biggest and most iconic names in music, a special place will be reserved for one of BBC Introducing's hottest talents. Radio 1, Radio 2 and The One Show will give their audiences exclusive behind the scenes access.
Charlotte Moore, Controller, BBC One, says: "I think this is a fantastic opportunity for BBC One to collaborate with Radio 1 and Radio 2 and host this unique celebration of music in the UK. The BBC has always been a destination for new and established musical talent, and by bringing the two together the BBC Music Awards promises to give viewers and listeners an unforgettable night."
From August, as well as delivering topical features and big name studio guests, the hugely successful live magazine programme, BBC One's The One Show, will bring a new and regular weekly music performance slot to millions of viewers.
BBC Two aims to bring music to a broader audience with high quality landmark series, single drama documentaries about pivotal moments in music history, as well as feature-length rock and pop films made by award winning producers and directors, profiling internationally renowned bands and artists.
Popular music is the soundtrack and the lifeblood of what it was to be alive in the 20th century. Until the 20th century music had been a moment – heard once and never again. It became Pop Music when it was captured and amplified by the new media of the 20th century. Television has covered this rich history in genres and moments, but The Soundtrack Of The Twentieth Century (working title) for BBC Two will be the first time the story has been told, capturing the history of one of the most exciting achievements of the last 100 years. This definitive many part BBC TV series, to be broadcast in 2016, will explore popular music's rise and many transformations across the 20th century not only on TV, radio and online to form a BBC anthology. From Caruso to Taylor Swift via Frank Sinatra, The Beatles, Michael Jackson, Eminem and many more, this is the story of 100 years of music as only the BBC can.
Genesis: Together And Apart (w/t) on BBC Two is a feature-length documentary on one of the most successful bands in rock history. Made with the full co-operation of Genesis, the film reunites all original members of the band together – Tony Banks, Phil Collins, Peter Gabriel, Steve Hackett, Mike Rutherford – for the first time since 1975.
Reginald D Hunter's Songs Of The South is a three-part, BBC Two series which sees Georgia-born comedian Reginald turn his unique wit on the world and music in which he grew up as he embarks upon an epic road trip from North Carolina to New Orleans through 150 years of American popular song.
Music continues to sit at the heart of BBC Four's story with talent, scale and depth at the heart of its remit. Two new seasons see the channel come together with radio to celebrate country music and music and fashion.
This autumn, BBC Four and Radio 2 present Country Legends: Nashville And Beyond, a season of new programmes exploring the rich history of country music. Three new films look into the phenomenon of Nashville: Nashville: Country Capital (w/t), Kenny Rogers: The Gambler (w/t) and Bob Harris: My Nashville. Radio 2 will be broadcast live from Nashville from the Country Music Association Awards, as well as broadcasting a special concert featuring country music superstar Brad Paisley and his songwriters.
Coinciding with London Fashion Week this September, BBC Four and BBC Radio 6 Music collaborate to create a bespoke collection of programming that celebrates the intimate relationship between music and fashion. Central to the season is Oh You Pretty Things! (w/t), a three-part television series exploring the relationship between British rock and pop music and fashion, featuring interviews with Biba's Barbara Hulanicki, Sex Pistols' Glen Matlock, Jazzie B, The Kills' Alison Mosshart and Jamie Hince, plus many more.
The season will be accompanied by tailored programming and special guests across 6 Music exploring further the themes of the series.
Looking further ahead, BBC Four and BBC Radio 6 Music are working together to celebrate the concert halls, dance-halls and clubs that have sat at the heart of some of the greatest revolutions in music and popular culture, with Camden's Roundhouse sitting at the heart of the plans.
BBC Four continues its rich tradition of in-depth, original music docs featuring Kate Bush, Northern Soul and the Joy Of The Guitar Riff, which coincides with Radio 2's Guitar Season. BBC Four also becomes one station under a groove for an evening of Funk music this autumn.
BBC Arts at… continues with a special television programme, Michael Grade will in conversation with the internationally acclaimed lyricist Tim Rice, which will see him discuss the fascinating stories behind his catalogue of hit song lyrics, including West End shows Joseph and the Amazing Technicolor Dreamcoat, Jesus Christ Superstar and Evita, amongst others. Recorded at the Royal Festival Hall on July 8th, an array of performers including Rob Brydon, Roger Daltrey, Sophie Ellis-Bextor, Cynthia Erivo, Tim Minchin and Rufus Wainwright will perform, accompanied by the BBC Concert Orchestra, conducted by Mike Dixon.
In classical music television, the BBC's reputation as a world class leader in this field continues with a commitment to putting musicians centre stage and a raft of new programming on BBC Two and BBC Four.
Simon Russell Beale travels to Italy to explore the creation of the radical and enduring Vespers of the Blessed Virgin and the relationship between the ambitious potentate the Duke of Mantua and his ill-paid yet determined composer, Claudio Monteverdi - in The Duke And The Composer - Monteverdi In Mantua, for BBC Two. Featuring specially recorded performances from The Sixteen, conducted by Harry Christophers.
In The Joy Of Mozart on BBC Four, Tom Service discovers the true essence of the composer's genius with the help of Sir John Eliot Gardiner, Nicola Benedetti, Paul Morley and others. Also on BBC Four film-maker John Bridcut and 1212 Productions present a portrait of Herbert Von Karajan, exploring his legendary career as one of the 20th century's greatest and most controversial conductors and his life-long determination to bring classical music to the widest possible audience.
An ambitious partnership between the BBC, Arts Council England, Southbank Centre, The Hallé in Manchester, Bristol Music Trust, Royal Welsh College of Music and Drama in Cardiff, and the National Youth Orchestra of Great Britain will bring L'Orchestre Symphonique Kimbanguiste (OSK) from Kinshasa, the Congo – to the UK for the first time. A BBC Arts at… documentary will follow the Kinshasa Symphony Orchestra – many of whom play on self-built instruments - as they embark on a ground-breaking tour of concerts across the UK with a programme including Congolese music alongside works by Beethoven and Berlioz
These new announcements are in addition to a wealth of musical activity already happening this year.
Next week, the BBC returns to Glastonbury to bring audiences more of the music they love. On BBC One, BBC Two, BBC Three, Radio 1 and 1Xtra, Radio 2 and 6 Music, BBC Red Button and online, the BBC will deliver the biggest and best moments from the world's most iconic festival to audiences across the world.
As the world's biggest and longest-running classical music festival, the BBC Proms offers eight weeks of world-class music-making from a vast array of leading orchestras, conductors and soloists from the UK and around the world. With every Prom broadcast live on BBC Radio 3, an extensive online offering and many televised on the BBC, the Proms reaches far and beyond the Royal Albert Hall. BBC Two's Saturday evening review show, Proms Extra, returns and is to increase from six episodes to seven, hosted by Katie Derham.
BBC at the Quay, the BBC's cultural celebration running alongside the Glasgow 2014 Commonwealth Games, will offer audiences a huge variety of musical entertainment between 19 July and 3 August, including programmes from Radio 2, Radio 3, Radio 1Xtra, BBC Introducing, BBC Radio Scotland, Asian Network, BBC ALBA and Radio nan Gaidheal. On Saturday 19 July, a spectacular concert Live from Edinburgh Castle will be shown on BBC One, ahead of the Games' opening ceremony. Presented by Alex Jones, Scotland's capital city will be welcoming Smokey Robinson, Kaiser Chiefs, Il Divo, Paloma Faith, Alfie Boe, Katherine Jenkins and the BBC Scottish Symphony Orchestra amongst others.
The images from today's launch are available at bbcpictures.co.uk
Note to Editors
We believe that the specific proposals above are covered within existing service licences and permissions as they represent refashioning or extending existing activity. As the BBC's Music offer evolves, we may develop further proposals that need new permission and we will put these to the Trust when appropriate.
SH
Related BBC Links
Tagged: