Autumnwatch 2015
Autumnwatch returns to BBC Two this November. Across four days, from Monday 2 November to Thursday 5 November, Chris Packham, Michaela Strachan and Martin Hughes-Games will report live from the stunning west coast of Scotland, bringing viewers the very best of the season's wild action.
Published: 15 October 2015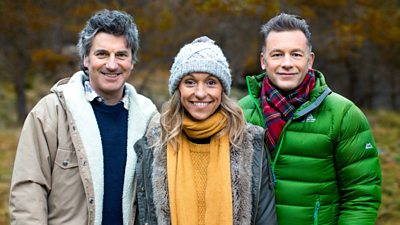 From rutting red deer to migrating geese and swans, starling murmurations to urban badgers, Autumnwatch will showcase the beauty and drama of this changing season.
From rutting red deer to migrating geese and swans, starling murmurations to urban badgers, Autumnwatch will showcase the beauty and drama of this changing season.
The series will examine what makes this year different from other autumns, analysing weather conditions across the country and asking how this year's unsettled summer has affected our autumn wildlife. Throughout the week viewers can enjoy a live check in with nature's key events as the presenters discover how our wildlife is behaving at this pivotal time.
Autumnwatch will offer a truly multi-platform experience, with wildlife action streamed live on the web and on BBC Red Button during the day. As ever we hope to bring wildlife moments to viewers with remote cameras in a number of key habitats across the reserve, including:
Badger Cam: hidden cameras by a badger feeding area to see the reserve's resident badgers to discover their nightly activities
Pond Cameras: remote cameras hopefully near 'Folly Pond', the area where hundreds of whooper swans gather
Yellowhammers and finches: remote cameras on a bird table where yellowhammers and other birds love to feed. This will be the opportunity for Autumnwatch to find out just which seeds these seed-eating birds prefer
Underwater Camera: after the success of our live stickleback, underwater camera ambitions are high as we try to capture on camera otters swimming underwater. We've managed a pair of feet in the past - can we beat our own record!
WWT Caerlaverock
For the first time, Autumnwatch is setting up home at the Wildfowl and Wetlands Trust's Centre in Caerlaverock, Dumfries and Galloway.
Situated on the Solway Firth, the centre is the overwintering home for a huge range of wildfowl and wetland birds, including the entire population of Svalbard barnacle geese and hundreds of whooper swans, who will have made the journey all the way from Iceland.
Caerlaverock was once a working farm, which has developed into a 1500-acre reserve including farmland, saltmarsh and freshwater wetland habitats. In keeping with its history it now 'farms' for wildlife and as a result the area is home to a wide range of different creatures.
The nearby market town of Dumfries is also home to a surprising wealth of urban wildlife – we hope to capture the kingfishers, mergansers, dippers and otters that thrive on the autumn riches of the River Nith.
Highlights will include:
Barnacle Geese - up to 30,000 fly in from Svalbard to set up home on the Solway Firth. We'll be watching their daily routines as they settle in for the winter.
Whooper Swans - flying in from Iceland. This journey is one of the longest sea crossings that any swan makes.
Starlings - arrive in late October and create stunning murmurations at dusk as they decide where they are going to roost. We'll be out every evening hoping to catch these seasonal spectacles.
The Caerlaverock Badgers - popular residents on the reserve, the badgers feed most nights under the windows of the old farmhouse. The team hope to delve deeper into their nocturnal behaviour and, in conjunction with University of Brighton, plan to test the badgers of Brighton and the badgers of Caerlaverock to discover whether urban badgers have more of a preference for anthropogenic (human) food than their rural cousins. Does exposure to human related food make urban badgers more likely to feed on it or will all badgers attempt to eat any food they find? Using camera traps and remote cameras Autumnwatch will find out.
Triops - Caerlaverock is one of only two places in the UK (the other being the New Forest) where you can find one of the oldest species in the world - the triops. We'll be getting up close and personal to these tiny crustaceans, often known as tadpole shrimps, and discovering why they are thriving on this reserve.
Mergansers and Goosanders fishing for migrating lampreys, eels and salmon.
NE
Related BBC Links
Tagged: