The board
The BBC's award-winning business show The Apprentice is back, celebrating its 15th series, and promises to be bigger and better than ever.
Published: 24 September 2019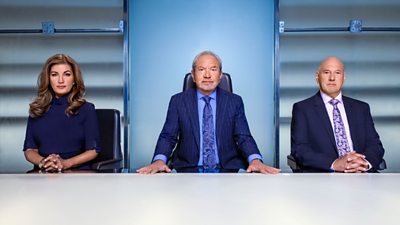 Having left school in Hackney aged 16, Lord Sugar started selling electric goods out of a van he bought for £50. In 1968, he founded Amstrad and now, over 50 years later, he has an estimated worth of over £1 billion.
A former Chairman of Tottenham Hotspur FC, he sold his Amstrad empire to Sky in July 2007. His other companies include Amscreen, the UK's largest digital media owner and property investment firm Amsprop. Until 2014 he was Chairman of Viglen, a manufacturer specialising in computers, networks and solutions.
In 2000, he was knighted for his services to business and he holds two honorary Doctorate of Science degrees, awarded by City University and Brunel University respectively.
Having previously sat on the Business Council for Britain and fronted a campaign promoting the benefits of apprenticeships, Lord Sugar was named as the government's Enterprise Champion in 2009 and appointed to the House of Lords as Baron Sugar of Clapton in the London Borough of Hackney.
Lord Sugar has also appeared in all fourteen series of BBC One's The Apprentice, where aspiring young businessmen and women compete for the chance to work with him.
Lord Sugar is a philanthropist for several charities including Great Ormond Street Hospital and Jewish Care.
Baroness Brady
Baroness Brady of Knightsbridge CBE is one of the most influential, high profile and respected female business leaders in the UK.
Voted Business Woman of the Year, Ultimate Entrepreneur and rated among the 50 most inspirational people in the world, she is passionate about business and the promotion of women in business in the UK.
At 27 years old, Karren was the youngest Managing Director of a PLC in the UK when she oversaw the flotation of Birmingham City Football Club.
She is currently the Vice-Chairman of West Ham United Football Club, as well as Chairman of Taveta Investments, owner of global brands including Topshop.
She joined the board of West Ham in January 2010, and negotiated a successful bid for the club's move to London's iconic 60,000-seat London Stadium. Under her leadership, West Ham has become one of the five fastest-growing brands in world football.
Karren was made a life peer, entering the House of Lords in 2014. She received a CBE from the Queen for her services to business, entrepreneurship and women in business.
Karren's wealth of experience and passion for supporting entrepreneurs led to her appointment as the Government's Business Ambassador by David Cameron in 2013. Karren joined The Apprentice in 2010 and has been an aide to Lord Sugar for the past nine series, replacing Margaret Mountford when she stepped down from the role.
Claude Littner
Claude Littner is a successful entrepreneur and businessman with almost 50 years' experience. A long-term business associate and friend of Lord Sugar, Claude has chaired a number of his companies including Amstrad International, Amstrad Spain, Dancall Telecom and Viglen.
Claude was Chief Executive of Tottenham Hotspur Football Club. He was also deputy Chairman of Blacks, Chairman of ASCO plc, and Azzurri Telecom, Chairman and majority shareholder of Powerleague plc.
In 2014, The University of West London Business School was renamed, The Claude Littner Business School in recognition of his exemplary business career and long-term association with the University. Claude is a visiting Professor at the University of West London.
Claude has appeared on The Apprentice in each of the 14 previous series, and best known for his fearsome interview style when grilling the candidates in the penultimate episode of each series. From series 11, he has also assumed the role of aide to Lord Sugar alongside Karren Brady.
Related Media Centre Links
Related Web Links