About The Apprentice
The BBC's award-winning business show The Apprentice is back, celebrating its 15th series, and promises to be bigger and better than ever.
Published: 24 September 2019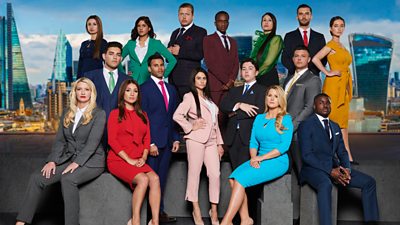 Bafta award-winning business series, The Apprentice, has previously had fourteen successful series as well as three series of Young Apprentice.
The Apprentice continues to see strong performance on BBC One series. Last year, the fourteenth series of The Apprentice achieved a series average audience of 7.1m and was also in the top ten most watched programme series for 16-34 year olds across all TV channels in 2018.
The Apprentice attracted the highest volume of BAME viewers out of all programme series (excluding sports and one-off events) on the main UK TV channels last year.
The Apprentice also saw impressive performance on BBC iPlayer, with an average of 1.9m requests for the main episodes of the show, which was up on the previous two series (series average of 1.7m requests in 2017 and 2016). The Apprentice skews much younger than other BBC One shows on BBC iPlayer - with 55% of requests for the show coming from under 35s.
2018 saw Lord Sugar deciding to invest £250,000 in Sian Gabbidon and her self-titled Swimwear brand Sian Marie. She successfully launched her business online in December 2018 and her products are now also stocked on ASOS and House of Fraser.
Celebrity Apprentice for Comic Relief returned for a two-part special earlier this year which saw Lord Sugar putting ten celebrities through their paces to raise money for Red Nose Day 2019 raising an impressive £381,116.
Previous winners include Sarah Lynn who successfully launched her confectionery business Sweets in the City last year and whose products are stocked in Selfridges, Harvey Nichols and Harrods. Inventor Tom Pellereau who has launched a succession of beauty innovations; the most recent being the StylPro Makeup Brush Cleaner which has propelled the company to a turnover of £4million. 2016 winner Alana Spencer launched her own cake line Ridiculously Rich by Alana and now has over 50 franchises selling her treats across the country. Dr Leah Totton, who was successful in the ninth series in 2013, runs a leading chain of UK cosmetic clinics. She is set to open her fourth clinic later this year, her award-winning chain of Dr Leah Cosmetic Skin Clinics have achieved the acclaim of being crowned Best Cosmetic Practice in the national cosmetic awards 2017 and 2018. Series 10 winner Mark Wright's digital marketing agency Climb Online generated sales of over £6million in 2017 across three UK offices, he has recently launched an online course Climb Academy and a one-day business event Climb Con. The winner of series nine, Ricky Martin, announced last year that he was the first Apprentice winner to hit the £1m pre-tax profit mark with his scientific consultancy business HRS and is considering expanding into Europe.
Related Media Centre Links
Related Web Links