Top 20 finds on the Antiques Roadshow
Most valuable items discovered on the Antiques Roadshow:
Published: 19 September 2017
Most valuable items discovered on the Antiques Roadshow:
20) Richard Dadd painting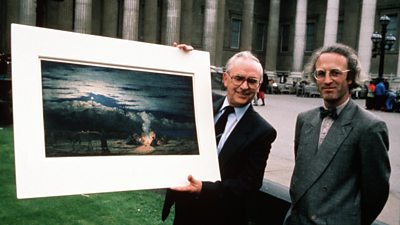 It was during a visit to Barnstable in 1986 that one of the most exciting discoveries in the programme's history was made – a lost painting by 19th-Century artist Richard Dadd. Halt In The Desert had been missing since 1857 and was valued by expert Peter Nahum at £100,000 - it was the highest valuation on the show at that point. Owned by a local couple the painting had languished in the loft of their family home for years before they took it to the Antiques Roadshow on the off-chance. The watercolour was later sold to the British Museum for £100,000.
(Barnstaple, 1986)
19) 12 Silver Bull's Head Stirrup Cups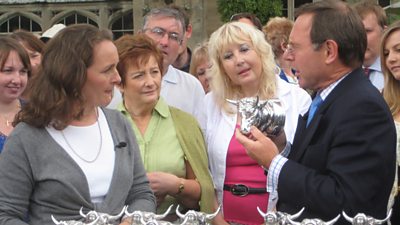 One silver stirrup cup was enough for expert Alastair Dickenson but 11 more made "this possibly one of the best days I've ever had on any Antiques Roadshow". Stirrup cups which first appeared in the mid-18th century were usually decorated with foxes. They were handed up to the Master of the Hunt, just before they went off hunting. The cups were made by Hunt and Roskell, which was one of the best makers of the 19th Century. "Bulls happen to be one of the rarest forms of stirrup cup you can get," said Alastair, "for a set, there's not going to be much change left out of £150,000."
(Hampton Court, 2010)
18) Art Deco bracelet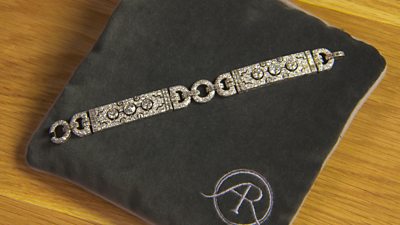 Expert Geoffrey Munn could hardly contain himself when he saw the bracelet, believed to have been made in the late 1920s or early 1930s. "This is like a collision of art and intrinsic value," he said. "There's a sort of atomic explosion as they crash together because this is what everybody wants. I don't know about you but I'm nearly fainting." The owner broke down in tears at his valuation of £150,000 and said the bracelet belonged to her husband's family.
(Senate House, 2016)
17) 18th Century Dolls House
An early 18th Century doll's house, described as "of national importance", was valued by expert Fergus Gambon at more than £150,000. Fergus said it was "unique" and "one of the most important English baby houses in existence". The doll's house was built in 1705 and has been in the owner's family ever since, being passed down the female line for generations.
(Tewkesbury, 2016)
16) Collection of Wartime Pigeon Memorabilia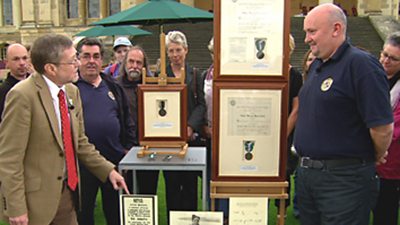 A collection of war time Dickin Medals, the animal equivalent of a Victoria Cross, was valued by expert Graham Lay between £180,000-200,000. He said: "There were a quarter of a million pigeons in the National Pigeon Service and they saved thousands of lives during the First and Second World Wars. Every reconnaissance aircraft, every bomber that left the shores of the UK, had two racing pigeons. If the aircraft was shot down and the radio was lost, the pigeons would be released with the coordinates, they'd fly back and basically the air crew would be picked up."
(Stowe House)
15) Nelson's 18th-century sword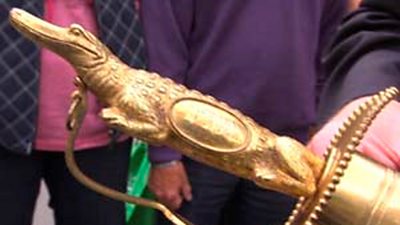 Expert Graham Lay instantly recognised this distinctive sword when it was brought to a roadshow in Guernsey in 2009: "This is an interesting sword that I recognise by this incredibly distinctive grip, the hilt in the form of a crocodile." The sword is a copy of one which was presented to Nelson to commemorate the victory over the French at the Battle of the Nile. Nelson had the original which was made in gold, and then his prize agent arranged for several copies for the senior captains made in gilded brass.
(Guernsey, 2009)
14) A bronze racehorse by Munnings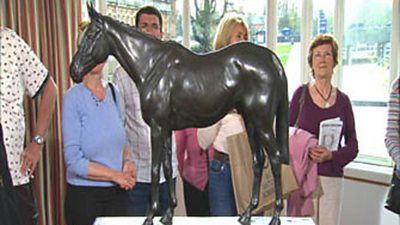 Expert Dendy Easton described a model of the horse Brown Jack as a "very rare bronze by Sir Alfred Munnings". Brown Jack won seven of the most challenging races at Ascot between 1929 to 1934. During that time the nation grew to love him and he was, without a doubt, the most popular horse of his time. Dendy said the anatomical detail on the sculpture was "absolutely fantastic" and described Munnings as one of the "greatest equestrian painters of the 20th century without doubt".
(Ascot, 2008)
13) 18th century apothecary desk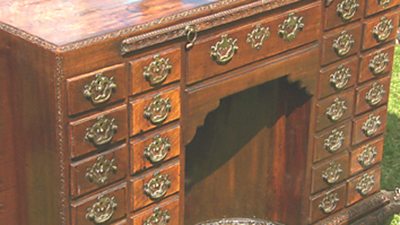 With 421 drawers this important piece of mid-18th-century furniture once stood in Lulworth Castle. Lennox Cato described the Cuban mahogany wood cabinet as "absolutely stunning". "English furniture of this quality has rocketed and I would be quite comfortable in saying this should be insured for at least £200,000."
(Lulworth Castle, 2011)
12) Beatrix Potter paintings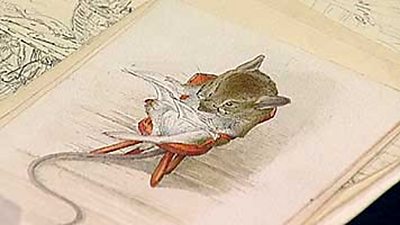 23 original pictures and watercolours were brought into the Roadshow in Dumfries and the visitor revealed that Beatrix Potter had been a friend of the family. Expert, Clive Farahar said: "While a lot of these predate Peter Rabbit, which came out in 1902, many are sketches and a lot are half finished it doesn't make them any less interesting."
(Dumfries, 2003)
11) Painting by William Orpen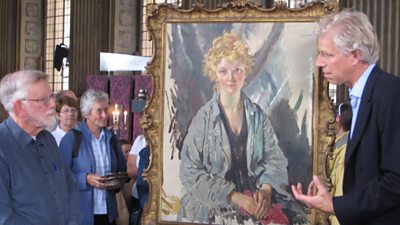 The picture, thought to be a copy, turned out to be an original painting by Sir William Orpen of his mistress reported to be a spy in the First World War. Originally seen at an Antiques Roadshow in Greenwich the painting was initially valued at £30,000. However, further research proved there was another version of the painting and Rupert Maas revalued it at £250,000. The owner said "I'm completely gobsmacked. It's worth more than my house - what on earth am I going to do about it?"
(Greenwich and Imperial War Museum)
10) John Lavery painting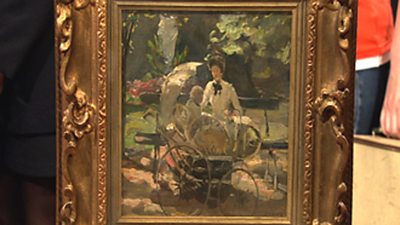 The stunning sunlight scene by renowned Irish artist John Lavery was examined by expert Rupert Mass at Hereford in 2007. The painting was bought between the First and Second World War by the owner's grandfather as a gift to her mother. Rupert said the picture, with influences from Degas and Manet, was painted by "the hands of a master… in a mere one foot square".
(Hereford, 2007)
9) Sir Lawrence Alma Tadema portrait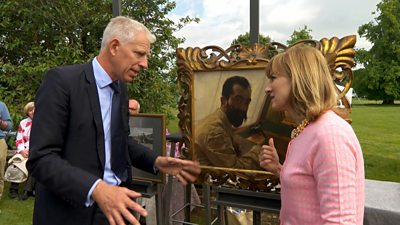 A portrait by the Victorian artist Sir Lawrence Alma-Tadema of his friend and engraver Leopold Löwenstam was brought along to Arley Hall, in Cheshire in 2016. The picture had not been seen in public since an exhibition in 1917 and was brought along to the Roadshow by Löwenstam's great-great grandson. Expert Rupert Maas said it is "one of the best pictures we have ever seen on the Roadshow" adding that "Alma-Tadema is the "most valuable Victorian artist today".
(Arley Hall, 2016)
8) John F Kennedy's jacket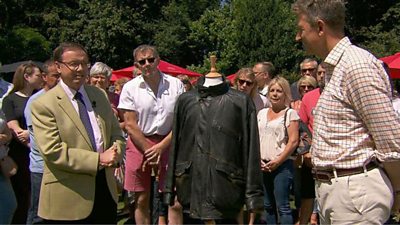 A leather jacket reported to be owned by John F Kennedy was valued between £200,000-300,000 when it was brought to Walmer Castle in Kent. It was a legacy of a love affair between the former US president and a Swedish girlfriend in the 1950s. Antiques Roadshow expert Jon Baddeley called the jacket an "iconic piece" and it is expected to be auctioned in 2018.
(Walmer Castle, 2015)
7) Gold Leica 2 Luxus Camera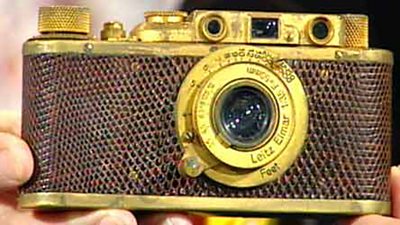 The owner of this spectacular camera told expert Marc Allum that he'd owned it for the past 45 years and didn't consider it anything unusual. However, it turned out to be a very rare camera; indeed it was one of only four made. Valuing initially at a relatively modest £5,000 Marc added that: "Leica collectors are a law unto themselves and they would fall over each other to acquire something out of the ordinary." When it went up for sale 12 years later they did just that and it was sold in Hong Kong for £320,000.
(Bridgend, 2001)
6) Crawley Silver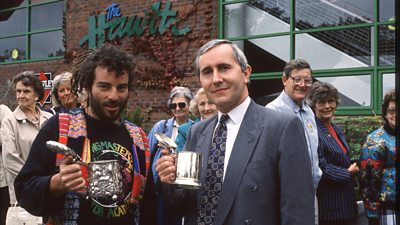 It was one of the most memorable Antiques Roadshow moments when back in 1994 a young man brought in a stunning silver collection. Ian Pickford couldn't believe it as the owner pulled out incredibly rare items, such as an early wine taster and stirrup cups. The silver had been collected by his father and the whole collection was eventually sold for £350,000.
(Crawley, 1994)
5) Mobile Lovers by Banksy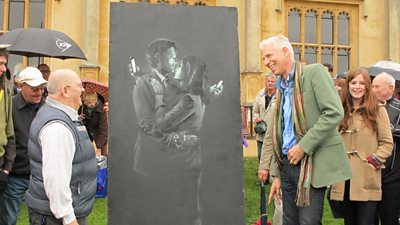 Painted on a door opposite Broad Plain Boys' Club in Bristol by street artist Banksy, Mobile Lovers showed a couple embracing while checking their mobile phones. The club sparked an ownership dispute with Bristol City Council but Banksy wrote to the cash-strapped club and said it was theirs. The painting was sold in 2014 for £403,000 and the proceeds went to keep the Boys' Club going.
(Ashton Court, 2014)
4) Van Dyck painting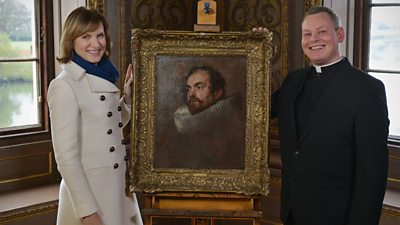 During a Roadshow in Cirencester, Fiona Bruce spotted a painting which she thought might be a genuine Van Dyck. The painting had been bought for just £400 from an antique shop in Cheshire in 1992 by a priest. After being authenticated it was valued at £400k by expert Philip Mould and has since been exhibited internationally.
(First seen Cirencester, 2013)
3) Jardiniere by Christofle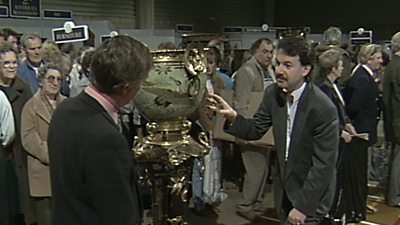 From a lowly plant pot sitting in the living room of its owner, this Parisian Bronze Jardiniere had a remarkable turnaround in fortunes. Expert Eric Knowles revealed that the 'pot' was actually a French 'Japonisme' urn made in 1874 and was cast in gilt bronze with handles styled as cranes. It was sold at auction in September 2012 for £560,000 (excluding commission).
(Cleethorpes, 1991)
2) Maquette of the Angel of the North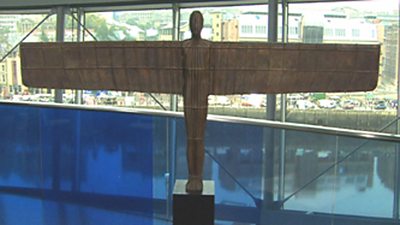 Art expert Philip Mould described the Angel of the North as "probably the most successful contemporary sculpture in Britain". This is the final maquette on the basis of which the design was approved. The Angel and the maquette are owned by Gateshead Council and the employee who brought it along to the Roadshow said it has "great emotional ties for me".
(Gateshead, 2008)
1) Watch this space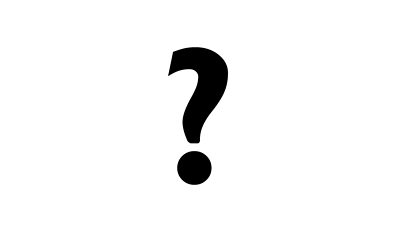 One of the "most significant items of jewellery ever valued on the Roadshow" has recently been filmed and will be broadcast as part of the 40th anniversary series.
Related Web Links