Published: 4 August 2022
Updated: 4 August 2022
The seventh series will be Henshall's last outing as DI Perez after nearly a decade in the iconic role. Perez's thrilling final investigation draws him into the secret past of a family new to Shetland, revealing an unimaginable threat to the community.
Cast and Crew
Douglas Henshall - DI Jimmy Perez
Alison O'Donnell - DS Alison 'Tosh' McIntosh
Steven Robertson - DC Sandy Wilson
Mark Bonnar - Duncan Hunter
Erin Armstrong - Cassie Perez
Lewis Howden - Sgt Billy McCabe
Anne Kidd - Cora McLean
Angus Miller - Donnie
Lucianne McEvoy - Meg Pattison
Conor McCarry - PC Alex Grant
Anneika Rose - Maggie Kean
Shauna Macdonald - Rachel Cairns
Laurie Brett - Alison Woods
Patrick Robinson - Lloyd Anderson
Andrew Whipp - Danny Cairns
Nicholas Nunn - Connor Cairns
Lauren Conroy - Abbie Cairns
Sorcha Groundsell - Bryd Fleming
Stuart McQuarrie - Murry Rankin
Antony Strachan - Ally Flett
Grant O'Rourke - Jamie Narey
Pauline Turner - Sheena Davidson
Writers - David Kane, Paul Logue and Denise Paul
Producer - Louise V Say
Directors - Fiona Walton & Louis Paxton
Executive Producers - Gaynor Holmes (BBC), Kate Bartlett, Denise Paul and David Kane (Silverprint Pictures)
Commissioned by Piers Wenger
Shetland is a Silverprint Pictures production for the BBC.
JM2
Interview with Douglas Henshall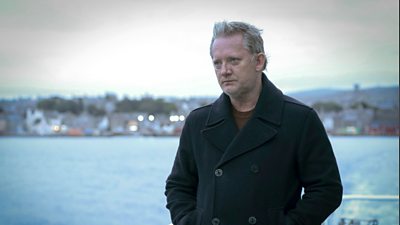 Douglas Henshall plays Jimmy Perez
The last series ended on a cliff-hanger with Perez being read his rights and Duncan handing himself into the police - how does Perez feel about all this?
It just all felt a little like he'd be stitched up to be fair. It's sullied his view of what he does. I think he's getting to that point of his career where he's beginning to doubt whether he has a future doing what he does. Perez is becoming a bit disenchanted with his life the way it is - those little doubts have started to creep in and he's questioning whether he's doing the right thing or not. There are lots of things niggling him.
Case aside, Perez has also met Meg [played by Lucianne McEvoy] and it's in the very early stages of their will-they-won't-they? relationship, his dad's dead and Duncan is in prison - he's a lot going on, as ever.
What case will Perez and his team be investigating this time around?
It seems as though it's a missing person, but then it becomes murkier and murkier as it goes along. I really love that there's no dead body at the start of this new series, and the suspense of that is great.
This series also sees guest stars including Shauna MacDonald, Laurie Brett and Patrick Robinson - what is it like having guests on the show?
One of the great good fortunes of Shetland is we've had so many great guests to come in over the years, and Shauna, Laurie and Patrick have done an amazing job in this new series. They join the list of great actors we've been lucky enough to have in the show over the years including Archie Panjabi, Ciaran Hinds and many, many more.
I don't think there's a lot of shows like ours. It isn't big and shouty, it's subtle and quite nuanced. We've explored lots of things that TV shows don't and I think all of those things are partly what kept our audience loyal to us. It's wonderful.
Perez is often unlucky in love - is happiness on the horizon with nurse Meg?
You never know, but as with anything to do with Perez and the opposite sex, it's never straightforward. Meg's got his head like a washing machine. I think once you get to a certain age there're a lot more questions that you have to ask of yourself, of a significant other. I think the conversations you have are a lot different because there's baggage there. But as long as there's hope, there's a way forward.
It's a big moment for Shetland as you bid farewell to DI Perez, why did you decide to leave now?
I decided to leave a few years ago because I felt that his story was coming to a natural end - it was time to find a resolution to Perez's private life. I never wanted to ruin the things that were unique to him and our series, so it felt like the right time to wrap up his story in a way that would be satisfactory to everybody.
I am aware we're not changing the world in any way, shape or form, but as far as crime shows go, Shetland does really well in that genre. We tell stories that are very good, the characters are great and I wanted to go out on a high.
You've played Perez for nearly a decade now, will you be sad to say goodbye to him?
Yes, I am, actually. But I think it was always going to be sad. It will be nice to play somebody who isn't so irredeemably good as Perez! I'll miss him as a person I crawl into every now and again because I liked him, he's a nice man. I enjoyed playing Perez and exploring the complications of his life. Flawed humans are always the most interesting to play because I feel they are the most truthful.
I'd love to play a baddie again, that would be fun - I used to get asked to be the baddie lots in the past. I don't know what the future holds, I mean, I don't fancy playing a policeman for a while!
Was it hard to keep your exit a secret, and how did you feel filming your last scenes?
The last thing I would want to do was give it away but it feels a bit real and weird now. Once this series is over on TV, it's over [for Douglas Henshall] - I don't think it will feel real until that moment, for me.
My last scenes were filmed in a car park in Kilmacolm, which was very odd. We'd tried to wrap three times, but because of Covid it kept being put back, so it felt a little anticlimactic in the end. I did say a few words of thanks to everyone who was there but it's impossible to encapsulate tem years of work. Shetland has meant a lot to me and it's going to take some time to sink in that I've left the show.
Will Perez always hold a special place for you?
Oh yes, absolutely! He's one of my favourite characters and it's been a real privilege to play him. We got very lucky with lots of things - I even got to dress him for a while, including choosing the pea coat which is now famous. I chose not to keep the coat, though - I kind of figure I can never wear a pea coat again!
I did take a couple of key items from the set including the incident board from the police station. I got it for my daughter. After all the gruesome things that have been up on that board over the years, I thought it was a bit of karma to have a little child drawing pictures of flowers and houses on it. I also took a painting from Jimmy's house which is by a Shetland artist and I'll be hanging it somewhere special in our home.
What makes the Shetland Isles so special?
After going there for nearly ten years, I'm still discovering places to go and see. There are so many nooks and crannies that are absolutely beautiful and the wildflowers in the summer are truly stunning. I loved the pace of the place. I really loved the sea, I loved how stark it could be, I loved the weather in all its glory. I loved the drama of the Shetland Isles. I also met some really nice people there who were fabulous, kind, generous and funny. There aren't many places like Shetland - it's very much of itself. It's unique and I'll miss that.
I think that people were slightly suspicious of us at the beginning, in terms of who we were and what we were going to do, but as time has gone on they have seen we're a force for good, they've really taken to us. They have been incredibly helpful and we couldn't make the show without their help.
Do you have any plans to return?
Absolutely, yes. What I'm looking forward to doing is going back and hopefully staying in the lighthouse at Sumburgh because it's fantastic. It looks right into the ocean and if the wind picks up and a storm comes in, it's the best place in the world to be. I want to take my daughter, show her the beaches and get her into the sea. Just to go and hang out and get to be a tourist would be nice.
And any final words?
My final series has a really great story at its heart and it's very much the Shetland the audience know and love. I hope people have enjoyed watching Perez over the years as much as I've enjoyed playing him. I'm going to miss Jimmy Perez.
Interview with Alison O'Donnell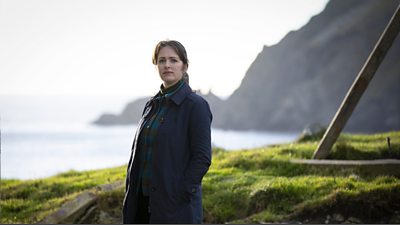 Alison O'Donnell plays Tosh
Welcome back! The last series finished with Tosh finding out she's expecting a baby with her partner Donnie. Where do we find her now?
So, a year has passed and a lot has happened during that time. Tosh now has a little baby girl and has also been covering for Perez in his absence, so she has been very busy and juggling a lot.
And how is motherhood suiting Tosh?
She is completely in love with her baby, which we can see in all of their interactions. It's a real wrench to have to leave her every day but it's also important to her to be able to continue with her career which she has worked so hard for and which means so much to her.
She's trying to balance the two identities which I, and I'm sure many other working parents, can really relate to. She couldn't do any of this without Donnie's [played by Angus Miller] amazing support but of course those big changes are challenging for him too so we see that all play out over the course of the series.
And what crime do the team face in this new series?
This season opens with a missing person. A young, vulnerable man hasn't returned home and his family are concerned. The team start to pull the various threads of his life to see if they can uncover any clues as to his whereabouts, and the subsequent unravelling is bigger and more dangerous than any of them could have anticipated.
Are there any surprises this series or must-see moments?
This series is jam-packed with twists and high-octane drama. It's not to be missed! Our guest cast is absolutely outstanding, as ever, and there are some big moments for the core cast too, with Perez's ending and another series regular being thrown into serious jeopardy.
Douglas Henshall recently announced this will be his last series of Shetland - how do you feel about this?
I am honestly bereft. Having the privilege of working so closely with Dougie for all these years was an insane luxury. I'm trying to be grateful for everything we experienced together rather than focussing on the obvious sadness. I'm also incredibly proud of what we achieved together, and I know he is too.
If you could star in any other murder mystery, which one would you choose and why?
I'm such a fan of the genre so this is a difficult one. Growing up we were very much a Poirot house. Sunday nights were all about ice cream, Mars bars and David Suchet, so it would be hard not to pick that. I would have loved to be the young, red-lipsticked ingenue who got into Poirot's confidences and got to walk arm in arm with him, but I suspect with this face and this accent I would have been the maid - pivotal, but only appearing in two scenes!
Do you have a favourite place you like to visit when you're filming on the Shetland Isles?
St. Ninian's Isle. It's a tombolo which means the sea comes in on two sides with just a strip of sand down the middle. It's like a magic trick. How does it stay like that? It's absolutely breathtaking and I always tell people to visit that first if they're looking for things to see. Since I've been taking my family out to Shetland with me I've come to appreciate the swimming pools and parks more - it's all great to be honest.
And how do the locals react to having Shetland the TV series roll into town?
The locals are hugely supportive and very accommodating. We are so indebted to the people of the Shetland Isles. None of this would be possible without their understanding and their willingness to get involved.
Shetland just keeps going from strength to strength - what do you think the enduring appeal of the show is?
For me, the most important thing about a TV show, the thing that will make me connect and keep coming back, is a well-defined world that I want to spend time in. I think we have created a world that is unique and really atmospheric. The beautiful landscapes, the intriguing stories and, of course, the characters who have really grown over the years.
And, finally, what five words sum up the seventh series of Shetland?
Dramatic, emotional, tense, tender and unmissable.
Interview with Steven Robertson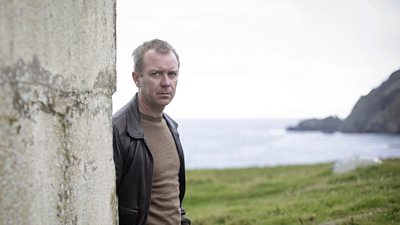 Steven Robertson plays Sandy
The last series of Shetland finished on a bit of a cliff-hanger… can you recap where we find things?
From a personal point of view, Sandy had made a critical error of judgement in the previous series [he'd leaked information about a murder case] but it seemed as though Perez and Tosh were going to let this slide given everything they'd been through as a team - they've all got bigger problems to deal with.
So when Perez is arrested it feels like Sandy's error of judgement has diminished in comparison. The series ended with Perez stood there in front of us having his rights read out to him. It's a major change for the team and serious for all of them.
How has Perez's suspension impacted Sandy and the rest of the team?
The thing I like about this series is there's an awful lot of good solid police work which needs to go on. So while Perez has been away, I'd like to think that Sandy has been more occupied with that kind of work. Perhaps Perez being suspended has meant Sandy has had the opportunity to run more things at a higher level and to hold the fort alongside Tosh and Billy. And with Perez back, the case they are faced with is bigger than any of them - so they can all work together again.
Professionally, Sandy has faced some challenges in his career - what awaits him in series seven?
There's a different level of confidence in Sandy. After his previous indiscretions, he's more self-aware and with less to prove to others. We all reach a point in our lives and careers when you're doing it for yourself and not for others.
If the more senior detectives in the office didn't respect Sandy, he wouldn't be there. Seeing Perez having his rights read to him highlighted to Sandy and everyone else that we're all fallible, and sometimes that's okay.
And what crime do the team face in this new series?
It's really interesting actually, it's a missing person case which turns out to be the catalyst for the new series storyline. There are lots of links to the missing person and what could have happened to him.
As ever with Ann's [Cleeves] books and all the previous TV series, there's a past there which could explain the present. In this particular case the family aren't native Shetlanders, but there seems to be a secret past they're keeping hidden. The missing boy is into myth and folklore, and this very gifted young man has gone missing, so the team delve into all that.
The thing is, if Sandy and the rest of the team have any hope of getting to the truth of this story, they have to listen to the missing man's friends and hear their voices.
Are there any surprises this series or must-see moments?
Oh absolutely, there are some pretty remarkable reveals as well as twists and turns in this series. What I would say is, again, the past always comes up in Shetland and this series is no exception to that rule, and this time it is a not-so-distant past that had affected the whole islands.
Douglas Henshall recently announced this will be his last series of Shetland - how do you feel about this?
I think you always have to respect any actor's decision when they're ready to move on. As actors we do what we do, you hope it's well received by the audience and if you've done enough, you move on. The show is something we've all worked very hard on and Dougie must be proud of his characterisation of Perez.
Over the years, Perez has changed. The dynamic between him and Duncan has changed - they're more like brothers now rather than two very different fathers bringing up Cassie together. It's like that story has come to a natural conclusion. So I can see why Douglas has decided the time has come to move on. I think when an actor is aware of that moment and they can say, "well I've done enough with that", then it's time to leave.
If you could star in any other murder mystery, which one would you choose and why?
It would have to be Columbo. Put me alongside Peter Faulk any day of the week. I loved the premise of that show - the audience saw the murder, they were in on it and so got to watch Columbo figure it out. They always had the most exceptional guest stars including Johnny Cash, who played a brilliant guest lead. So, I would need a time machine to go back and be in Columbo, preferably alongside Johnny Cash.
Until Shetland came along, I'd been lucky to have been in guest parts in lots of British cop shows, including Ashes To Ashes and Luther but this was the first time I was on the right side of the law. It was a relief not to be killing so many people, being shot or getting beaten up all the time!
You're a native Shetlander - is there one place you encourage the guest cast to visit when they come up to film?
I'm not someone who left Shetland because I wanted to go, I was homesick when I wasn't here and was away working. The Shetland Isles are bigger than people think and it's very different across all the isles - there's a different feel throughout. I mainly encourage people to get out there and explore.
Lerwick is great and it's constantly coming on. There's lots going on in the arts scene but it's great to get out and about and explore all the different places Shetland has to offer. Scalloway is an historic town and was our historic capital - it's stunning. Another real highlight is the Sumburgh Lighthouse, which has amazing bird life to observe. And if you're up for a couple of ferries then do visit Fetlar - it is known as the garden of Shetland and is really beautiful.
It doesn't matter what the weather's like on the Shetland Isles - you'll see extremes of coastlines and beautiful beaches where you'd never expect. So get out there and explore it is always my advice.
Shetland just keeps going from strength to strength - what do you think the enduring appeal of the show is?
Well we have this stunning central character which is the Shetland Islands themselves. It's the location which spurred Ann Cleeves to create these incredible characters and that trigger came because she was physically based in the Shetland Isles at the time. This is the really solid base for the show which has been reflected through and from the author's vision.
And, finally, what five words sum up the seventh series of Shetland?
The future meeting the past.
Interview with Shauna Macdonald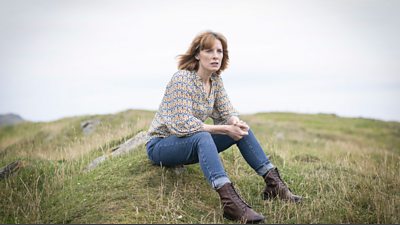 Shauna Macdonald plays Rachel Cairns
Can you tell us a little bit about your character, Rachel Cairns?
Rachel owns a B&B with her husband, Danny [played by Andrew Whipp] and they are fairly new to Shetland. They came from the city, from Glasgow, and it's a new start for the whole family. It's a new business they're running and you learn quite quickly that Connor, their son, is quite vulnerable and he's had some troubles in the past. So they've all come to Shetland to get away from the city, have a nice rural life where their kids have opportunities to do outdoor pursuits and perhaps live a more wholesome life. That was Plan A but it doesn't work out that way…
Does Connor's disappearance create a divide in the Cairns family?
You learn fairly quickly that Rachel and her husband aren't on the same page. Things are brought to light through Perez's investigation and it's clear the Cairns family aren't as much of a united front as Rachel would have everyone believe. There's not as much trust going on as she thought and their past begins to haunt them.
And how does she respond to having Perez and his team in her life?
I think we find Rachel to be a very strong woman and her whole focus is to find her son, Connor, and if it means she has to go out and search for him herself, then she'll do that. Like any parent who has a missing child, Rachel feels like things aren't moving fast enough so she does it herself. She's not that impressed with Perez but it's not personal, it's situational.
Did you enjoy filming in Shetland?
I did but it was tricky because it was during Covid so we had to be really careful. So I didn't get to explore as much as I had wanted to.
What I got from Shetland is it's incredibly beautiful and incredibly savage as well which, I think, is a perfect mix because you get to feel the wind, see the jagged sea stacks, the sheer cliff edges - it's so epic and dramatic but with that you've got this culture of storytelling, music and art. What I did really get into was the Shetland arts scenes, there was a film festival while I was there and I got to see seven films in the most wonderful little cinema in Lerwick. So I found a home-from-home there and it was so nice to experience first hand how cultured and worldly the Shetland Isles are.
I would love to go back and explore the islands more.
Any memorable moments from filming?
Oh yes, there's a harbour scene in this series which took three goes to shoot - it was a mix of weather and Covid in the end. It was a night shoot and was quite epic, and a dramatic story point which involved cars and running and drama. It is quite incredible what the Shetland production team managed to do and the drama they created in sometimes very tricky Covid times.
Douglas Henshall recently announced he's leaving Shetland… what do you think he brought to the role of Perez?
What he's done over the last ten years is create a character that people have fallen in love with, despite his flaws. He has an almost obsession with his job which often gets in the way of his relationships. Perez doesn't have a very good work-life balance. The way Douglas has played it is you get to see the human behind the detective and he's given Perez real gravitas. I'm really excited to see the new direction Shetland will go in now.
Programme Information
Search by tag: