BBC Worldwide announces pre sales of new Anglo-French drama The Collection launching at MIPTV
BBC Worldwide announced today pre sales of the new eight-part drama THE COLLECTION, from writer, creator and award-winning showrunner Oliver Goldstick (Pretty Little Liars, Ugly Betty, Desperate Housewives), to Sweden's SVT and DR in Denmark.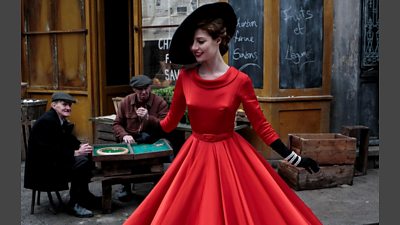 THE COLLECTION represents superb story-telling, an amazing array of international on and off screen talent and partners totally committed to bringing this highly original, stylish drama to our screens.
Set in the world of French haute couture after the Second World War and featuring an impressive international cast, the Anglo-French co-production will have its global launch today at Miptv at a special event hosted by BBC Worldwide and Lookout Point.  Actors Tom Riley (Da Vinci's Demons, Kill Your Friends), Mamie Gummer (The Good Wife, Ricki and the Flash), Richard Coyle (Crossbones, Life of Crime, Going Postal) and  Alix Poisson (Disparue, 3xManon, Parents mode d'emploi)  will be joined at the Cannes event by Oliver Goldstick, the Emmy award-winning director Dearbhla Walsh (Penny Dreadful, The Tudors, Esio Trot) and executive producers Anne Thomopoulos (Rome, Band of Brothers), Kate Croft (Murderland) and Pascal Breton (Marseille).
Paul Dempsey, President Global Markets, BBC Worldwide said: "THE COLLECTION represents superb story-telling, an amazing array of international on and off screen talent and partners totally committed to bringing this highly original, stylish drama to our screens.  With Sweden and Denmark acquiring the series, Nordic audiences will be among the first to be transported to a different world as the story unfolds in post war France."
Stephen Mowbray, Head of Acquisitions at SVT, commented:  "Post-war Paris is the perfect setting for THE COLLECTION'S thrilling combination of intrigue and glamour and following the finale of Downton promises to captivate our Saturday night audience."
Kaare Schmidt, Series Acquisitions Executive at the Danish Broadcasting Corp said:  "With a backdrop of shortages and starvation on a scale worse than that of the Occupation, THE COLLECTION promises an epic drama – an odd mix of affluence and social tragedies, at the dawn of our present time.  A compelling concept on a big canvas, which DR is proud to present as the finest of drama to our discerning audience."
THE COLLECTION, also starring Frances de la Tour (The Lady in the Van, Vicious, Into the Woods, Hugo), Jenna Thiam (The Returned) and Irène Jacob  (La Habitación, Dying of the Light, Three Colours Red), tells the story of an illustrious Paris fashion house emerging from the dark days of the Occupation. This gripping family saga, which centres on two very different brothers, exposes the grit behind the glamour and the treachery beneath the trappings of this empire, and all who work there.
Currently filming in France and Wales, THE COLLECTION is a Lookout Point and Artis Pictures Production, co-produced with Federation Entertainment and MFP, for Amazon Prime, France Télévisions and BBC Worldwide Ltd.  It is distributed internationally by BBC Worldwide.

ENDS 
BBC Worldwide stand at MipTV 2016: P3.B38. Palais Level 3
For further information contact:
Lee Leschasin, Western Europe Communications Manager, BBC Worldwide
+44 (0)7921648362
Notes to Editors:

The Collection
8x50'
The Collection is a gripping relationship drama set in France just after the Second World War. Spearheaded by two clashing brothers, it exposes the grit behind the glamour, and the treachery beneath the trappings of an illustrious fashion house.
Paris. 1947. An ambitious designer is tasked to restore the pre-eminence of the fashion capital. His fresh vision will usher in a new romantic era, offering the chance to lift the post-war gloom and dream of better days. But can the family business survive meteoric success? Dark shadows threaten to topple this empire at any moment: internal rivalries and betrayals, hateful bargains made to survive the Nazi occupation, and the twisted secret behind the master's success. The atelier survived one devastating war, but another one is looming, where personal battles and passionate love stories pit brother against brother, husband against wife, mother against daughter and protégé against mentor.
Entertaining, sophisticated and contemporary in tone, full of air and wit, The Collection is a meticulously researched piece about this mysterious, morally ambiguous time. Often dark and deceptive, the drama pits dreamers against schemers, with storylines and characters as layered and complex as the stunning gowns seen within the Paul Sabine atelier.
A Lookout Point and Artis Pictures Production, co-produced with Federation Entertainment and MFP, for Amazon Prime Group, France Télévisions and BBC Worldwide Group, which will launch exclusively this year on Amazon Prime in the UK. This marks the first scripted co-production in 2016 for the French public service broadcaster and reinforces its commitment and ambition for world-class event series.
The series films in both Wales and France until May. It has received investment from the Pinewood Wales Investment Budget as well as Pinewood.
About Lookout Point
Lookout Point is a producer and distributor of high-end international drama with a British sensibility. The company is headed up by joint CEO's Simon Vaughan and Faith Penhale. Lookout Point's productions include four completed series of police procedural Ripper Street, with Season 5 currently filming, BBC/A&E's critically acclaimed mini-series War and Peace, written by Andrew Davies and the company is also working with BBC Wales on their mystery drama The Living and the Dead and Sid Gentle Films Limited on Len Deighton's alternate history thriller adaptation SS-GB for BBC. Past productions include Tom Stoppard's critically acclaimed adaptation of Ford Madox Ford's Parade's End for BBC Two/HBO and the ITV/ABC mini-series Titanic, written by Oscar and Emmy-winning screenwriter Julian Fellowes, broadcast in 2012 in over one hundred countries. The company has an exclusive co-venture partnership with BBC Worldwide, through which they jointly maximise the financing and distribution of projects in the global marketplace. BBC Worldwide owns 35% of Lookout Point.
About BBC Worldwide
BBC Worldwide is the main commercial arm and a wholly owned subsidiary of the British Broadcasting Corporation (BBC).  Its vision is to build the BBC's brands, audiences, commercial returns and reputation across the world.  This is achieved through investing in, commercialising and showcasing content from the BBC around the world, in a way that is consistent with BBC standards and values.  The business also champions British creativity globally.
In 2014/15, BBC Worldwide generated headline profits of £138.6m and headline sales of £1,001.8m and returned a record £226.5m to the BBC. For more detailed performance information please see our Annual Review website:
http://www.bbcworldwide.com/annualreview
bbcworldwide.com
twitter.com/bbcwpress
Tagged: