BBC launches My World, a groundbreaking global show for young audiences
BBC My World is a groundbreaking global show for young audiences, explaining the stories behind the news, and providing facts and information for them to make up their own minds about international issues.
Published: 24 January 2020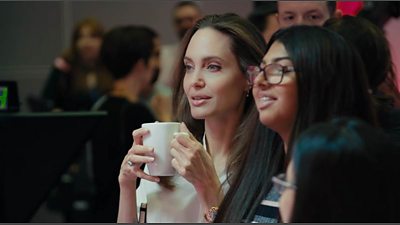 I hope it will help children find the information and tools they need to make a difference on the issues that matter to them, drawing on the BBC World Service's network of thousands of journalists and multiple language services around the world.
It draws on the independent, global reporting of the BBC World Service.  It is a co-production with Angelina Jolie and Microsoft Education, with the BBC retaining editorial control over all content.
Targeting a young audience aged 13+, the programme aims to fill a global gap in reliable and trusted information for young audiences in this age group, who are legally allowed on many social media platforms but poorly served by adult news content, and susceptible to the dangers of poor quality 'fake news' and disinformation. They are an age group keen to understand more about how trusted news is made and the values that stand behind it.
My World is a weekly half hour TV programme in English.  BBC World News, the BBC's most-watched channel which reaches more than 100m people across the world every week, will run the show each Sunday at 16.30 GMT, and content will be shared across the World Service's 42 language services. There will also be multi-lingual distribution in more than 20 countries, including Canada, China, India, South Korea, Bosnia and the United States. A digital version of the programme will be available on the BBC iPlayer in the UK, and globally on the BBC My World YouTube channel.
The programme is presented by Radzi Chinyanganya and Nomia Iqbal.
Jamie Angus, Director of the BBC World Service Group, says: "There's a gap in provision for young people who want to understand how the news is made and the values that stand behind it. They need the tools to distinguish the real from the false online, and the skills to think critically about information, wherever they encounter it.
"Nurturing these abilities is the aim of My World, and they're crucial for today's young people, not just for personal development but the future health of global democracy. The BBC World Service is uniquely placed to provide a truly global perspective on the biggest stories and themes of the day."
Angelina Jolie says: "As a parent I am happy to be able to give my support to a program that aims to help children learn more about the lives of other young people around the world, and connect them to each other. I hope it will help children find the information and tools they need to make a difference on the issues that matter to them, drawing on the BBC World Service's network of thousands of journalists and multiple language services around the world."
There is a bespoke learning segment to accompany each show, as well as additional lesson plans created by BBC Learning, all of which will be available through Microsoft Education for a global audience of educators. The content will help the teaching of media literacy in schools in every region of the world. 
My World will provide much needed impartial access to information of the highest editorial standard, helping young people to understand the world around them. Last year, the BBC convened a Trusted News Summit bringing together senior figures from major global technology firms and publishing, to initiate a new industry collaboration to tackle dangerous misinformation. At the summit media education was highlighted as a key priority.
My World also builds on the media literacy work that the BBC does in the UK and abroad, both through BBC Young Reporter and the BBC World Service's Beyond Fake News initiative, which took media literacy workshops to schools in India, Nigeria and Kenya in 2018 and continues to shine a spotlight on disinformation.
Notes for Editors
Story list: In the first few episodes:
Radzi gets 'deepfaked' to show how video manipulation can be so effective as to make it look like Radzi is presenting from the studio whilst he's actually in bed.
Nomia travels to the Amazon rainforest to investigate whether it can survive the onslaught from logging, oil and mineral extraction and farming.
We interview Sky Brown, the 11 year-old British skateboarder aiming to make history at the Tokyo Olympics.
Climate change segments: we look at why Australia is burning, and how we can save the world's small islands. 
Each episode will feature a media literacy element, from looking at what the news is, to how you get the facts right, using content and information from across the BBC, including World Service's award-winning investigation unit, BBC Africa Eye.  
Angelina Jolie has long been an advocate for children around the world and believes there has never been a time when it was more important to introduce the next generation to objective, impartial and factual explanation of the events and issues shaping our world. She hopes the content can empower kids to seek out fact-based and reliable information.
Angelina works alongside the BBC World Service in an Executive Producer role. As with all editorial content that appears under its name, the BBC has final editorial approval of content in the programme. Angelina has a long track record of working successfully with BBC editorial teams, as a guest editor of Women's Hour and Today, and on BBC News's World on the Move project in May 2017.
Radzi Chinyanganya, currently a presenter for BBC Sport and formerly a presenter for the BBC's flagship children's programme Blue Peter, is the lead presenter for My World.  He has covered the 2019 World Athletics in Doha, and the Winter Olympics in South Korea.  Whilst at Blue Peter, he followed in the footsteps of his hero, Martin Luther King, as he retraced a famous civil rights march from Selma to Montgomery in the USA.
Nomia Iqbal co-presents with Radzi. When not working on My World, Nomia is a senior journalist on BBC Radio 1 Newsbeat. She has covered a range of current affairs for the BBC, from live reporting of the Rohingya Crisis from the border with Myanmar, to presenting a national live radio and TV debate for the UK 2017 Election. In episode five of My World, Nomia goes to the Amazon.
BBC Learning has developed corresponding lessons for the classroom to accompany My World and Microsoft Education will host them on its website. This portion of the media literacy initiative will teach students about global news and encourage them to become actively engaged with what they see and hear in the news. As students watch the weekly episodes, they will be asked to participate in exercises that build their media awareness, apply critical thinking to evaluate a story's accuracy and help them build an understanding of global affairs while differentiating fact from fiction. The programme will also help students learn how to evaluate an argument's specific claims, sources, and internal logic.
TC
Related Media Centre Links