BBC Radio 1Xtra's Hot For 2020 list revealed
BBC Radio 1Xtra has named 15 exciting acts for the station's Hot For 2020 list. The list, compiled annually by 1Xtra and announced on The 1Xtra Breakfast Show with Dotty, predicts which artists are set for success over the next 12 months.
Published: 13 January 2020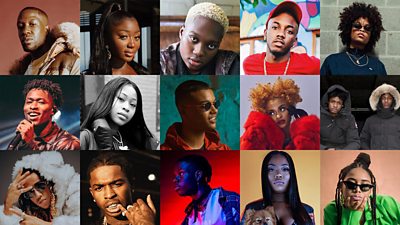 Really excited to see what the year has in store for our class of 2020. It's great to have so many acts from so many different genres.
The 1Xtra Hot For 2020 artists are (in alphabetical order):
Bandokay & Double Lz (OFB)
BenjiFlow
Br3nya
Darkoo
IQ
Lila Ikè
Ling Hussle
Lucky Daye
Mastermind
Melii
Nafe Smallz
Pop Smoke
Rema
Shaybo
Sho Madjozi
Dotty says: "Really excited to see what the year has in store for our class of 2020. It's great to have so many acts from so many different genres."
DJ Target says: "The 1xtra Hot for list has always been on the pulse when it comes to predicting the stars for the year ahead, and this year's feels more exciting and diverse than ever, which is testament to the amount of amazing music we heard in 2019. I can't wait to see how 2020 unfolds for all of these artists. Stay tuned."
Hot For alumni include Aitch (2019), slowthai (2019), Octavian (2019), Jorja Smith (2017), Stefflon Don (2017) Bugzy Malone (2016), Mabel (2016), Stormzy (2015), Krept & Konan (2014) and The Weeknd (2013).
1Xtra's DJ Target will host a special 1Xtra Hot For 2020 live showcase from Maida Vale tonight, Monday 13th January, 7-9pm, which will be broadcast live on his 1Xtra show, featuring interviews and exclusive tracks from some of the Hot For 2020 artists, including Darkoo, IQ, Mastermind and Br3yna.
AV
The Hot For 2020 list
BenjiFlow
BenjiFlow's smooth, percussive Deep End was everywhere in 2019, praised by Benji B, DJ Target, Toddla T, pretty much everyone on 1Xtra in fact. The track - a smart, jazz-inflected, Latin-informed rhythm that also nods to his North London heritage - got everyone talking. And it apparently came about casually, when Benji was playing Mario Kart with friend and producer Ragz. Now he's readying his next move.
Br3yna
Hailing from West London via Ghana, Br3nya's sound and style reflects the juxtaposition of what those two soundscapes and heritages represent. Remember her name.
Darkoo
2019's Gangsta, featuring One Acen, was one of the year's biggest vibes; a hook-filled track that followed years of hard graft for South London's Darkoo. She put out debut track, Gas Station, in 2017, aged 16, and she's been honing her addictive Afro-swing ever since.
IQ
You know when 1Xtra's very own Seani B hails you up, you're destined for big things. Originating from South London, 2 year-old Cairo Dawkins - better known as IQ - is making waves in the UK dancehall scene and beyond.
Lila Ikè
2020 is set to be a promising year for Jamaican soul star Lila Iké (pronounced Lee-lah Eye-kay). Creating a unique sound that combines reggae with soul, hip-hop and dancehall, Lila has carved out a niche for herself with singles such as Where I'm Coming From and Second Chance. Come through Miss Lila.
Ling Hussle
UK R&B is having a moment, and Ling Hussle is at the forefront of it. Her Hussle X Dreams tape put her on the map, showcasing heartfelt lyricism and a clear influence from her moniker's namesake, Nipsey.
Lucky Daye
David Debrandon Brown aka Lucky Daye makes stunning, emotion-led R&B, and last year's debut album Painted earned him a Grammy nomination for Best R&B Album. He also turned heads in the 1Xtra Live Lounge, covering Summer Walker and playing his own standout track Roll Some Mo.
Mastermind
Manchester stand up. Continuing the trail that has been ignited by Mancunian rappers such as Bugzy Malone and Aitch, 24 year-old rapper Mastermind is showing us that scenes are thriving all over the UK.
Melii
Harlem star Melii first broke through via YouTube covers, most notably through her version of Cardi B's Bodak Yellow' which picked up millions of views and eventually earned her a record deal on Interscope. Debut project phAses helps shape her own identity, fusing razor sharp hip-hop with glistening R&B, as well as paying dues to her Dominican heritage.
Nafe Smallz
Luton-raised talent Nafe Smallz has been making waves for years. 2015 mixtape Project O earned co-signs from Wiley and Chip, amongst others. A 2016 Fire in the Booth put him on the map. And he soon found himself opening for the likes of Future and Migos on tour. But he made his biggest waves yet in 2019, via the show-stopping Good Love project, two songs on the Top Boy soundtrack, and a guest spot on Skepta's Greaze Mode. 2020 looks set to be a landmark year for the rapper.
Bandokay and Double Lz (OFB)
Their Voice of the Streets freestyle for Kenny Allstar was one of 2019's most viewed; a stunning insight into what makes these guys one of the most talked-about new acts in the UK. And their Front Street mixtape is a window into what makes their form of drill so fascinating.
Pop Smoke
Possessing the air and cadence of a rapper who has been in the game for a decade or two longer than his actual age, 20 year-old Brooklyn rapper Pop Smoke has been making seismic moves on both sides of the Atlantic. Don't sleep on him.
Rema
Benin City, Nigeria-raised Rema first found recognition in his local church, where at 14 he was given the title "rap nation leader". He showed off his skills, before teaching other kids how to verse. But his international breakthrough took place in 2019 with Dumebi, a honey-sweet addictive cut that's racked up millions of plays worldwide.
Shaybo
The self-confessed "Queen Of The South" carries her moniker with poise and determination that comes out in her tracks such as Ya Dun Know and Bonjour cava. Born and bred in SE London, Shaybo brings the grit with her grind.
Sho Madjozi
Sho Madjozi is already a superstar in South Africa, and she's in-part responsible for bringing the sound of gqom to the masses. She fuses the sound with dance and hip-hop - something many are calling revolutionary - and in 2019's standalone single John Cena she might have found her breakthrough globe-spanning hit.