BBC announces classical music content as part of Culture In Quarantine
BBC Radio 3 and BBC Four unveiled classical music content on radio, TV and online, as part of the cross-arts, cross-platform, BBC Arts festival, Culture In Quarantine.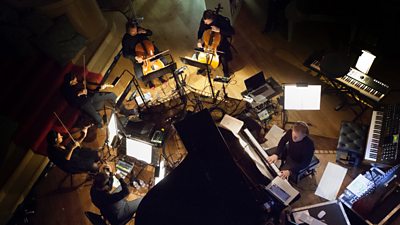 Our aim is to both provide classical music programming that is a sanctuary during these difficult times as well as helping people to feel connected at a time of profound seclusion and uncertainty.
As part of the virtual festival, BBC Radio 3 and BBC Four unveiled classical music highlights including:
A European radio moment with Max Richter's Sleep - an eight hour 'lullaby for a frenetic world' - the orchestral work will return to its home on BBC Radio 3 but this time simulcast through Radio 3 and the European Broadcasting Union, encouraging listeners all over the continent to relax, listen, and sleep in this special radio event
The virtual choir - BBC Four to broadcast the first ever TV concert where none of the participants will meet, choir members of Tenebrae will each record individual parts and will be unified through virtual reality technology in a feat of production
Home Sessions - Sheku Kanneh-Mason, Andreas Scholl, Mahan Esfahani, Isata Kanneh-Mason, Ksenija Sidorova, Craig Ogden, Olivia Chaney, and others will bring home performances to Radio 3 audiences
Postcards From Composers - contemporary composers to write musical messages to listeners at home on BBC Radio 3
BBC Young Musician returns - one of the oldest musical talent competitions is to return to BBC Four and BBC Radio 3 celebrating the best of British talent with full broadcasts of the category finals of this world famous young talent competition
Classical Companion - a collection of online gems from the archive including mixes, collections, quizzes, essential daily symphonies and podcasts for this time of lockdown at bbc.co.uk/radio3
BBC Orchestras and Choirs to record ensemble and solo works remotely for Afternoon Concert, each musician will practise social distancing thanks to the wonders of technology
Alan Davey, Controller of Classical Music, says: "Music and classical music in particular is an important part of the UK's cultural identity. It has a special power to bring people from all walks of life together. Our aim is to both provide classical music programming that is a sanctuary during these difficult times as well as helping people to feel connected at a time of profound seclusion and uncertainty. We also wanted to continue to support the artists who bring us so much joy as well as showcase British talent. We hope to guide audiences through isolation with specially put together classical content be it radio, TV or online. There is something for everyone."
Jan Younghusband, Head of BBC Music TV Commissioning, says: "As we enter this traditional Easter period, we are normally greeted by beautiful music brought to us live via radio and television from our churches and concert halls, performed by Britain's outstanding choirs, orchestras and soloists. At this difficult time we are all working together at the BBC to continue to bring great music into the lives of our listeners and viewers, and at the same time supporting the unending creativity of our performing artists. Classical music is never more important to us than now, and we hope that by bringing these shared experiences into every home, it may help us all feel less alone."
AH/EC
Slow And Mindful
BBC Radio 3
In the run up to Easter, BBC Radio 3 presents Slow And Mindful, a night-time slot to escape these uncertain times and enable our minds to rest - though temporarily.
Broadcast over an eight-day stretch, the Slow And Mindful thread will include:
The Mindful Mix: An hour of seamlessly mixed calming classical music, as already increasingly enjoyed in its digital version on BBC Sounds (Sunday 5 April and Sunday 12 April at 11pm)
Meditations From A Monastery: Five slow radio moments recorded with the monks of Downside, Belmont and Pluscarden Abbeys (Monday 6 - Friday 10 April at 10.45pm)
Unifying nations in quarantine
BBC Radio 3
Saturday 11 April at 11pm-7am
Part of Slow And Mindful, BBC Radio 3's offering of music for the mind in the time of lockdown, Max Richter's eight-hour epic Sleep, his 'lullaby for a frenetic world', returns home to the station's airwaves with a simulcast with the European Broadcasting Union - uniting quarantined nations across the continent in a search for sleep and moments of meditative stillness.
During Easter weekend, BBC Radio 3 will re-broadcast the world premiere performance from 2015. Since then, the piece has been staged across the globe, with landmark concerts in Paris, Los Angeles and Sydney. A work which unites people even more in these homebound days, the album of Sleep has recently returned to number one in the USA Billboard classical album charts - which Billboard attributes to 'consumers in Coronavirus quarantine at home, seeking out peaceful music'.
On the night of Saturday 26 September 2015, in the Reading Room of the Wellcome Collection in London, Max Richter on piano and electronics was joined by soprano Grace Davidson plus five string players, and an audience who were encouraged to lie on beds and sleep through the performance. The work seeks to examine the relationship between music and the subconscious mind: Instead of giving the music full concentration, listeners are encouraged to experience it in a state of sleep.
The piece indeed provides an apt soundtrack for these times of lockdown - when hours seemingly stretch into the distance. Sleep offers a mindful way to forget everything going on around us and to enter another world with BBC Radio 3.
Sleep was composed in consultation with American neuroscientist David Eagleman. In Max Richter's words: "Five years ago I wrote Sleep as an invitation to pause our busy lives for a moment. Now we are all facing an unexpected and involuntary pause. It is far from easy to adjust to this new normal, which shifts continuously, and brings anxiety and suffering to those we love and to oursleves. At such times the magical ability of creativity to elevate our days and to connect us is more important than ever, and I'm really happy that the EBU allows us to listen all together across the whole of Europe. Please enjoy this eight-hour place to rest."
Radio 3's eight-hour live broadcast broke two Guinness World Records - for the longest broadcast of a single piece of music, and the longest live broadcast of a single piece of music.
Musicians on the recorded performance are:
Grace Davidson - soprano
Reiad Chibah - viola
Natalia Bonner - violin
Steve Morris - violin
Ian Burdge - cello
Chris Worsey - cello
Home Sessions
BBC Radio 3
Radio 3's In Tune invites professional musicians to make their own social-distancing compliant recordings, and to introduce their tracks live (by phone) on the programme. At a time when the usual array of live performance in the concert hall and in the In Tune studio has been suspended, Home Sessions will keep listeners in touch with their favourite performers making music in their homes.
Featured artists will include cellist Sheku Kanneh-Mason, countertenor Andreas Scholl, harpsichordist Mahan Esfahani, the pianist Isata Kanneh-Mason, accordionist Ksenija Sidorova, guitarist Craig Ogden and folk singer Olivia Chaney.
Postcards From Composers
BBC Radio 3
BBC Radio 3 continues its ongoing support of contemporary composers by inviting leading British composers to write sonic postcards of hope for audiences at home. The short pieces, for solo instruments, will be specially commissioned and will run throughout the schedule.
Afternoon Concert
Featuring the BBC's own musicians
BBC Radio 3
Afternoon Concert will highlight the talent and versatility of the musicians from within the BBC's own orchestras and choirs. BBC musicians will guide audiences through the works broadcast during the programme, offering their expert insights and personal reflections on the music. As well as sharing their wealth of knowledge, players and singers will perform short works of their choice, recorded at home, for broadcast on the programme. These will vary from solo offerings to duets and small ensembles, where technology and co-habiting allows! Early adopters include husband and wife duo, Rudi and Gill de Groote, both cellists with the BBC Scottish Symphony Orchestra, performing Rudi's own composition Tango Confinamiento, and Principal Clarinet of the BBC Philharmonic, John Bradbury's tribute to the late composer Krzysztof Penderecki which was broadcast in Monday's Afternoon Concert.
In an unique offering from the BBC, the five BBC orchestras bring together orchestral sections as never before, performing massed single instrument works. Ensembles such as flute choir or double bass consort will record their parts individually at home to a click track, which will then be edited by the orchestral producers, showcasing the combined sound of the BBC orchestras' sections.
In Concert
Non-BBC orchestras and ensembles on the evening editions of In Concert
BBC Radio 3
To support groups whose appearances on the programme have been cancelled due to the current lockdown, BBC Radio 3 will ask them to pick a repeat of an earlier broadcast.
Highlights of the repeats include:
London Philharmonic Orchestra conducted by Edward Gardner and performing Elgar's The Dream Of Gerontius with mezzo-soprano Christine Rice and tenor Paul Groves among the soloists
14 April (as originally broadcast in March 2011)
Berlin Philharmonic and Sir Simon Rattle presenting Bach's St Matthew Passion as part of the 2014 Proms, with soloists including baritone Christian Gerhaher, mezzo-soprano Magdalena Kožená, and tenor Mark Padmore
10 April (as originally broadcast on 6 September 2014)
Highlights from Rattle's opening season as Music Director of the London Symphony Orchestra;
Stravinsky's The Firebird, Petrushka, and The Rite of Spring
23 April (as originally broadcast in September 2017)
Berlioz's The Damnation of Faust
1 May (as originally broadcast in September 2017)
National Youth Orchestra of Great Britain with Vasily Petrenko presenting a programme of Vaughan Williams, Turnage, and Beethoven with soloists including soprano Ailish Tynan, tenor Toby Spence, and baritone Gerald Finley
16 April (as originally broadcast in August 2013)
BBC Radio 3
Sunday 5 April
First broadcast on 15 April 1995, Michael Berkeley's Private Passions programme celebrates its 25th birthday with a special show on Sunday 5 April, featuring the king of boogie-woogie piano, performer and broadcaster Jools Holland. On the programme, Holland will reveal his long life passion for classical music, from his first love for Bach to opera, showcasing his favourite pieces featuring pianists such as Edwin Fischer and Friederich Gulda, and early recordings with opera stars Kathleen Ferrier and Tito Schipa.
An earlier version of this release incorrectly stated that this programme would air on Thursday 2 April
Record Review Extra
BBC Radio 3
From Sunday 12 April
A spin-off of long-standing Saturday morning fixture Record Review show, Record Review Extra will air every Sunday night from 12 April, taking audiences on a journey to discover brand new releases of classical music.
Presented by broadcaster and author Dr Hannah French, who is a regular guest on Record Review as well as a host on the station's Early Music-devoted programmes, the show will expand on the new releases featured on the Saturday morning edition, presenting further tracks from the albums, and playing the 'Building a Library' recommendation in full.
Sacred Songs: The Secrets Of Our Hearts
Tenebrae In Concert
BBC Four
Award-winning British choir Tenebrae, under the direction of Nigel Short, is one of the world's leading vocal ensembles, renowned for its passion and precision. Normally before Easter Tenebrae would be preparing for one of its busiest periods in the musical calendar. But this year, as the world finds itself engulfed in one of the biggest health emergencies of modern history, like many other artistic groups, Tenebrae has been forced to cancel its busy Easter season. Around the world, audiences are unable to attend and hear live music from Tenebrae and other choirs.
In this half-hour performance film exclusive to BBC Music, Tenebrae once again break new ground by giving a performance of music for Easter with all 19 of its singers filmed (20 locations) and recorded separately, within their enforced isolation at home. Under the direction of Nigel Short conducting via video link, Tenebrae will sing a concert for Easter Sunday, including Gregorio Allegri's stunning Miserere, at a time when the world has never needed the medicine of music more.
Tenebrae's repertoire for this specially filmed performance will include the following:
J S Bach - Wenn ich einmal so scheiden
Lobo - Versa est in luctum
Allegri - Miserere
Purcell/Croft - Thou Knowest, Lord, The Secrets Of Our Hearts
Parry - My Soul, There Is A Country
J S Bach - Ach Herr, lass dein lieb Engelein
Commissioned by Jan Younghusband Head of Music TV Commissioning BBC Music for and on behalf of Controller BBC Four Cassian Harrison. Executive Producers at Livewire Pictures; Guy Freeman, Ben Weston, Maurice Whitaker.
BBC Young Musician 2020
BBC Four
BBC Young Musician, the biennial classical music competition returns in May with the Category Finals. This is the 22nd edition of the talent show that's launched the careers of internationally acclaimed artists such as violinists Nicola Benedetti and Jennifer Pike, cellists Sheku Kanneh-Mason, Laura van der Heijden and Natalie Clein, pianists Martin James Bartlett and Freddy Kempf. It is the talent show that's stood the test of time.
The category finals were recorded at the Royal Welsh College of Music and Drama in Cardiff and will be broadcast on BBC Four and BBC iPlayer with complementary coverage on Radio 3. The finals of UK's leading contest for young classical musicians will showcase the best up-and-coming talent in keyboard, woodwind, brass, percussion, and strings.
Presenting highlights of the category finals for BBC Four is organist, conductor, music education advocate, and #playlikeagirl initiator Anna Lapwood - 24 years old and making her TV presenting debut. Joining Anna for the TV coverage are past finalists and leading figures from the classical music world.
The series also features star saxophonist and 2016 BBC Young Musician finalist Jess Gillam in conversation with former young musicians and other leading figures who are changing the face of classical music in the UK.
As well as the highlights programmes for BBC Four, the Category Finals will be shown in full on the BBC iPlayer, hosted by Josie d'Arby. The Grand Final is currently planned to be staged in the autumn when the semi-final will also be shown. The jazz final is also planned for the Autumn.
BBC Young Musician is managed and produced by BBC Studios Music & Entertainment Wales.
The jury is composed of:
General Judge - Angela Dixon
Woodwind - Amy Harman, Piers Adams with TV guest Katherine Bryan
Brass - Katy Woolley, Peter Moore with TV guest David Childs
Strings - Fenella Humphreys, Stephen Fitzpatrick with TV guest Matthew Trusler
Keyboard - Katya Apekisheva, Peter Donohoe with TV guest Leon McCawley
Percussion - Simone Rebello, Julian Warburton with TV guest Owen Gunnell
Semi Final - John Hardy, Chi-chi Nwanoku, Lisa Tregale with TV guest Tim Rhys-Evans
Being Beethoven (w/t)
BBC Four
June 2020
Part of Beethoven Unleashed, the BBC cross-platform celebration of 250 years since Beethoven's birth, Being Beethoven is a three-part series on BBC Four, inviting audiences to switch their focus from the composer's work to the man behind the music.
Rather than approaching Beethoven through the prism of his music, this series will tell the life story of the composer in the context of his own time and place, in present tense, revealing the gulf between a life often spent in isolation, ill-health, and marked by deafness, and the musical masterpieces which have enthralled and uplifted the world for 250 years.
As well as interviews with Beethoven biographers and scholars such as Jan Swafford and Barry Cooper, the series will feature contributions and performances from musicians including Iván Fischer, Marin Alsop, the Takács Quartet, Evelyn Glennie, Boris Giltburg, Paul Lewis and Mark Padmore.
The programme is commissioned by Jan Younghusband - Head of Commissioning, BBC Music TV with Owen Courtney - Commissioning Executive, BBC Music TV for and on behalf of BBC Four Controller, Cassian Harrison.
Fidelio
BBC Four
May 2020
Beethoven's only opera Fidelio will be broadcast on BBC Four as recorded at the Royal Opera House in its latest, brand new staging by Tobias Kratzer and days before the recent COVID-19 rulings saw the closure of major institutions. Widely recognised as a masterpiece, Fidelio is an uplifting story of risk and triumph, here set by Kratzer in the dark reality of the French Revolutionary Terror and in our own time, to highlight a message of shared hope for humanity. Sir Antonio Pappano conducts a stellar cast including tenor David Butt Philip and soprano Lise Davidsen as Leonore (disguised as 'Fidelio').
BBC in association with Royal Opera House; Film director: Rhodri Huw; Producer: Peter Jones; Executive Producer: Tony Followell
Classical Companion Collection
Digital
In collaboration with BBC Archive, BBC Radio 3 presents a combination of classical music collections, articles, and quizzes aiming to keep people entertained in these difficult times of self-isolation.
Based on materials from the BBC Archives, including recordings featuring the BBC Orchestras and Choirs, as well as New Generation Artists, the collection includes:
Essential Symphonies: Linked to the Essential Symphony slot on Essential Classics, delving into the rich BBC Archive of recordings from BBC Orchestras and Choirs playing a symphonic movement, every weekday the full recording of that symphony will also be available to listen to online, creating an ever growing section of instrumental solace for the listeners (from Monday 6 April)
Classical Archive Collections: Escapist music inspired by foreign lands; mixes for mindfulness and concentration from BBC Sounds; and more
Quizzes: Opera to Eastenders storylines; great riddles; birdsong; and brain teasers
Clip-based articles and podcasts: Classical Fix with celebrities such as Davina McCall, James Acaster, and Bryony Gordon; tips for mindfulness and winding down at bedtime; and more
Related Media Centre Links