BBC Northern Ireland - serving everyone during the Coronavirus pandemic
BBC Northern Ireland is to make some temporary changes to its schedules from Monday 30 March to continue to provide Northern Ireland audiences with dedicated content throughout the Coronavirus pandemic.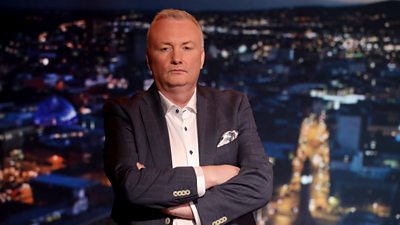 We know that the BBC's role in providing services that inform, educate and entertain has never been more vital.
BBC Northern Ireland's output on radio, television and online will complement the BBC's network services and will aim to keep everyone informed, educated and entertained at a time of unprecedented challenge for the whole community.
Peter Johnston, Director, BBC Northern Ireland, says: "We are making every effort to maintain our existing services and understand their importance for BBC audiences. Our priority is to ensure that people can access trusted news, information and advice and that we support them in dealing with the effects of the Coronavirus pandemic. Some schedule changes have now become unavoidable, but we are pleased to have been able to keep these to a minimum. We know that the BBC's role in providing services that inform, educate and entertain has never been more vital."
From Monday 30 March:
BBC Radio Ulster's The Nolan Show and Talkback will be extended on weekdays. The Nolan Show (9-11am) and Talkback (noon-2pm), will keep audiences updated on developments and provide them with an opportunity to share their views, experiences and concerns. Both programmes will make use of expert commentators and will provide an essential forum for discussion and debate
BBC News NI will report on issues and developments across the region, combining breaking news with reports, interviews and analysis from its dedicated team of specialist correspondents and bring coverage of the daily Coronavirus briefings from the First Minister and Deputy First Minister
On BBC Radio Ulster, news bulletins will continue on the hour. Good Morning Ulster will start at 7am, helping us to focus effort and production resource. Evening Extra will continue on weekday evenings from 4-6pm
BBC Newsline will provide essential television news coverage for local audiences at 1.30pm, 6.30pm and 10.30pm each day and teatime bulletins on Saturdays and Sundays. And the BBC News NI website continues to play a vital role in giving audiences access to breaking news stories and the usual range of reports and analysis
The View With Mark Carruthers will be live after the BBC News At Ten on Thursday evenings with in-depth interviews, debate and analysis of developments at Stormont and Westminster
Stormont Today, Sunday Politics and our weekday morning television news bulletins have been temporarily suspended so as to allow us to maintain other news and current affairs output at this time
On BBC Radio Ulster the weekday mid-morning show will now be broadcast from 11am-noon with familiar BBC presenters taking requests from callers and playing classic pop songs. Hugo Duncan's programme will have a slightly later start time at 2pm on weekday afternoons, but will retain the same amount of fun and entertainment. Nuala McKeever will continue to present The Lynette Fay Show at 3pm Mondays-Thursdays and Vinny Hurrell will continue to brighten up Friday afternoons at 3pm
Many BBC presenters are now broadcasting from home and we are using technology and the skills of BBC engineers to maintain our popular mix of sport, farming and entertainment programmes in the 6pm slot on weekday evenings on BBC Radio Ulster. We'll also continue to cater for different musical tastes and champion local music in our specialist music programmes each night
Great music, conversation, listener requests and companionship will be at the heart of our weekend schedule with John Bennett, Kim Lenaghan, Brian D'Arcy, Lynette Fay and Kerry McLean, among others. Consumer needs and concerns will continue to have their champion in the indomitable Linda McAuley; David Maxwell and the team on Gardeners' Corner will be helping listeners to make the most of their gardens and windowboxes; and John Toal will provide, music, craic and tales of community and family life with The John Toal Show
Religious programmes have a particular importance for many BBC listeners at this time. Morning Service on Sundays will continue its usual slot and will include an Easter Sunday Special. And Sounds Sacred will combine hymns, religious music and listener requests at teatime on Sundays with Richard Yarr. Sunday Sequence will now have a slightly later start time of 9am, but will continue to feature interviews and discussions about what's happening in the news from a religious and ethical perspective
BBC One Northern Ireland will have a range of new factual and entertainment programmes over the coming weeks, including My First Home, presented by Vinny Hurrell, starting on Monday, March 30 at 10.45pm and an upcoming series, Belfast Harbour: Cruises, Cranes And Cargo which goes behind the scenes at the docklands. BBC NI has also invited programme proposals from the local independent sector that will reflect, and help people to deal with, the Coronavirus pandemic and provide much-need light relief and inspiring and uplifting stories from across Northern Ireland. And we hope to create some boxsets of favourite local BBC programmes for the BBCiPlayer over the coming weeks as well
BBC Radio Foyle will continue its important role in serving audiences in the North-West, combining the latest news and information with lots of listener interaction and engagement on its Breakfast programme (7-9am), News At One and the Mark Patterson programme (1.30-3pm)
The BBC NI education team is ensuring vital Learning materials are available at this time via Bitesize and other important BBC Learning services
During this period Irish language and Ulster-Scots television content will be made available on BBC One NI and on BBC iPlayer
BBC Northern Ireland is also currently working to develop a range of new content specifically focussed on the challenges that we are facing as a community. Our ambition will be to provide something that will help keep everyone informed, educated and entertained
As the situation changes, we expect to make more announcements around BBC content and services.
CR