Asian Network's Harpz Kaur and YouTuber Joe Tasker are the new presenters of CBBC's Saturday Mash-Up!
A new series of CBBC's slime-filled Saturday morning show returns to TV screens live on 1 February.
Published: 20 January 2020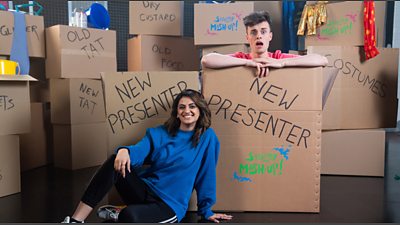 Getting up early on a weekend won't be a problem, it's getting slimed that I'll have to get used to!
Huddersfield-born Harpz Kaur has been the presenter of BBC Asian Network's Breakfast Show since 2017, where she has interviewed A-list celebrities including the likes of Will Smith, Gurdas Maan and Craig David. She's also hosted live music events at arenas across the UK as well as a range of TV programmes for the BBC's Red Button, including Radio 1's Big Weekend and Asian Network's Comedy Show in Edinburgh.
Harpz, who has a passion for dance and is a well-established DJ, can't wait to get started - even if it does mean she might find herself under a bucket of slime every week.
Harpz says: "To say I am excited to have landed a job on Saturday Mash-Up! is probably underplaying it a bit, I am beyond ecstatic. It is a dream come true to be presenting Saturday morning TV instead of sat eating my breakfast in front of it. Getting up early on a weekend won't be a problem, it's getting slimed that I'll have to get used to!"
Despite being one of his first major TV presenting roles, the madcap mayhem of Saturday morning telly shouldn't faze YouTuber Joe Tasker too much - his YouTube intro welcomes viewers "to my strange mind on a screen".
Originally from Leeds now living in London, Joe specialises in comedy, film and vlogs, and has accrued over one million followers across his social media platforms with a weekly reach of six million. He has worked with some of the biggest brands and studios in the world, interviewing stars such as Star Wars' Mark Hamill and Lego Batman actor Will Arnett.
Joe says: "It's an absolute privilege to be part of the Saturday Mash-Up! team. Saturday mornings were full of sitting in front of the TV, watching the live chaos and eating toast and now I can't believe that I actually get to bring the chaos (and my toast) to Saturday mornings. I am more than excited to start my weekends fresh full of live mayhem, laughter… and slime. Lots of slime please!"
Harpz and Joe won't be fronting the show alone - they will have another, furrier, team member keeping them in check. This surprise addition will be revealed to viewers on 1 February. 
The first episode features Annabelle Davis and Louis Payne from The Dumping Ground, as well as someone being shot into space in Celebrity Cannonball. Two stars go head to head in a Grand Prix - with a Mash-Up twist. 
There's the return of Musical Toilets and How Many Things In The Thing, plus cartoon action in Dragons: Race To The Edge. It's totally live… so anything can happen.
The new line up comes after former presenters Yasmin Evans and Jonny Nelson have taken on new challenges elsewhere.
Series producer Jamie Wilson says: "We've been working on loads of great new items for the new series, so can't wait to be back with a show even more packed with live interaction, huge stars and big surprises than ever before. With Harpz and Joe joining Saturday Mash-Up! there'll be as much mayhem and chaos as ever - oh and plenty of slime of course!
Saturday Mash-Up! is on CBBC and BBC iPlayer live at 9am from 1 February.
JC4 / HH