BBC Radio 6 Music's Homecoming Tour with Steve Lamacq at Independent Venue Week
The 6 Music Homecoming Tour sees Steve Lamacq take his BBC Radio 6 Music show to five UK cities during Independent Venue Week 2020 (IVW) which returns for a seventh year, celebrating smaller and grassroots music venues.
Published: 7 January 2020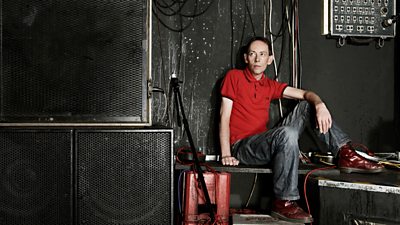 January can be a make or break time for small venues, so it's terrific to be involved in Independent Venue Week again. This time we're trying to emphasise just how important local venues can be in providing a stage for new artists on their way to bigger success.
Steve will be welcoming Mercury Prize-nominated Anna Calvi, Nadine Shah and Gruff Rhys, and Self Esteem and Frank Turner on his show from Monday 27 to Friday 31 January (4pm-7pm) when he and his team take a tour bus to Newcastle, Sheffield, Cardiff, Exeter and Brixton.
Steve will broadcast his 6 Music show live from the tour bus, which will be visiting a different music venue each day. Every day one of the artists will be a guest on his show, performing in session, being interviewed on the bus and talking about why they have a special connection to that city and venue. That night the venue will host a gig from them in celebration of IVW.  
Also appearing on the show are venue owners, movers and shakers and music fans, talking about the importance of independent venues in supporting new, emerging and more established artists and for local audiences too. The programmes will also be available on BBC Sounds.
Steve Lamacq says: "January can be a make or break time for small venues, so it's terrific to be involved in Independent Venue Week again, which was launched specifically to support these places and the artists who thrive in them. This time we're trying to emphasise just how important local venues can be in providing a stage for new artists on their way to bigger success, by taking some of our favourite musicians back to the haunts where they first plied their trade and began honing their songs."
The Homecoming Tour with Steve Lamacq - artists and venues:
On Monday, Steve starts the week in Newcastle and is joined by singer and songwriter Nadine Shah on the tour bus at The Cluny. Nadine is a singer songwriter from Whitburn, South Tyneside so, being from the region, The Cluny is somewhere she has both performed many times and also frequented to see other artists play. The venue has seen acts including Arctic Monkeys, Graham Coxon, Maximo Park, The Futureheads, Seasick Steve and Solange Knowles perform there.
On Tuesday, Steve is in Sheffield broadcasting live from the tour bus at The Leadmill, where Self Esteem joins him. The experimental pop project is musician and singer Rebecca Lucy Taylor. Rebecca is from Sheffield and her first band, Slow Club, formed there and played at The Leadmill. It is Sheffield's longest running live music venue. Since opening in 1980 artists such as Pulp, Oasis, Paul Weller, Kasabian, Primal Scream and IDLES have played there.
On Wednesday, Steve will be at Clwb Ifor Bach in Cardiff, where he has Gruff Rhys on the bus for an interview and session. The Welsh musician, who performs solo and with the Super Furry Animals, is performing back in his hometown that night as part of IVW - and also marks the moment when he has performed at the venue across five decades! Clwb Ifor Bach has been open for 35 years, with bands such as The Strokes, Foals, Wolf Alice and Gwenno performing here.
On Thursday, Steve is in Exeter to broadcast at The Cavern, with Frank Turner on the show. Having come up through the independent venue circuit, Frank says that The Cavern in Exeter is one of his favourites and has performed there many times since he started touring in 2002. It opened in 1991 and the likes of Idlewild, Mr Scruff, Muse, The Cranberries and Bluetones have performed there.
And for the final stop on his weeklong tour, on Friday Steve broadcasts his show live inside the Windmill Brixton in London where he is joined by Anna Calvi who is IVW's ambassador for 2020. The London born singer and guitarist is a three-time Mercury Prize nominee who scored the fifth season of BBC One series Peaky Blinders. Since the late 1990s The Windmill has been an important stepping stone for artists and has hosted DJs, poets and live bands including The Horrors, Los Campesinos, Klaxons and Metronomy, and more recently 6 Music regulars including the Fat White Family, Goat Girl and Shame have all made it a regular haunt.
Notes to Editors
Independent Venue Week is a seven-day nationwide celebration of music venues around the country and the people that own, run and work in them. The venues - the backbone of the live music scene - give artists their first experience of playing live to an audience and allow fans to get up close to artists who may one day be playing stadiums and festival main stages.
They also provide those wanting a career in music, off the stage, the chance to learn their craft up close in a small venue. IVW highlights why they are also cultural hubs for learning, creativity, arts and culture more widely in the local community for people from all walks of life. IVW brings together venues with breaking and established artists, promoters, labels, media and tastemakers to create a nationwide series of gigs.
KA
Related Web Links