The BBC's pioneering 50:50 Project expanded to include ethnicity and disability
The initiative, which originated in BBC News, uses a data-driven methodology to monitor content and fundamentally shift representation within the media.
Published: 22 October 2020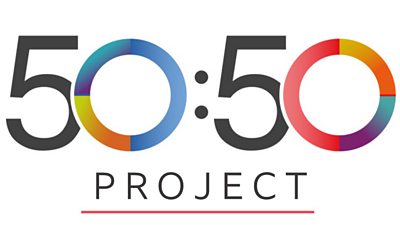 Director-General Tim Davie is also inviting organisations outside the BBC to take on the challenge and publish their women's representation data for the first time.
The BBC is calling on its programme makers to expand the successful 50:50 Projectmethodology to monitoring disability and ethnicity representation.
The initiative, which originated in BBC News, uses a data-driven methodology to monitor content and fundamentally shift representation within the media. Teams use a self-monitoring system to measure the gender of contributors in their content. This is now being expanded to include disability and ethnicity.
Guided by Tim Davie's diversity targets for Black, Asian and Minority Ethnic (20%) and disability (12%) representation, BBC teams will look to build on the success of the Project and will now strive to include more diverse voices and contributors to better reflect the audiences the BBC serves.
Targets will be adjusted for regional and international content according to audience demographics.
In preparation for the expansion, pilots took place between March and October with more than 60 BBC teams taking part and trialling different methods of collecting and monitoring data tailored specifically to their content.  
Tim Davie, BBC Director-General, says: "It's absolutely vital the BBC reflects the public it serves.
"The ground-breaking 50:50 Project has had a powerful impact over the last three years. I think it has the potential to achieve even more and to find new voices for our content.
"This is not just a challenge for the BBC, but for all media organisations. I'm delighted more organisations are coming on board, as together we can deliver positive change."
Nina Goswami, BBC's Creative Diversity Lead for 50:50, says: "When it comes to women's representation, 50:50 enriches our storytelling with new voices and the data helps us think differently meaning we're uncovering new stories.
"By applying 50:50's core principles for disability and ethnicity representation we believe we can amplify a wider range of voices and discover more content that reflects our world. We've a long way to go but together it is achievable."
In addition to the expansion announced today, the BBC is for the first time calling on current 50:50 partners to publish their gender data alongside the BBC for a challenge month in March 2021, helping to increase women's representation across the wider media.
More than 70 organisations have already signed up to the 50:50 Projectfrom around the world, including Unilever, RTÉ, TVNZ, the Financial Times, ABC News (Australia), Edelman and Lansons.
ABC News (Australia) joined The 50:50 Project in 2018 and now has almost 40 of its teams participating. Representation of women in ABC news and current affairs content has increased from 41% in April 2019 to 46% in September 2020, with teams reaching for the goal of achieving 50:50 by the close of the year.
ABC Director, News, Gaven Morris says: "The ABC needs to look and sound like modern Australia. We do a better job for our audiences, and we're more valuable to them, when we properly reflect our audiences. In News, it makes our journalism and storytelling stronger and richer. Hearing from more women and making sure we're covering the issues women care about benefits the relevance and quality of our work."
To date, more than 600 teams at the BBC have signed up to 50:50 and have been collecting gender data.
Results from the challenge month in March 2020 showed 66% of datasets featured 50% women contributors. Only 34% of those datasets were reaching 50% women contributors when they first returned results, indicating there has been a shift in the representation of women in BBC content.
Some of the high profile programmes to reach 50% women in March 2020 include Radio 4's The World This Weekend, the News at Six, BBC Breakfast, The Andrew Marr Show, The One Show, Radio 5 Live Breakfast and Songs of Praise. The BBC's coverage of Glastonbury Festival in June 2019 and Sports Personality of the Year in December 2019 both also achieved 50% women contributors.
Audiences have noticed a difference, with nearly 40% of those taking part in a nationally representative survey saying they had noticed an increase in the number of women in BBC online content, including BBC websites, iPlayer and BBC Sounds.
Among 16 to 34 year-olds, 40% say they derived greater enjoyment from BBC content as a result of seeing and hearing from more women. 32% of women aged 25 to 34 say they now consume more BBC online content because of greater female representation.
BBC Radio Norfolk is among the BBC teams taking part in gender monitoring and has consistently reached 50:50 on its Breakfast Show since December 2018.
Sophie Ludkin, BBC Norfolk Broadcast Assistant says: "It's crucial in local radio to make sure the community is able to hear themselves reflected in the output. Gender, race, disability and class are all areas where the team question and push each other to reflect the community better - and that's key to making our shows a success. It's a team effort where we all need to hold each other accountable in order to do better."
MH