BBC Radio 3's Unclassified Live at Southbank Centre
BBC Radio 3 and BBC Concert Orchestra in partnership with the Southbank Centre and Southbank Sinfonia present BBC Radio 3's Unclassified Live, a new series of concerts in Southbank Centre's Queen Elizabeth Hall, presented by Unclassified host and presenter Elizabeth Alker and conducted by André de Ridder.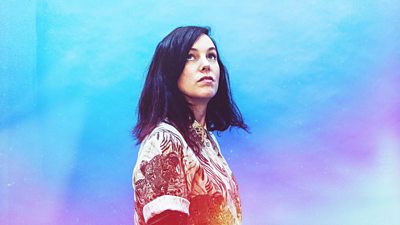 Being able to programme this series of live shows with Andre and see Unclassified come to life in front of an audience, with an orchestra, at the Southbank is a dream come true.
Co-curated by Alker and de Ridder, and featuring new line-up additions including Daniel Avery and Tim Hecker, the series will be broadcast as part of BBC Radio 3's eclectic late-night new music programme, which explores a visionary generation of composers, producers and performers.
Orchestra, visuals and electronics combine in the opening concert performed by Southbank Sinfonia. Canadian composer Nicole Lizée, whose eclectic music blurs the lines between art forms, brings a premiere written specially for Southbank Sinfonia. Scottish composer and performer Anna Meredith MBE (main image) explores the crossover point between past and future in her 4 Tributes To 4am, from stillness to jolts of nocturnal energy, accompanied by projected visuals by Ewan Jones Morris. Warp signed electronic music duo from the North of England Darkstar, last heard at Southbank Centre as part of New Music Biennial 2017, complete the line up. (29 September, QEH).
Hosted by presenter, journalist and broadcaster Elizabeth Alker, BBC Radio 3's Unclassified traverses a range of eclectic sounds, from ambient soundscapes to contemporary compositions and experimental electronic music. Following a six-part series earlier this year, Unclassified will return to BBC Radio 3 with a permanent Thursday night slot on October 3rd, and will broadcast the full inaugural Unclassified live concert on 17 October.
Alan Davey, Controller BBC Radio , says: "On Radio 3 we bring you new, live performances and adventures in contemporary sound every day, and we celebrate the role of new work and boundary-pushing musicians young and established in everything we do. With Unclassified and Unclassified Live, Elizabeth Alker perfectly captures the inquisitive spirit of Radio 3, by really getting beneath the skin of the music, and helping you discover musical insights that will change your perspective on the world in a way that is both exploratory and innovative."
Elizabeth Alker says: "Being able to programme this series of live shows with Andre and see Unclassified come to life in front of an audience, with an orchestra, at the Southbank is a dream come true. It's such a brilliant opportunity to showcase this music in this unique and special way."
BBC Radio 3's Unclassified Live continues with two BBC Concert Orchestra concerts in Spring 2020, featuring the European premiere of a new violin concerto by Pulitzer-prize winning American composer Caroline Shaw. American musician and composer Rafiq Bhatia, whose music mixesimprovisational jazz with electronic experimentalism, joins the orchestra to perform new works, whilst critically acclaimed 'techno auteur' [Mixmag] Daniel Avery has worked with the orchestra to re-version pieces of his music alongside some new material. New arrangements of works by British composer Daniel Elms and Canadian electronic musician and sound artist Tim Hecker will feature in the final concert. (QEH 7 June 2020). BBC Radio 3's Unclassified Live is part of Southbank Centre's Contemporary Edit, which offers audiences a curated journey through the wealth of contemporary music in the 2019/20 season.
JC5
Programme highlights
Sunday 29 September 2019
Anna Meredith 4 Tributes To 4am for chamber orchestra & electronics
Nicole Lizee New Work (world premiere)
Darkstar
Ewan Jones Morris, visuals
André de Ridder, conductor
Elizabeth Alker, presenter
Friday 3 April 2020
Caroline Shaw composer/performer, plays her Violin Concerto Lo
Daniel Avery composer/arranger, reversions of existing works
Quinta orchestra/realiser
Rafiq Bhatia guitar, appears with his trio, performing new material
André de Ridder, conductor
Elizabeth Alker, presenter
BBC Concert Orchestra
Sunday 7 June 2020
Daniel Elms composer, new work
Tim Hecker, electronics
André de Ridder, conductor
Elizabeth Alker, presenter
BBC Concert Orchestra
Related Web Links