Take a first look at BBC One's major new thriller series The Capture
The first image of Holliday Grainger (Strike, Patrick Melrose) and Callum Turner (War & Peace, Fantastic Beasts: The Crimes Of Grindelwald) in BBC One's forthcoming surveillance thriller The Capture has been released.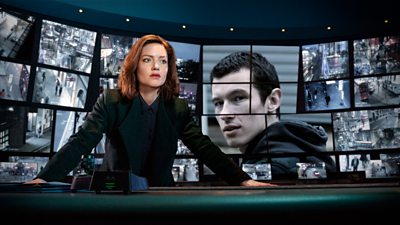 When soldier Shaun Emery's (Turner) conviction for a murder in Afghanistan is overturned due to flawed video evidence, he returns to life as a free man with his young daughter. But when damning CCTV footage from a night out in London comes to light, Shaun's life takes a shocking turn and he must soon fight for his freedom once again. With DI Rachel Carey (Grainger) drafted in to investigate Shaun's case, she quickly learns that the truth can sometimes be a matter of perspective. Should she trust Shaun Emery?
The Capture is an acutely timed thriller that looks at a troubling world of fake news and the extraordinary capabilities of the intelligence services. In this 'post-truth era', can we really believe what we see?
The six-part series is made for BBC One by Heyday Television and NBCUniversal International Studios, and also stars Ron Perlman (Hellboy, Hand Of God), Famke Janssen (X Men, Taken), Ben Miles (The Crown, Coupling), Laura Haddock (Transformers: The Last Knight, Guardians Of The Galaxy), Lia Williams (The Crown, Kiri), Sophia Brown (Clique, Marcella) and Paul Ritter (Chernobyl, Friday Night Dinner). Further casting information can be found here.
The Capture is written and directed by the Bafta award-winning filmmaker Ben Chanan. Executive Producers are David Heyman, Rosie Alison and Tom Winchester for Heyday Television, Tom Coan for NBCUniversal International Studios, Ben Irving for BBC One and Ben Chanan. Derek Ritchie serves as Producer. The series will be distributed by NBCUniversal International Distribution.
The Capture will air later this year on BBC One.
GK
Related Media Centre Links
Tagged: