Five writers named for fourth series of The Break
BBC Writersroom has named the writers for the fourth series of The Break, which will come from Northern Ireland. The project will see their films produced and broadcast on BBC Three.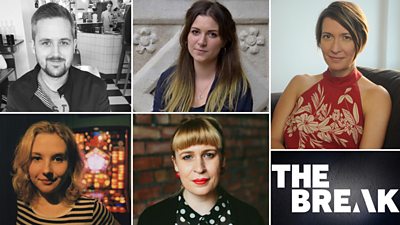 The series has a proud history of unearthing fantastic new voices and this year is no different.
The aim of the drama series, now in its fourth year, is to find the best original, contemporary stories that reflect modern life in the UK. The spotlight of the fourth series is on modern day Northern Ireland with a focus on issues and stories that are important to young people locally and further afield. Previous series have been written by up-and-coming BAME writing talent from across the UK as well as a series of short films representing modern Scottish life.
The five successful writers are Seamus Collins, Louise Nesbitt, Emily DeDakis, Jan Carson and Karis Halsall. They submitted their ideas in November 2018 alongside nearly 200 others. Since then they have been working with Keith Martin in BBC Writersroom, Belfast, to develop their scripts though a series of workshops and sessions with script editor Hamish Wright.
The scripts will be produced for BBC Three by BBC Studios who won the contract to produce the series when it was put out to tender as part of the Compete Or Compare strategy launched by the BBC in 2014.
Commissioning Editor for Drama, Tommy Bulfin, says: "We're thrilled to be able to announce our writers for The Break in Northern Ireland which is giving them the unique opportunity to develop their scripts from an original idea to something that thousands will be able to watch and enjoy. The series has a proud history of unearthing fantastic new voices and this year is no different. I'm looking forward to seeing contemporary, bold and authentic storytelling which reflects life in Northern Ireland and resonates with audiences across the UK."
Anne Edyvean, Head of Writersroom, says: "We were delighted with the response for the most recent series of The Break. Again this project has proven the wealth of local writing talent with the five final scripts truly reflecting a modern Northern Ireland. We are excited about moving on to the next stage of this process and realising these ideas on screen."
On securing the tender to produce these films for BBC Three Kate Croft, executive producer Artis Pictures and Steven Canny, executive producer BBC Studios said: "Lending our full support to nurturing the next generation of original voices, who have something to say about the world we live in, is an inspiring and vital part of our business. The BBC Writersroom performs a really important function and this year's films showcase Northern Ireland talent, and we hope will be transformative for the great team bringing them to life."
Belfast-based producer PJ Hart will be producing the series for BBC Three.
All details can be found at: bbc.co.uk/writersroom
MD
About the writers
Seamus Collins
Originally from Maghera, Seamus was one of the winners of the BBC Writersroom 10 competition, he subsequently had a short play performed in Newcastle and on BBC Radio 3. He was among the first writers to complete the New Playwrights Programme at the Lyric Theatre. His play Away With The Fairies received rehearsed readings in Belfast and New York, where it was staged at The American Irish Historical Society. He is a member of BBC Writersroom's Belfast Voices comedy writing group and recently contributed material to the second series of Soft Border Patrol. He is part of the Abbey Theatre's 20 For 20 scheme.
Louise Nesbitt
Louise Nesbitt is a filmmaker and writer from Belfast. She primarily makes comedy focused on women, mental health and the LGBT community.
In 2018 she was selected by BFI Network as one of 15 upcoming talents in British film to participate in a programme at London Film Festival including sessions with Steve McQueen, David Lowery and Boots Riley.
Her latest short film Everything Will Be OK was produced by BBC Northern Ireland under the Two Minute Masterpiece scheme and launched on iPlayer in early 2019.
Emily DeDakis
Emily DeDakis grew up in the Southeast US and emigrated to Belfast in 2005. She currently splits her work time between Accidental Theatre (an artist-led workspace and theatre) and Fighting Words Belfast (the creative writing centre for young people in NI). She has developed scripts with dozens of playwrights and performances including 24-hour plays, immersive and verbatim theatre, live reads, multimedia and dance. Emily's Pushcart writing has appeared in Dead Housekeeping, The Vacuum, Ulster Tatler and The Yellow Nib. Her monologue Orchestral Groupies With Shaved Heads, performed by Tamsin Greig, aired on BBC Radio 3 in 2017. Emily sings in HIVE Choir and has co-created sound/text pieces including F R E A K Floods (Moving on Music 2017) and Stowaway City (happening in the Cathedral Quarter Arts Festival 2019).
Jan Carson
Jan Carson is a writer and community arts facilitator based in East Belfast. Her debut novel, Malcolm Orange Disappears and short story collection, Children's Children, were published by Liberties Press, Dublin. A micro-fiction collection, Postcard Stories was published by the Emma Press in 2017. Jan's novel The Fire Starters was published by Doubleday in April 2019. Her stories have appeared in journals such as Banshee, The Tangerine and Harper's Bazaar and on BBC Radio 3 and BBC Radio 4. In 2018 Jan was the Irish Writers Centre's inaugural Roaming Writer in Residence on the trains of Ireland.
Karis Halsall
Karis has been writing for theatre for the last decade, working with acclaimed companies such as the Hampstead Theatre, Theatre503, HighTide Festival, Headlong, the Bush, DryWrite and Nabokov. Recently making the transition into writing for the screen, her inaugural short film Period Piece has been selected to screen internationally at prestigious female-centric festivals including the Underwire Film Festival and VIWFTV. Born in Middlesex, her parents are Bangor natives who moved to West London during the 1970's diaspora. Karis currently divides her time between London and the family home in North Down